How To Stay Gluten Free During The Holidays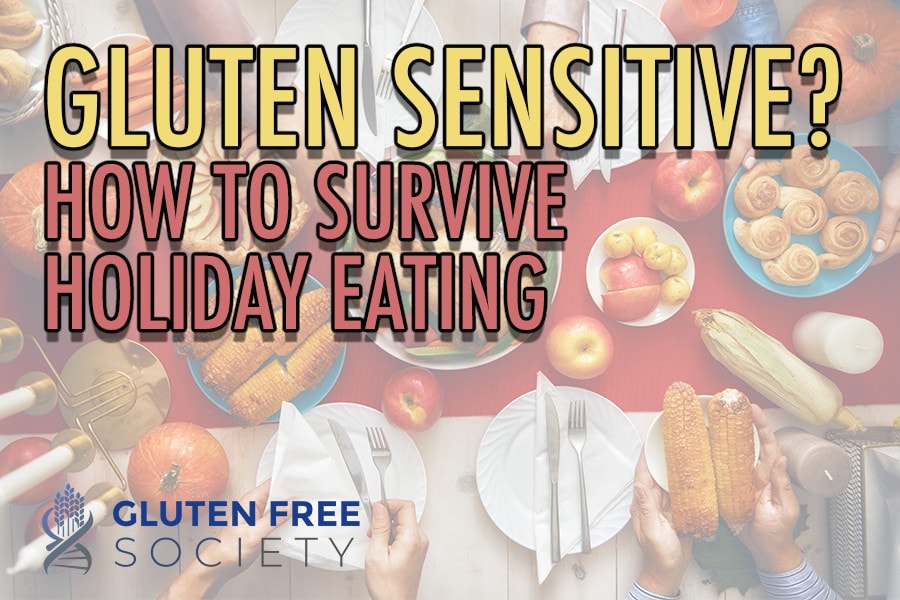 Let's talk about holiday eating for the gluten sensitive. Or rather, how to survive eating during the holidays if you are gluten sensitive. Because undoubtedly there will be friends and loved ones that won't leave you be until you take a bite of what they're serving. They'll probably say things like "one bite isn't going to kill you," "come on, live a little," or "it's the holidays!"
Sound familiar?
Well, the problem is that most people eat processed junk. And that means the food they want to share with you is almost always junk. Junk filled with gluten, starch, sugar, artificial colors, flavors, and sweeteners, thickeners, emulsifiers, preservatives, and so on. Ingredients that so many of us react to.
Now, I understand that sharing food is considered in many cultures an act of love. But if we're partaking in the sharing garbage, it becomes an act of self-destruction. And if the people around you aren't aware of the importance of eating to nourish your body as opposed to poison it, then it can become a struggle, especially during the holidays.
So where do you draw the line? How do you navigate these tricky situations so that you don't let holiday junk food get the best of you? So you can spend the holidays feeling your best as well as keep your immune system strong to defeat any viruses you may encounter.
Start Your New Year's Resolutions Now
The unhealthy eating season starts with Thanksgiving (sometimes even Halloween). And it goes straight through until January. So if you're really serious about improving your health and losing weight, START NOW. Don't wait until January 1st. Why punish your body? Why risk gaining 10 pounds?
Plus, it may even make it harder for you to make changes. For example, after overindulging for a month, you probably won't feel all that great. You may feel tired, bloated, and depressed. Not the ideal state to be embarking on a health journey.
Share Your Health Goals with Yo
ur Loved Ones
Now that you've committed to your health resolutions, SHARE them with the people you'll be visiting. Have the difficult conversations upfront. Set their expectations. Tell them that it's not because you don't love the food they make. Rather it's because certain foods make you sick. Explain the health challenges you've been facing. And how eating healthy makes you feel good–physically and emotionally.
Tell them you love them and love that they love their delicious food. But ask them to please respect your wishes. Ask them not to force food upon you. For your health.
These upfront conversations will help eliminate conflict on Christmas or any other day you plan to visit with family and friends. They'll also give your loved ones time to process the information you're sharing.
However, you can also make it clear that no one needs to cater to your needs. No need for any special accommodations. Because you'll come prepared, which leads us to my next point…
Have a Plan for Eating Out or Be the Host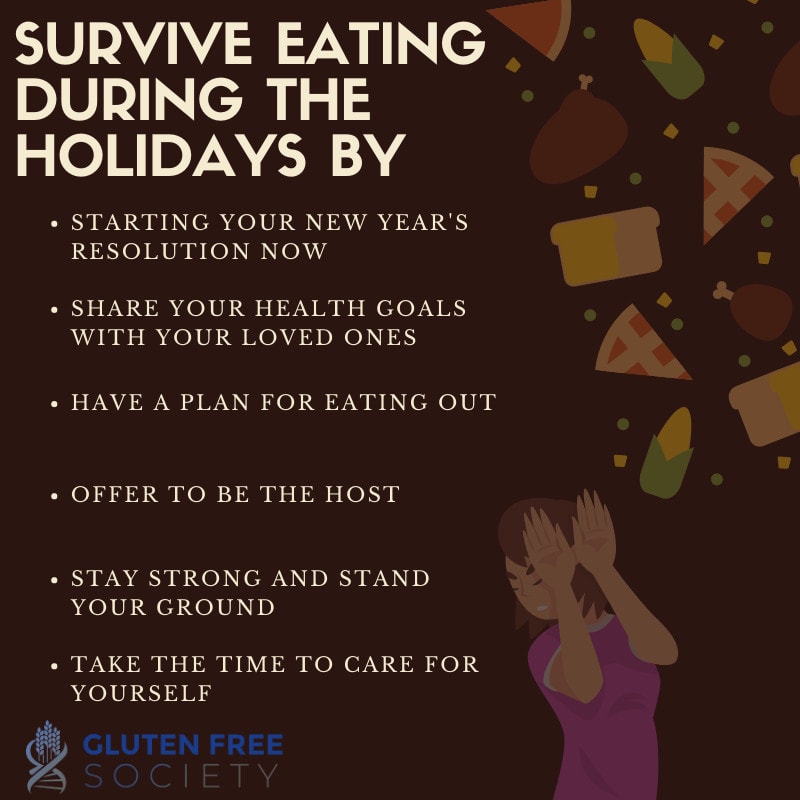 Now that everyone knows where you stand (because you expressed yourself), you must think about what you're going to eat when you go to grandma's house.
If you know there won't be anything safe for you to eat, bring something with you. You could even offer to bring a nutrient-rich dish or two to share with everyone.
If you'll be staying for an extended period of time, bring some staples to have on hand. Or plan to make a trip to the grocery store when you arrive.
You may also want to reconsider staying with friends and family members that aren't supportive of your health goals. Instead, you could find a hotel room that has a kitchenette or rent a studio from sites like Airbnb. This way you'll be able to prepare healthy meals and snacks in peace. So when you're with your family, simply state that you've already eaten when snacks are offered. Because remember, the holidays aren't just about eating. They're also about spending quality time with loved ones. And that time can be spent talking, playing games, or even better, going on a nature walk.
Another option is to offer to host a gathering at your house, which will put you in charge of the food. But let your guests know they're welcome to bring anything they wish and you'll be happy to make room at the table.
Although, most holiday staples can be made grain-free and gluten-free. Even pumpkin pie. And they taste just as good as the original, if not better when they're made with whole food ingredients from scratch.
It's also worth noting that sugar and grain-based treats are abundant at school parties and other social events. This can be tough for kids with dietary restrictions. They may feel left out and isolated.
So I suggest planning for them to have something to enjoy as the rest of the class is indulging in the other junk. For example, make a delicious muffin with gluten free flour and sweeten it with honey or maple syrup.
Stay Strong
If you want your loved ones to take your health goals seriously, you must stay strong. Especially if you have gluten sensitivity, celiac disease, food allergies, or any other illness.
Unfortunately, in our current food environment, we can't be gluten-free pacifists. Instead, we often find ourselves swimming upstream. That's why we're called gluten-free "warriors."
So if you're on a special diet, it's important to stand your ground. Also, it's essential to know precisely what's in the food you're eating. Your grandma might not know what gluten is. So either ask questions or just skip it if you're not sure. Because you don't want to spend the rest of your holidays in bed or worse, in the hospital.
Don't Spread Yourself Thin
You don't have to attend every holiday party or gathering you're invited to. Don't be afraid to say no. Because it's important to create a healthy balance between spending time with friends and family versus taking time to care for yourself. Taking time to relax, exercise, sleep and prepare delicious food to nourish your body.
To Sum it Up
As the holidays are fast approaching, don't wait until the new year to improve your health. Start now. Tell your loved ones where you stand. Plan ahead, stay strong, and don't forget to carve out time for yourself. You deserve it!
Can you add to this list? Chime in below in the comments…