The 10 Most Common Symptoms of Celiac Disease Are Not What Researchers Thought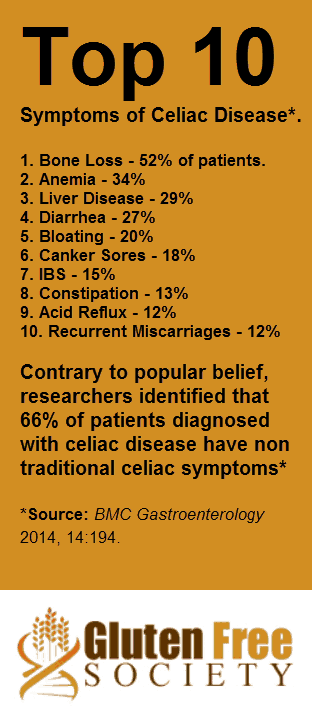 The traditional or classic symptoms of celiac disease reported in medical textbooks are – severe diarrhea and malabsorption accompanied by villous atrophy of the small intestines. Symptoms are typically present in pediatric patients. Adults are not as frequently considered for the diagnosis.
Basically, most doctors are taught to look for severe diarrhea and vomiting in children. If a patient does not present this way, gluten sensitivity should not be considered as a diagnosis. Unfortunately, the symptoms of gluten sensitivity are much more diverse and many people suffer for years without a diagnosis due to medical ignorance.
Recently, a 14 year study with 770 celiac patients was published in the journal, BMC Gastroenterology. The outcome of the study paints a completely different picture. A summary of the results concluded the following.
Two thirds of the patients did not have classical symptoms of celiac disease. Some of the most common intestinal symptoms were bloating, canker sores, IBS (irritable bowel syndrome), constipation, and acid reflux. Even more common, were extraintestinal symptoms (symptoms not related to the GI tract). These included osteoporosis, liver disease, anemia, recurring miscarriages, and a multitude of autoimmune diseases to include hypothyroid, dermatitis herpetiformis (skin disease), and type I diabetes mellitus.
Source:
Umberto Volta, Giacomo Caio, Vincenzo, Stanghellini, and Roberto De Giorgio. The changing clinical profile of celiac disease: a 15-year experience (1998-2012) in an Italian referral center. BMC Gastroenterology 2014, 14:194
The Many Heads of Gluten Sensitivity and Celiac
This is not the first study to elucidate the varying manifestations that gluten can have on people. You can read more research on the topic here. Bottom line- gluten can affect different people in different ways. If you suspect that you are reacting to gluten, but don't have the classic symptoms of celiac disease, remember this – The classic symptoms aren't classic anymore. In my Sugar Land clinic, some of the most common conditions I see improve on a gluten free diet include:
If you think you might be gluten sensitive, take this short, free quiz to help you determine if going gluten free is right for you.
What Symptoms Do Your Experience When You Get "Glutened"?
Share your story with us below. You never know when your experience may help change the life of someone else. You might have symptoms completely unrelated to those listed above. What are they?