The Gluten and Thyroid Connection
What is Thyroid Disease?
The thyroid, a vital endocrine gland located in the neck, produces hormones that regulate essential bodily functions. Thyroid disease encompasses conditions disrupting hormone balance. 
Hypothyroidism arises from insufficient hormone production, while hyperthyroidism results from excessive hormone release. Autoimmunity often underlies thyroid disease, leading to Hashimoto's or Grave's disease.
Does Gluten Play a Role in Autoimmune Thyroid Disease?
Fatigue, weight gain, hair loss, bloating, dry skin, and joint pain are all symptoms (especially in autoimmune thyroid disease) that can persist even while on a gluten free diet. One of the biggest reasons why has to do with gluten's impact on your thyroid gland. The thyroid makes hormones that regulate your metabolism, and when this gland isn't working properly, neither are you. Keep reading to learn what you can do.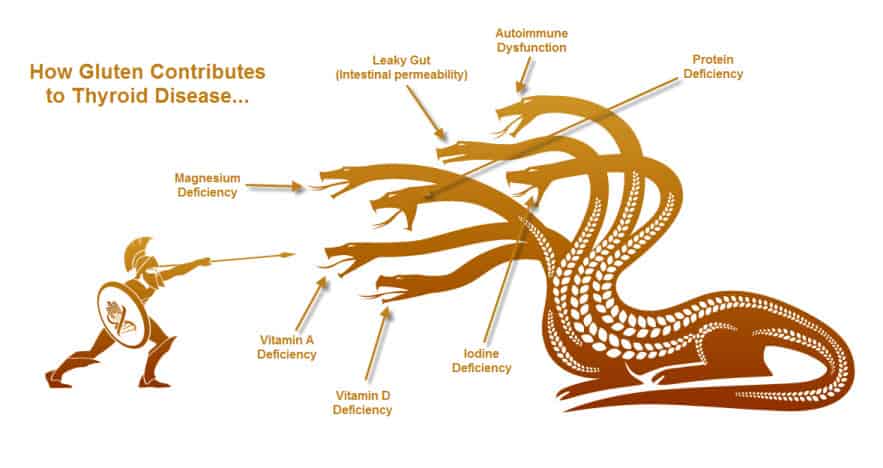 More medical research makes the connection between thyroid disease and gluten. The results of previous studies have indicated that the prevalence of CD is increased in patients with other autoimmune disorders such as: autoimmune thyroid diseases, type 1 diabetes mellitus, and Addison's disease. A coincidence of the above diseases constitutes autoimmune polyglandular syndrome (APS). The high prevalence of CD in APS is probably due to the common genetic predisposition to the coexistent autoimmune diseases. The majority of adult patients have the atypical or silent type of the disease. This is the main reason why CD so often goes undiagnosed or the diagnosis is delayed.
The authors go on to state that if gluten sensitivity is not diagnosed many of the additional consequences are –
haematological (anemia)
metabolical (osteopenia/osteoporosis)
obstetric-gynaecological (infertility, spontaneous abortions, late puberty, early menopause)
increased risk of malignancy, especially: lymphoma, small intestine, mouth, and esophageal cancers
Source: Endokrynol Pol. 2012;63(3):240-9.
Different People React to Gluten in Different Ways
Much like the side effects from a drug differ in different individuals, side effects from gluten exposure in people can also differ greatly. There are over 200 conditions linked to gluten sensitivity in the medical literature. The connection between thyroid disease and gluten is well established. How does gluten contribute to thyroid disease
Relationship Between Gluten, Selenium, and the Thyroid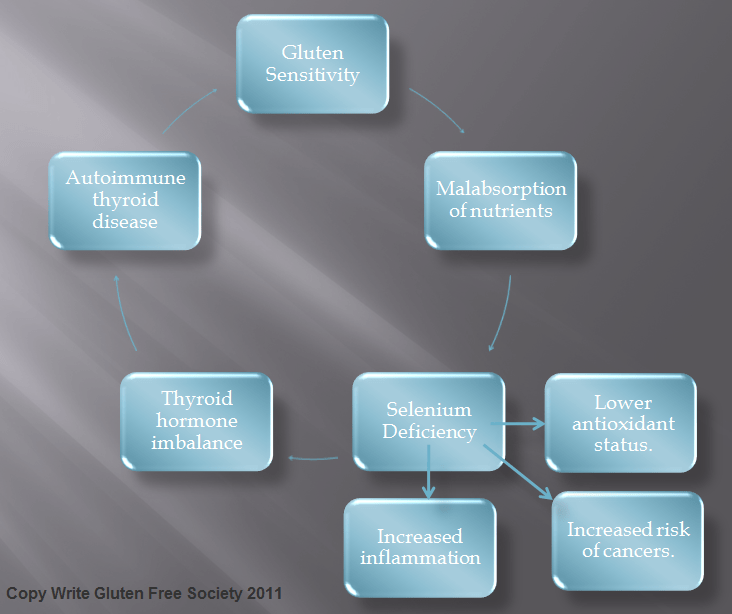 Selenium is crucial for the following different functions:
It plays a role in the production of active thyroid hormone (see chart below).
It is a powerful anti-inflammatory and helps to regulate immune function.
It plays a role in blood viscosity (reduces excessive clotting of the blood).
It drives the most powerful antioxidant system in the body.
In previous posts we have discussed how going on a gluten free diet can lead to fat loss. This is one of those mechanisms as autoimmune hypothyroid disease is a common manifestation of gluten sensitivity.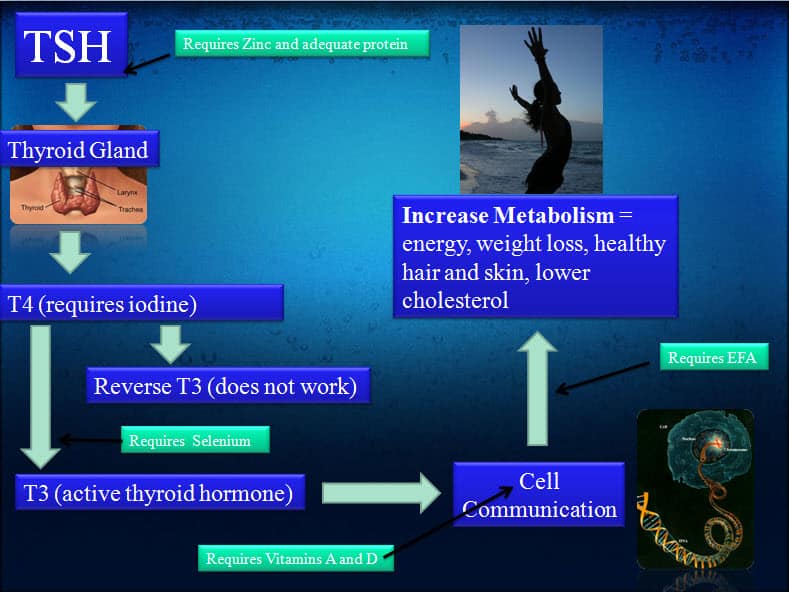 Iodine – this mineral helps the body build T4 (the hormone that doctors commonly measure that floats through the bloodstream)
Vitamins D and A – these fat soluble vitamins allow T3 (the active hormone) to communicate with your DNA and increase your metabolism.
Zinc & Magnesium – these minerals help your body make TSH (the hormone made in your brain that tells your thyroid gland to make T4).
Protein – most Americans eat too many carbs and not enough protein. Protein is absolutely necessary to form the backbone of thyroid hormone. It also carries the hormone through the bloodstream to your tissues.
Supplements
Probiotics:
Probiotics play diverse roles, including nutritional support and immune system regulation. They protect the integrity of the gut barrier and inhibit the growth of harmful gut bacteria. Stool analysis can guide the selection of the right probiotic formulation, such as VSL#3 for Celiac disease.
Glutamine:
Glutamine, an amino acid, is known for its gut-healing properties. It serves as a preferred energy source for small intestine cells, aiding in metabolism, division, and repair.
Zinc Carnosine:
Extensive research supports the use of zinc carnosine for intestinal disorders. It effectively reduces inflammation, promotes healing of ulcers, and repairs intestinal permeability.
Deglycyrrhizinated Licorice (DGL):
DGL is a demulcent herb with anti-inflammatory and antioxidant properties. It forms a protective coating on irritated surfaces, aiding in gut healing protocols. Limited research confirms its soothing effects on irritated surfaces.
What Can You Do If You Have Been Diagnosed with Hypothyroidism?
Aside from traditional testing, have your doctor perform the following lab tests –
Iodine loading test (urine test)
Spectracell (vitamin and mineral deficiency blood test)
Reverse T3 and thyroid antibody testing
It is time for doctors to start looking at thyroid disease and gluten sensitivity as a potential causal relationship. Patients with gluten sensitivity should also be checked for nutritional deficiencies – especially in patients with thyroid disease. If your doctor will not investigate these areas for you, look for a functional medicine doctor who will.
It is time for doctors to start ruling out gluten sensitivity and celiac disease in patients with thyroid disease. It is time for doctors to start recognizing the therapeutic benefit of a gluten free diet. If you think that this information will help someone you love suffering with a thyroid or autoimmune problem, please forward this along.