Campfire Meals The Gluten Free Warrior Way
Camping is one of the most wonderful summertime activities. The ability to get away, disconnect, and really enjoy time in the great outdoors. But it's not always easy if you're following a gluten free diet because so many of the crutch foods and easy recipes call for gluten. Be prepared, plan ahead and go gluten free camping the "Warrior Way" with the delicious recipes.
One of the biggest challenges is things like buns or snacks. Make these ahead of time using Gluten Free Warrior Bread (or your preferred grain free flour), pop them into the freezer, and bring your baked goods with you.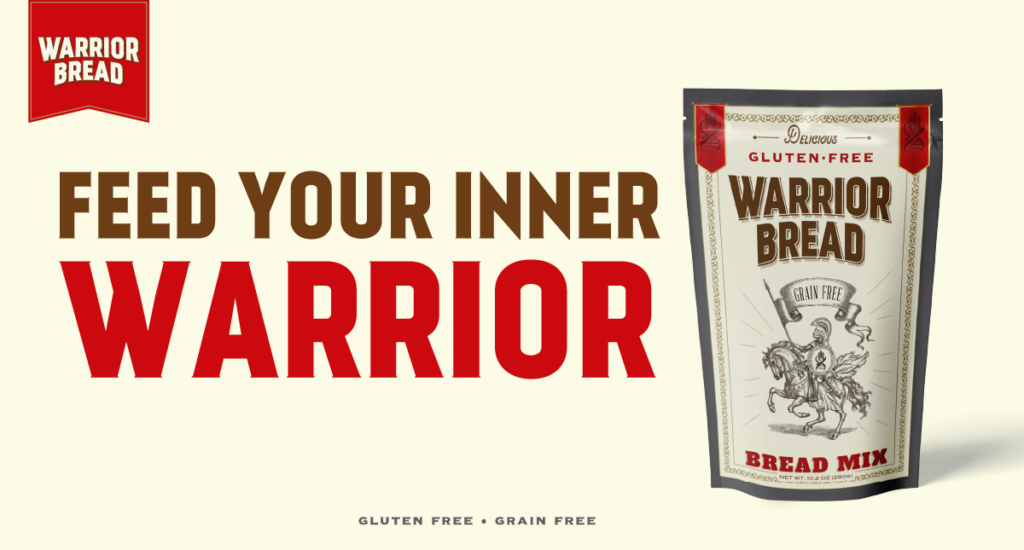 Warrior Buns – Perfect for sandwiches and burgers
1 package Warrior Bread Mix
1 cup Egg Whites
1 cup Water
2 tbsp. Apple Cider Vinegar
Preheat oven to 400 F
Add the warrior bread mix to a large bowl.
In another bowl, whisk together the water, egg whites, and vinegar. Pour the liquids into the bread mix and stir well to combine. Knead for about a minute, then allow to rest for a few minutes.
Line a baking sheet with parchment paper. Split the dough into 6 equal parts. Form a 4 inch disk with each piece of dough and place them evenly on the baking sheet. Top each one with some sesame seeds and press them into the dough to help them stick.
Bake for about 40 minutes until cooked through. Remove from oven, allow to cool, and slice in half.
Shortbread Cookies – These little treats are perfect to bring on the road
3/4 cup Warrior Bread
1/2 cup plus 1 tbsp. Tapioca Flour
1/2 cup softened grass fed A2 butter (Or vegan butter. We've used Miyoko's Vegan Butter)
1/4 cup sugar
Pinch of salt
Preheat oven to 350 degrees F
Add the Warrior Bread and tapioca flour to a large bowl. Add salt and sugar. Stir to combine.
Add the butter and use an electric mixer on low.
Form into a dough ball. If dough is not thick enough, you may add 1 more tbsp. of either flour. Using 2 pieces of wax paper and a rolling pin, roll the dough out to desired thickness.
Cut out shapes with cookie cutter.
Place cookies on parchment paper on baking sheet.
Bake until golden, approximately 13-15 minutes.
Warrior Waffles – Reheat and top with eggs for a simple and delicious breakfast
1 package Warrior Bread mix
1 cup eggs
1 cup water
1 tbsp. honey
1 tbsp. melted coconut oil
maple syrup
Preheat oven to 200 F
Pour the contents of the Warrior Bread mix into a large bowl.
Mix the eggs, water, honey, and oil in a measuring cup.
Pour the wet ingredients into the dry and mix to combine. Knead in the bowl for about 1 minute.
Preheat a waffle iron and brush with melted coconut oil.
Scoop the waffle batter into the waffle iron to make the waffles. Cook about 6 minutes in the waffle iron depending on the iron you have. You may want to check the first waffle to confirm it is fully cooked.
Place the finished waffles onto a baking sheet and put them into the oven to stay warm while you repeat with the remaining waffles.
Serve with maple syrup.
Warrior Banana Bread – A delicious treat that's sure to hit the spot after a hike
1/2 cup Melted coconut oil, plus more for the pan
1/4 cup honey
4 Eggs
3 ripe bananas
1/2 cup apple sauce
1/2 cup almond milk
1 tsp cinnamon
1 package Warrior Bread Mix
Preheat oven to 400 F
Brush coconut oil over a 9 inch loaf pan and line with parchment.
Whisk together the oil, honey, and eggs until combined and smooth.
Mash the bananas and add them to the mixture with the eggs. Add in the apple sauce. Stir well to combine.
Add in the almond milk and cinnamon. Mix to combine.
Stir in the Warrior Bread Mix and stir until everything is combined. It should be the texture of a thick pancake batter. If it seems too thick, you can add more almond milk.
Pour the mixture into the loaf pan and put it into the oven. Bake for about 1 hr. 10 min until cooked through.
Remove from the oven and allow to cool before slicing.
Campfire Cooking Cheat Sheet
When it comes to tasty meals over the campfire the trick is to do all the prep ahead of time. This way you don't have to worry about all that slicing and dicing when you'd rather be sitting back and relaxing
around the campfire. With meals planned out and ready to go cooking will be a breeze.
Here's a few of our favorite recipes that are not only great when you're on the road, they're fabulous for at home cooking too!
Skillet Sausage
Serves 4
Cut up and assemble into a container for your trip:
1 small yellow onion, diced
In a separate bag cut up and assemble:
2 sweet potatoes, peeled and cut into bite size pieces
4 sausage links, sliced
2 cups chopped green cabbage
Dressing:
2 tablespoons apple cider vinegar
1 tablespoon olive oil (plus extra for cooking)
Some sea salt, black pepper to taste
1 teaspoon dried dill
To prepare:
In a saucepan add 2 tablespoons olive oil plus onions
Cook until onions soften
Add remaining vegetables and cook until cabbage is softened and ingredients are warmed through
Toss with dressing ingredients and serve
Pineapple Chicken Kabobs
Serves 4
Prep this delicious dish by freezing the chicken in the marinade. The frozen chicken will help keep your other groceries cold. Prepare the sauce in a separate container to heat over the campfire and brush on the kabobs. You will need to thaw the chicken and marinade in advance before grilling it.
Marinade:
1/4 cup pineapple juice
3 tablespoons coconut aminos
3 tablespoons raw honey
2 tablespoons coconut water vinegar
1/2 teaspoons fresh ginger, peeled and finely grated
1/2 teaspoons Garlic powder
2 tablespoons extra virgin olive oil
1 pound boneless, skinless chicken breast, cut into 1-inch cubes
Sauce:
1/2 cup pineapple juice
2 tablespoons raw honey
1 tablespoon extra virgin olive oil
1 tablespoon coconut aminos
For Kabobs:
8 wooden skewers
1 red onion, cut in 1-inch pieces
2 red bell peppers, seeded, stemmed, and cut into 1-inch squares (optional)
1 pineapple, skin removed, cored, and cut into 1-inch cubes
To prepare:
Soak the wooden skewers in water for 20 minutes.
Heat the grill to medium and oil the grate.
In a small pan, bring sauce ingredients to a boil, then reduce heat to a simmer. Simmer for 8 to 10 minutes.
Remove chicken from the marinade and discard the marinade.
Alternate pieces of bell pepper, onion, and pineapple with the chicken cubes on the skewers. Cook the
kabobs, turning and brushing with the sauce often. Grill for 15 to 20 minutes or until the chicken is
cooked through.
Cowboy Taco Bowl
Serves 4
If you want to use this as a breakfast idea instead simply substitute scrambled eggs for the ground meat. This is one dish where you will want to chop the veggies right before assembling for best results
Protein:
1 pound ground meat (beef or chicken), cooked and drained
Season ground meat with 1 ½ tablespoons gluten free taco seasoning
Package up ground meat, can freeze if desired, just reheat briefly in a frying pan before using
For salad:
1 head romaine lettuce, diced
2 large tomatoes, diced
1 bell pepper, diced
2 spring onions, diced
Topping:
1 avocado, sliced
8 ounces of Pico de Gallo or salsa
Fresh cilantro, minced
Assemble bowl by layering fresh vegetables, topping with ground meat, avocado, Pico or salsa, and garnishing with fresh cilantro
Shrimp Hobo Packet
Serves 4
This dish does not freeze well, simply prepare the packets in advance and store in the fridge for 1-2 days before cooking. This is an excellent first night at the campsite meal.
Lay out 4 large pieces of foil
Top with 4 large pieces of parchment paper
Place on each piece of parchment
¼ pound of shrimp, peeled and deveined, tails removed
3 asparagus spears, woody stems removed, cut into 2 inch pieces
½ zucchini, cut into ½ inch wide half circles
¼ of a red onion, sliced thinly
drizzle of olive oil
pinch of sea salt
pinch of dried pepper
generous pinch dried thyme
¼ teaspoon dried oregano
¼ teaspoon smoked paprika
¼ teaspoon garlic powder
Wrap parchment paper first, then foil, making sure the ingredients are fully contained
Cook on the grill about 20 minutes until the shrimp is cooked through and the veggies are tender
Bonus tip: make a batch of your favorite homemade chili and freeze to take on the road with you