Compromised Immune System is More Susceptible to Mold
Many people with gluten sensitivity have damaged GI tracts, chronic inflammation, muscle atrophy, and a compromised immune system. This conglomeration of dysfunction can set the stage for mold toxicity. Mold exposure in the chronically sick can stifle recovery and prevent health restoration. The following video illustrates some of the problems associated with mold toxicity:
Mold Toxicity Symptoms Can Mimic Gluten Reactions
There are a number of problems associated with mold toxicity. Unfortunately these symptoms can be very similar to gluten sensitivity symptoms. Some of the more common problems caused by mold exposure are:
Elevated blood pressure
Chronic recurrent infections (sinus, ear, etc)
Severe fatigue
Chronic coughing, sneezing, wheezing, and shortness of breath
Anxiety
Depression
What to Look For to Rule Out Mold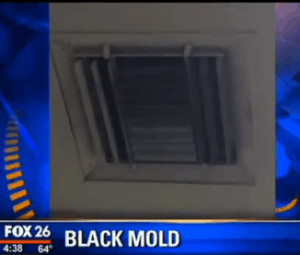 Mold grows ubiquitously in our homes, work environment, and schools. The most obvious signs that mold is a problem are black growth in the air vents, in the tile grout of the bathroom, or any other visible surface (especially ceilings where water leaks have occurred). Mold can also grow on sheet rock walls, in basements, drain and drip pans, in the carpet where water or other fluids have spilled. One of the most obvious signs of the presence of mold is the smell of must in the home. Mold is not always visible. If you suspect mold, you should have your home properly tested. I have had patients with no visible mold presence discover massive colonies after proper testing and investigation. I cannot emphasize this enough. I have lost patients to mold toxicity issues. You may also consider mold if your home has had prior flooding or water damage. As well, you should take care to investigate your car for toxic molds. One of the most tell tale signs for mold toxicity can come from the way you feel when switching environments. Many people will notice feeling much worse in buildings with obvious musty odors or mold growth while feeling better when in an environment free of mold.
Test Yourself for Mold Allergy
There are different methods of lab testing to determine mold allergies. One of the most common is through the use of IgE blood or skin prick testing. This type of testing can be very helpful, but it is not always full proof. If you suspect mold, you should also have your doctor measure delayed hypersensitivity reactions to mold. Some of the most common species of mold causing human illness are:
Alternaria- this species is often isolated in the sinus, mouth and nose. A good ENT doctor can test for it. It is a common cause of persistent upper respiratory infections.
Aspergillus – This common household mold can be found in carpets, clothing, and walls. It can also contribute to respiratory infections.
Cladosporium – This mold grows both inside and outside in humid areas and is a common trigger for asthma symptoms.
Fusarium – This type commonly grows on cereal grains and other crops. It is one of the major mold fumonisin toxin producers in peanuts and corn.
Penicillium Is a common mold species found indoors and on foods. It commonly grows in carpet and air ducts
Trichophyton – This mold is responsible for what many people call athlete's foot, jock itch, and ring worm.
Do This To Prevent Mold Growth In Your Home
There are several preventative measures you can take to control mold growth in your home. One of the easiest is to keep the relative humidity in your home under 55%. Because the air conditioner is a natural dehumidifier, keeping it running can help. If you already run your AC and the humidity level is staying high, consider a dehumidifier. Below is a list of items you will want to make sure you stay on top of:
Change air filters regularly.
Replace carpet with tile
Use mattress and pillow covers
Use a high quality air purifier (should contain HEPA, UV light, and a low level ozone generator)
If you having existing mold growth at toxic levels, you need to seek out a mold remediation company.
Supporting Your Immune System
Because chronic mold exposure can wreak havoc on your immune function, you will definitely want to maintain a clean,
TRUE gluten free
diet. You might consider avoiding foods that contain mold or help with mold proliferation. Some of the most common include: sugar, alcohol, peanuts, pistachios, products out of the "self serve bins" in the grocery store, dried fruits, yeast additives, and foods high in starch. The use of
vitamin C
and
Vitamin D
can be very helpful in attenuating mold induced damage and controlling inflammation.