Gluten Can Damage the Mouth
There are a number of research studies demonstrating the impact of gluten on the oral cavity. From
tooth enamel decay
, to painful tongue syndrome, to
mouth ulcers
gluten can cause a number of problems in the mouth. After all, the mouth is part of the gastrointestinal tract, and all doctors should be trained to investigate for oral symptoms of gluten sensitivity. Typically, when we think about gluten causing damage, we think about getting exposure from what we eat. A new research case study identified a 9 year old girl with gluten sensitivity who was following a strict gluten free diet. However; she developed abdominal discomfort after wearing her retainer. The study abstract is below:
Celiac disease is a gluten enteropathy that is treated with dietary elimination of gluten. Exposure to nondietary sources of gluten, which are used in the manufacture of products such as plastics, dental equipment, and cosmetics, can also trigger or exacerbate disease. We report the case of a 9-year-old child who presented with nonspecific abdominal discomfort with abnormal serology for celiac disease. She underwent duodenal biopsies that revealed Marsh 3B histopathology. Despite strict dietary elimination of gluten, she continued to be symptomatic and demonstrate positive serum markers for active disease. It was then discovered that the child was exposed to gluten from her orthodontic retainer that contained a plasticized methacrylate polymer. Gluten is a common additive in plastics. She discontinued its use and demonstrated symptom resolution and complete normalization of serology. All possible sources of gluten, including non dietary, must be considered when managing a child with celiac disease.
Source:
Clin Pediatr (Phila). 2013 Nov;52(11):1034-7
What to Do If Getting Braces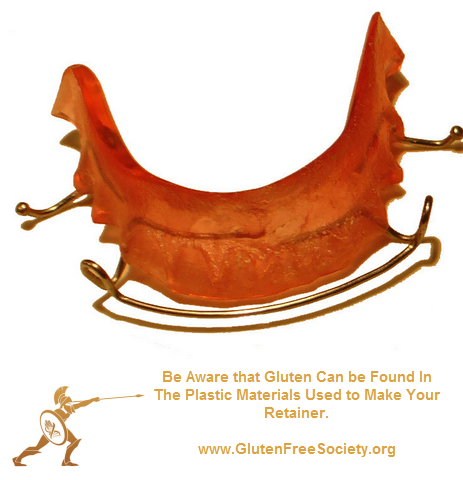 If you are looking to get braces, it is imperative that you get with your orthodontist and do a review of the materials that are being used. Failing to do so could lead to long term damage and the consequences of gluten exposure that come with it. Remember that it doesn't take much exposure to create a problem, and the long term side effects of persistent gluten exposure can range from nutritional deficiencies, hormone disruption, gastrointestinal inflammation (including
leaky gut
), and progression to
autoimmune disease.
I would encourage you to print out this article to take to your orthodontist.
Dentists
are more apt to understand this potential risk, but remember, not all doctors are trained to consider gluten sensitivity as an issue here. Giving the doctor the research will help you emphasize this concern and prevent a potential dental disaster. In good health, Dr. Osborne – The Gluten Free Warrior Don't forget to leave a comment below, especially if you have had problems with your retainer or other dental hardware.