Eating Oxalates on a Gluten Free Diet – Is It Safe?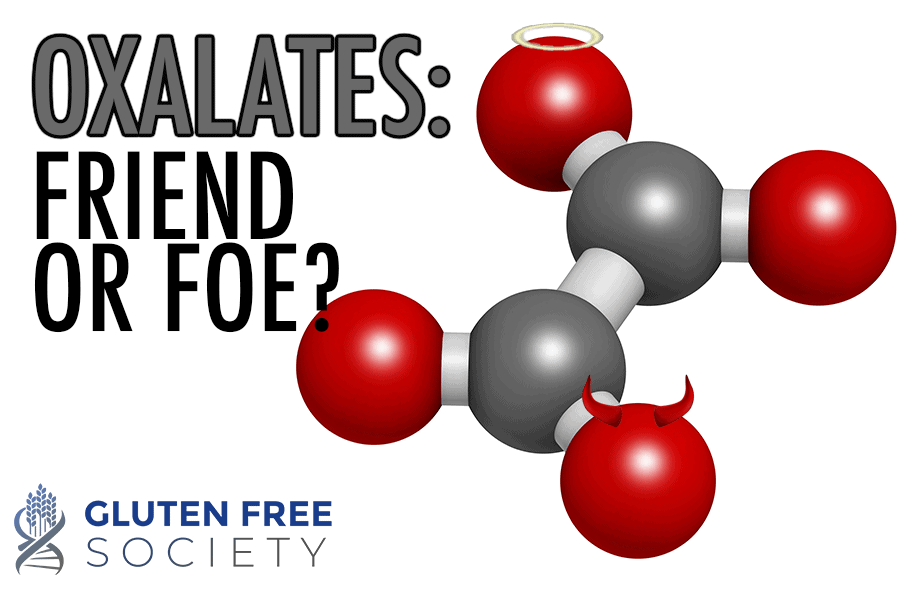 High oxalates on a gluten free diet might be the mistake that holds your progress back. Do you ever feel like you're doing everything "right," but you're still not feeling your best? Maybe you've given up grains, but your symptoms still persist? Or maybe you've started experiencing new symptoms?
If your answer is "yes," then I suggest learning more about oxalates. Because for some, a gluten-free or grain-free diet isn't enough. Prefer watching a video to learn? Watch Oxalates and Gluten here.
What are oxalates?
Oxalates are natural compounds found in both plants and humans.
Plants use vitamin C to make oxalic acid, which can bind with calcium to form calcium oxalate crystals. Scientists believe these crystals help protect plants from calcium excess, insects, and infections as well as provide structure.
As humans, we get oxalates from eating plants that make them. Our bodies produce them under certain circumstances as metabolic by-products. And yeast and fungal infections can also contribute to the production oxalates.
However, in humans, oxalic acid and oxalate crystals are not beneficial. For perspective, oxalic acid is capable of removing rust from metal and is used commercially for this purpose. Anti-freeze (a.k.a. ethylene glycol) gets converted to oxalate in humans, which is why it's toxic if consumed.
It's also worth noting that deaths have been reported from the consumption of 4 – 5 grams of oxalates in food, although 10 – 15 grams are generally required to cause a fatality. But don't worry! It's not easy or common to consume such a high amount of oxalates at once. For reference, you'd have to eat at least 14 cups of spinach at one sitting to get to 4 grams. And over 30 cups to consume 10 grams.
Potential Effects of Oxalates in Humans
If your nutritional status is optimal, you eat a diet with lots of variety, and all systems are working as they should, oxalates in moderate doses aren't likely to pose much of a threat. However, in today's world, the average diet is nutrient deficient. And chronic disease is rampant. So under these conditions, oxalates shouldn't be ignored.
Mineral Deficiencies
Oxalates can cause mineral deficiencies–in two ways. Oxalic acid can bind with minerals in your gut after a meal and prevent them from being absorbed. Oxalic acid can also be absorbed into your bloodstream and bind with minerals in circulation, which renders them useless.
When oxalic acid binds with sodium, potassium, and iron, it forms soluble salts, which can more easily be excreted from the body. When it binds to other minerals, it creates insoluble crystals that are hard to get rid of.
However, oxalic acid is most attracted to calcium. For example, kidney stones are primarily calcium oxalate crystals.
Thus, calcium deficiencies are common in those with oxalate issues, which can cause muscle spasms, cramps, and fatigue as well as pain, brain fog, and irritability.
Magnesium is another mineral of concern. And like calcium, magnesium deficiencies affect the muscles. They're also associated with fatigue, high blood pressure, depression, heart problems, irritable bowel syndrome (IBS), and extreme PMS symptoms.
It's also worth noting that magnesium deficiencies in animal studies have been shown to contribute to the accumulation of a compound called glyoxylate. And glyoxylate can be converted to oxalate in both rodents and humans.
Kidney Disease
Your kidneys are responsible for filtering oxalates from the blood and excreting them in your urine. So kidney disease and stones are high risks when excess oxalates are present.
Whole-Body Effects and Symptoms
Your kidneys aren't the only place oxalates can cause harm in your body. Oxalates are also believed to affect your heart, thyroid, skin, joints, bones, teeth, nerves, and eyes. Essentially, crystals can damage these tissues and cause inflammation, dysfunction, and disease.
Thus, oxalate-related symptoms are broad, and may include:
Pain (anywhere in the body)
Abdominal discomfort
Diarrhea or constipation
Urinary problems
Brain fog
Mood changes
Muscle weakness
Lack of coordination
Fatigue
Poor sleep
Skin rashes and lesions
Slow healing injuries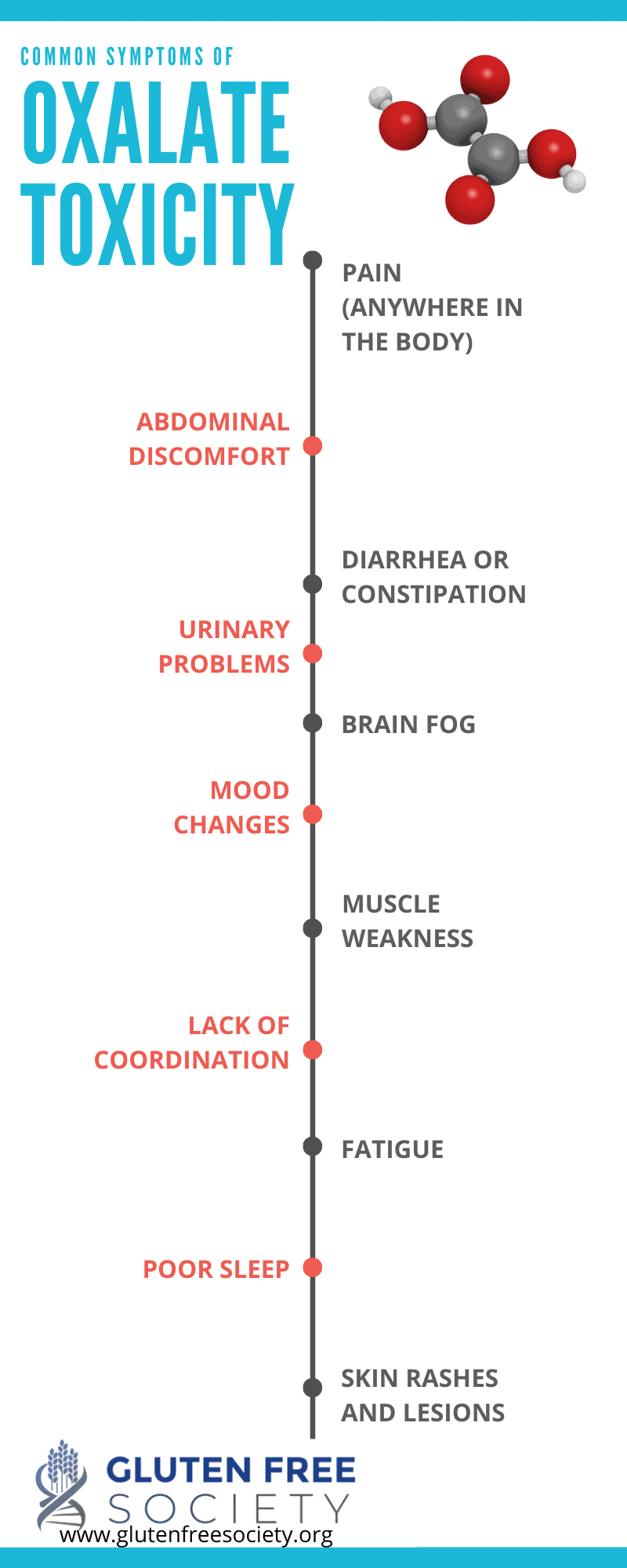 Diseases Linked to Oxalates
Because oxalates can affect most tissues in your body, an excess is associated with many chronic disorders, including:
Plus, experts believe that oxalates may be the missing link for those with celiac disease that don't find relief with a gluten-free diet.
Grains, Gluten, and Oxalates
There's more than one connection when it comes to gluten and oxalates. So let's take a look…
Grains are High Oxalate Foods
The first point I want to make is that grains, the source of gluten, are generally high in oxalates. This is especially true for wheat, bulgar, barley, rye, brown rice, and teff. The pseudograins buckwheat, amaranth, and quinoa are also high in oxalates.
In addition, oxalates concentrate most in the bran, the outer layer of the grain. So whole grains have higher amounts of oxalates when compared to refined grains, such as white flour and white rice.
Grain Induced Inflammation
For some, gluten damages the lining of the intestines and causes inflammation. As a direct result, more oxalates are absorbed into the bloodstream. In addition, gut dysfunction may make it harder to eliminate accumulated oxalates.
Grain Induced Malabsorption
Intestinal inflammation also disrupts the digestive process and prevents certain nutrients from being absorbed.
Fat is one example. And when fat malabsorption occurs, more oxalates may enter the body. Essentially, fat can bind to calcium, which then prevents calcium from binding to oxalates in the gut and being eliminated in your bowels.
This specific condition involving fat malabsorption, known as enteric hyperoxaluria, is also associated with irritable bowel disease, chronic pancreatitis, bariatric surgery, and celiac disease.
Vitamin B6 deficiency is common in those with gluten sensitivity. This stems from intestinal damage as well as the fact that a grain-rich diet doesn't provide an adequate supply of vitamin B6. This is problematic because when vitamin B6 levels are low, your body is more likely to convert certain compounds (e.g., the amino acid glycine) into oxalate.
Gut Bacteria Imbalances Induced By Gluten and Grains
Gluten, pesticides (e.g., glyphosate), additives in processed foods, and intestinal damage from gluten can all disrupt the balance of bacteria residing in your gut. More specifically, it can reduce species of bacteria (e.g., oxalobacter formigenes) that are capable of degrading oxalates, which help prevent oxalate absorption as well as help eliminate oxalates from the body.
Yeast Infections
Eating a gluten-rich, processed food diet is also associated with candida (i.e., yeast) infections. Candida produces an enzyme capable of breaking down collagen in your body. And the by-products of this reaction can be converted into oxalates.
Medications to Treat Gluten Related Symptoms
Those with gluten sensitivity may be treated with medications that can increase the burden of oxalates. For example, NSAIDs can damage the lining of your gut as well as your kidneys. Steroids can also cause intestinal harm. And antibiotics can kill beneficial gut bacteria that degrade oxalates.
Additional Causes of Excess Oxalates
Oxalates aren't just a problem for those with gluten sensitivity. Other chronic conditions cause gut inflammation, malabsorption, bacterial imbalances, and so on. Plus, below are two additional reasons why you might experience oxalate-related issues.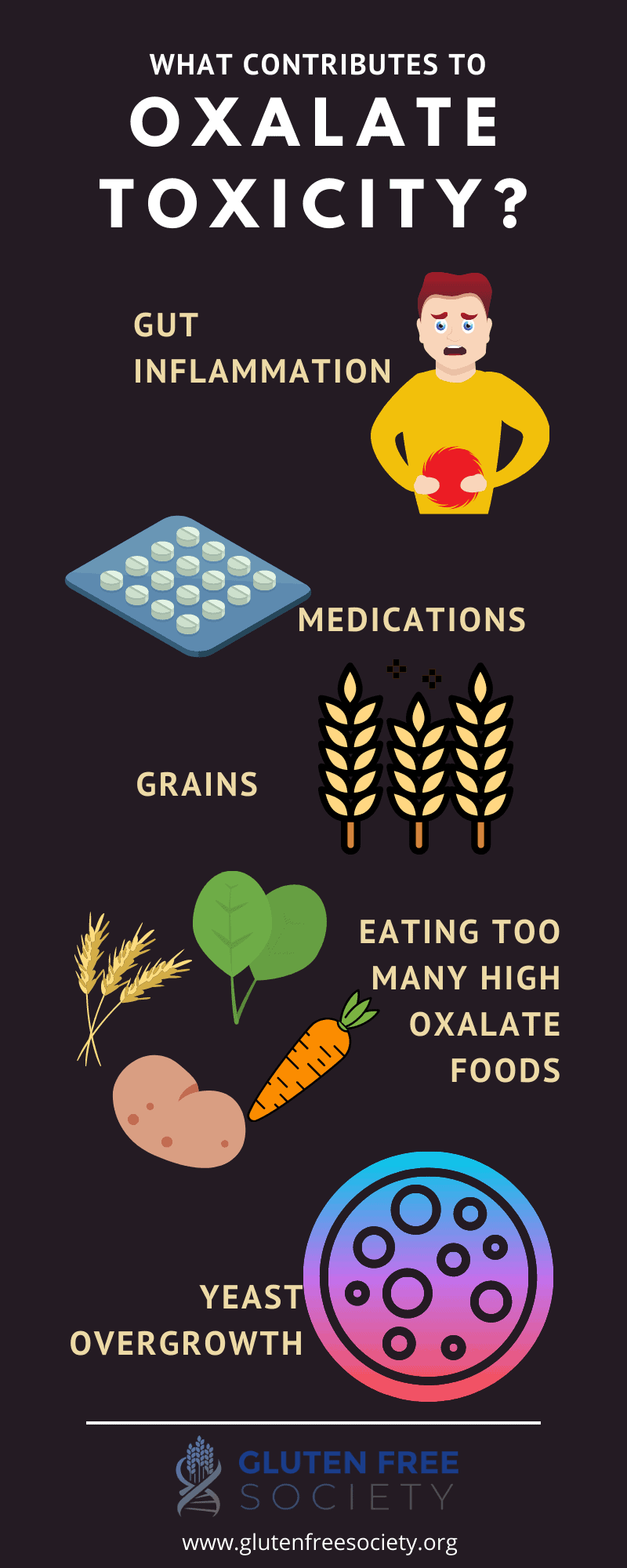 Seasonality and Healthy Food Trends
Oxalate poisoning has been documented since the 1850s. It was called oxalic acid diathesis. And it would occur mainly in Spring and Summer months when fresh greens were available.
But until modern times, these high oxalate foods were only consumed when they were in season, which helped prevent oxalates from building up and causing problems in most people.
Today, on the other hand, we consume high oxalate foods all year long. For example, spinach is one of the richest sources of oxalates. Historically, it was only available in the Spring. But today, it's available year-round. And it's probably the most commonly used "green" added to smoothies consumed by many on a daily basis.
In addition, almonds are rich in oxalates. And almonds, almond butter, and almond milk are also frequently used in green smoothies.
For perspective, a normal daily intake of oxalates is around 100 – 200 mg. And one green smoothie with spinach can contain up to 1000 mg of oxalates.
Other popular "superfoods," such as turmeric, chia seeds, cinnamon, cacao, and green tea are also high in oxalates. So for some, these "healthy" trends might not be so healthy after all.
Vitamin C & Oxalates
Ascorbic acid, a form of vitamin C, can be broken down and converted into oxalates. However, it's almost impossible to get too much vitamin C from food. In fact, studies have found no association between dietary vitamin C and the risk of developing kidney stones.
In terms of vitamin C supplementation, study results are mixed. There is some evidence that high daily doses of vitamin C are associated with an increased risk of kidney stones in men, but not in women.
Nevertheless, if oxalates are a problem for you, it's something to consider. You may need to test your vitamin C levels and work with your doctor to adjust your dose.
Are Oxalates to Blame?
You may be wondering whether or not oxalates are to blame for your unresolved health issues or symptoms. If so, I recommend talking to your doctor about the following:
Testing for high levels of oxalates in your urine – However, a normal result doesn't mean your body isn't burdened with oxalates. Your kidneys may not be filtering them properly. And as I mentioned previously, oxalates can build up throughout the body. So if your test results are normal or even low, don't rule oxalates out.
Genetic testing for gluten sensitivity, as it has been linked to increased oxalate toxicity issues.
Testing for gut bacteria composition, which may identify a lack of oxalate degrading bacteria
Testing for yeast and fungal infections because they may be sources of oxalate production. For example, science has found that the fungus Aspergillus is capable of producing oxalic acid. If infections are discovered, antifungal treatments may be needed.
Testing for nutrient deficiencies and excesses – Vitamin B6 is important to assess because it can help prevent the formation of oxalates in your body as well as help degrade them. When oxalates are high in your blood, they bind to calcium and magnesium and can cause deficiencies as I mentioned previously. Zinc and iron are worth testing since oxalates can bind to them. Testing for excess vitamin C (ascorbic acid) may also be valuable. Because it can be converted to oxalates, especially when copper is high.
Supplementation – Calcium citrate taken with meals may help bind oxalates in your gut and prevent them from being absorbed. Vitamin B6, calcium, and magnesium supplements may be necessary to overcome deficiencies, especially during the healing process.
In this study, patients were given both vitamin B6 (pyridoxine-HCl) and magnesium oxide supplements for 4 months. The researchers reported a gradual, yet significant decrease in oxalate excretion over time.
You can also add foods rich in these nutrients to your diet. For example, fish is an excellent source of both vitamin B6 and calcium.
When it comes to magnesium, many foods that contain high concentrations are also high in oxalates. However, some safe options include broccoli, cauliflower, cabbage, flaxseeds, pumpkin seeds, sunflower seeds, winter squash, and romaine lettuce.
EDTA is a chemical that binds to minerals and can help eliminate them from your body. And research shows it may be helpful in dissolving calcium oxalate crystals (a.k.a. kidney stones) in the kidneys.
N-Acetyl glucosamine has been used to help reduce pain associated with oxalate toxicity.
Animal studies have shown that chondroitin sulfate may help prevent the formation of oxalate calcium crystals in the kidneys. Other animal studies have also had success with selenium and vitamin E supplementation.
Probiotics may help increase the concentration of oxalate degrading bacteria in the gut.
Omega-3 fats have been shown to reduce the amount of oxalate excreted in urine and reduce the risk of kidney stones. The best sources of omega-3 fats are fatty fish (e.g., salmon and sardines) as well as high-quality fish oil supplements.
Since oxalate toxicity is an acidic condition, alkalinizing substances may also be useful. These include sodium bicarbonate (baking soda), lemon juice, and unrefined salt (e.g., pink Himalayan salt).
A low oxalate diet
Since oxalate urine testing isn't always reflective of what's going on inside your body, one of the best ways to determine whether oxalates are a problem is by significantly reducing your intake. Then, see if your symptoms subside over time.
The goal is to get down to approximately 40 – 60 mg of oxalates per day. However, it's important to reduce your intake slowly. Because a drastic drop can be dangerous, which is why I always recommend working with a professional.
On a low oxalate diet, it's also important to drink plenty of water to help eliminate oxalates through your urine.
High Oxalate Foods
If you decide to try a low oxalate diet, you'll want to start by slowly eliminating the following foods:
Grains & Pseudograins (all)
Vegetables
Spinach
Beets (and beet greens)
Potatoes
Sweet potatoes and yams
Turnips (and turnip greens)
Endive
Swiss chard
Tomato sauce
Carrots
Celery
Artichoke Hearts
Sugar snap peas
Okra
Parsnip
Fruit
Avocado (unripe)
Star fruit
Rhubarb
Prunes
Figs
Olives
Blackberries
Raspberries
Apricot
Grapefruit
Kiwi
Orange
Beans (all except mung beans)
Soybeans and Products (e.g., tofu, miso, tempeh, soy nuts, soy sauce)
Nuts (including butters and flours)
Almonds
Cashews
Peanuts
Pinenuts
Seeds (including butters)
Chocolate (and Cocoa Powder)
Herbs and Spices
Black pepper
Turmeric
Cinnamon
Parsley
Cumin
Black and green tea
Grain-free Flours
If you're following a grain-free diet, it's important to note that some grain-free flours are also high in oxalates. These include:
Nut flours (e.g., almond and cashew)
Arrowroot powder
Green banana flour
Potato flour
Tapioca flour
Thus, coconut flour and potato starch (not flour) are the best low oxalate options.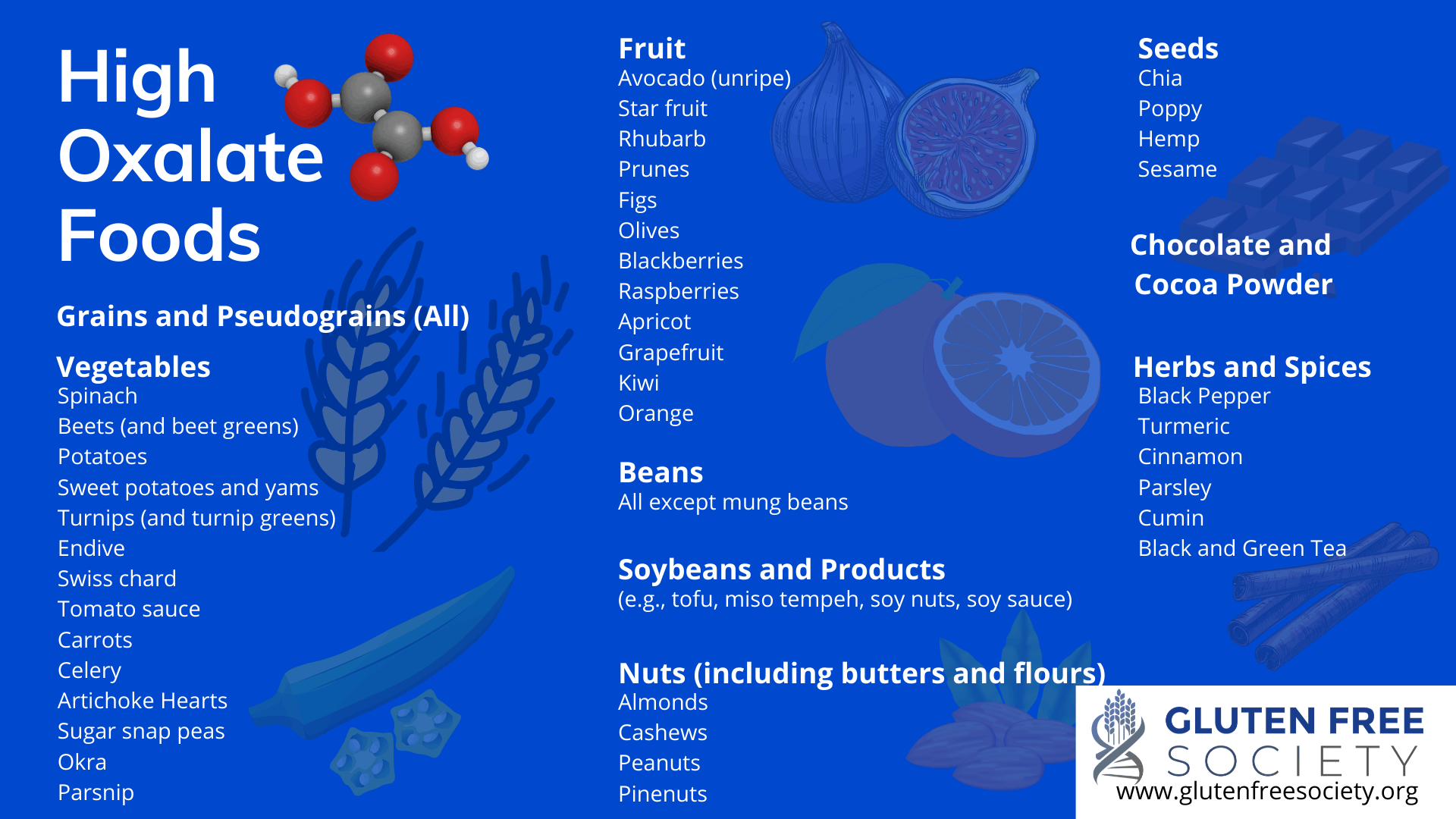 Low Oxalate Foods
The list above may seem long, but there are plenty of low oxalate foods to choose from.
Meats, dairy, poultry, eggs, and seafood are all low in oxalates.
Healthy oils and fats, such as olive, coconut, avocado, and grass-fed butter and ghee are great. However, don't overdo it! Especially if your gut is compromised. Because poorly absorbed fats in your intestines may cause more oxalates to be absorbed into your bloodstream.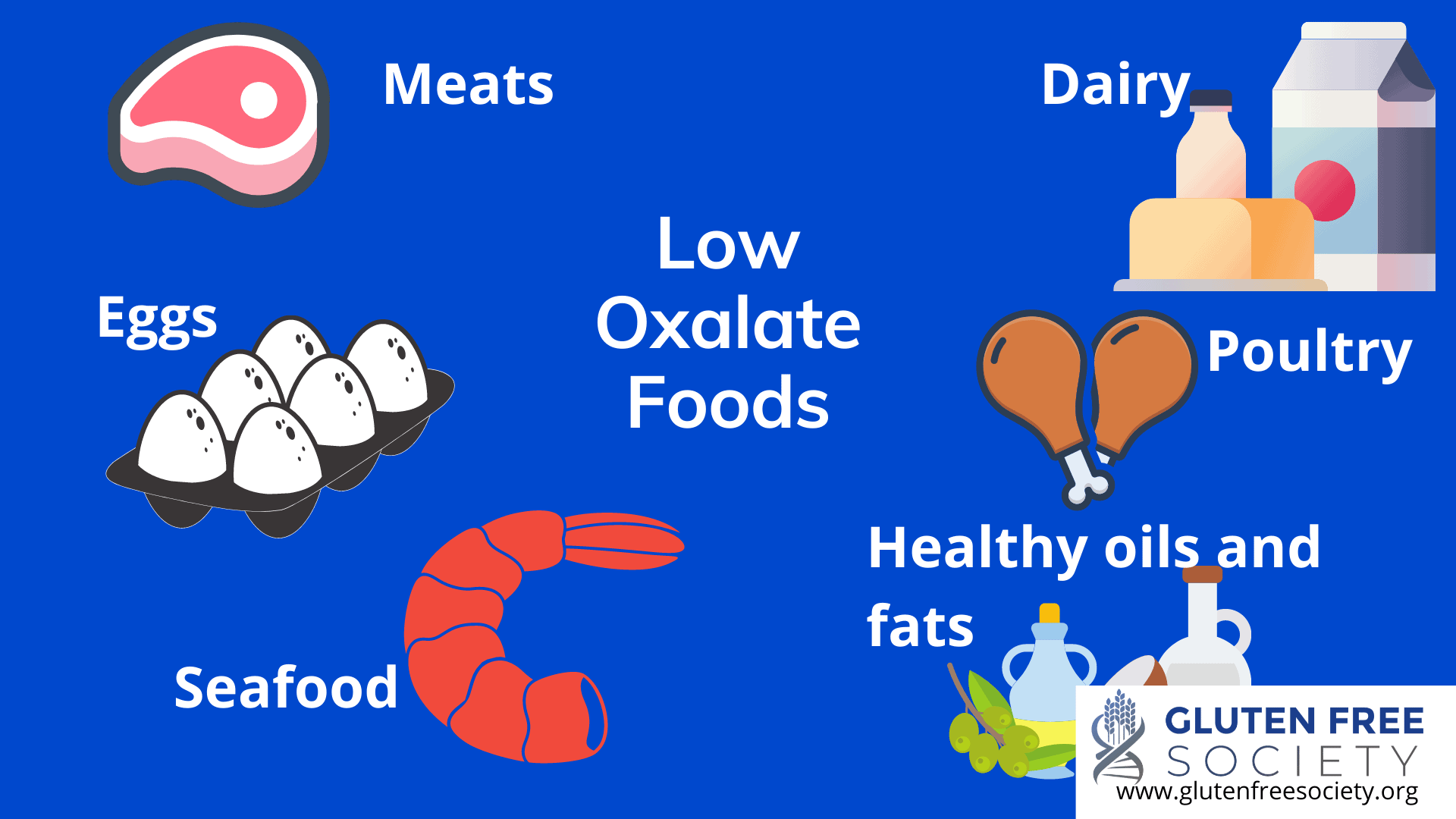 Other good food choices to reduce oxalate burden include:
Vegetables
Asparagus (boiled to reduce oxalate content)
Broccoli
Cauliflower
Romaine and other types of lettuce
Arugula
Cucumbers
Winter and summer squash
Red bell peppers
Lactinato kale
Squash
Mushrooms
Cabbage
Onions
Green peas (boiled)
Fruit
Apples
Avocado (ripe)
Grapes
Cherries
Plums
Peaches
Melon
Mango
Papaya
Blueberries
Bananas
Coconut
Seeds
Pumpkin
Sunflower
Watermelon
Flax
Herbs and Spices
White pepper
Basil
Cilantro
Honey
Mustard
Cardamom
Dill
Fresh garlic
Peppermint
Cayenne
Sage
Thyme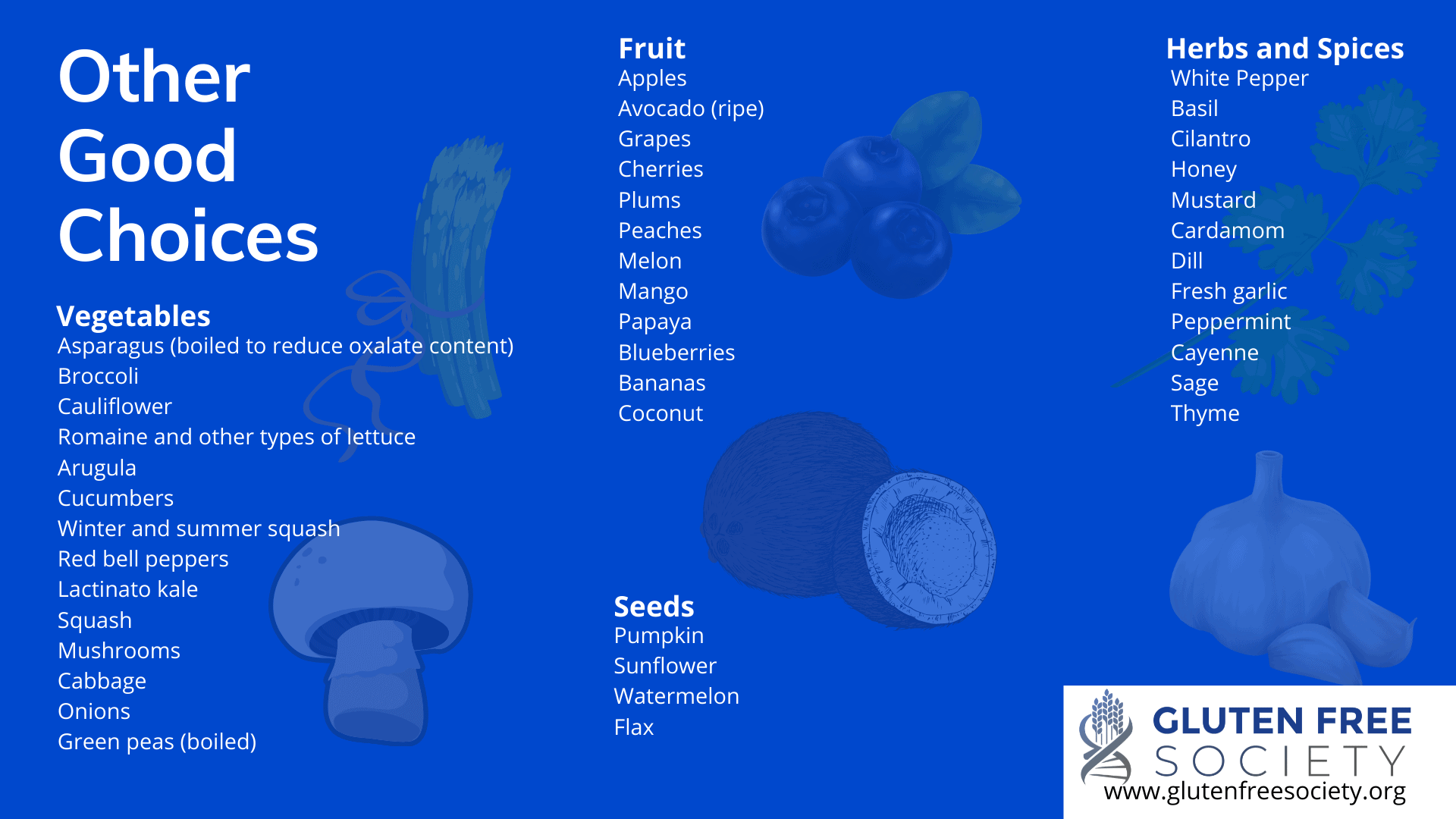 To Sum it Up
Because oxalates are natural and found in healthy foods, their potential for harm is often overlooked. However, there's evidence that those with unresolved symptoms and conditions may benefit from reducing their oxalate intake. This includes those with celiac disease and gluten sensitivity when a gluten-free diet isn't doing the trick.
Some people may also find that when they switch to a healthy gluten-free diet, their symptoms get worse. And oxalates may be to blame. Especially if the diet still includes "gluten-free" grains and green smoothies become a daily staple.
Thus, a grain-free, low oxalate diet may be necessary in some cases to heal your gut and reduce your oxalate burden. So if that's determined to be true for you, I recommend working with a professional to ensure your plan is safe and effective.
Prefer learning with video? Check out my video master class on oxalates and the gluten free diet.
Did you benefit by reducing oxalates from your diet? Comment below.