Gluten Affects People in Many Ways
To date, scientists have elucidated a number of ways that gluten can cause damage to both celiacs and non celiac gluten sensitive individuals. Unfortunately, when trying to identify gluten as a progenitor to disease, doctors typically only look to diagnose celiac disease. As celiac disease is an autoimmune reaction in the small intestine identified by measuring specific antibodies (gliadin, anti-tissue transglutaminase, and anti-endomysial antibodies) and performing a biopsy of the intestine, those who don't have positive test results fall through the cracks. Even though these people report feeling better on a gluten free diet, many doctors and nutritionists insist that their patients continue to eat gluten because their labs are celiac negative.
The Lab Tests Are Not Definitive
Here in lies a big part of the problem. When doctors use labs as definitive information, and ignore what a patient is telling them, then the patients fail to get better without knowing why. A new research study has identified a new mechanism of gluten induced damage. Current lab tests do not address this newly discovered finding, but you should be inclined to share it with your doctor if you respond favorably to a gluten free diet even though your traditional lab tests have come back negative:
Ingestion of wheat, barley, or rye triggers small intestinal inflammation in patients with celiac disease. Specifically, the storage proteins of these cereals (gluten) elicit an adaptive Th1-mediated immune response in individuals carrying HLA-DQ2 or HLA-DQ8 as major genetic predisposition. This well-defined role of adaptive immunity contrasts with an ill-defined component of innate immunity in celiac disease. We identify the α-amylase/trypsin inhibitors (ATIs) CM3 and 0.19, pest resistance molecules in wheat, as strong activators of innate immune responses in monocytes, macrophages, and dendritic cells. ATIs engage the TLR4-MD2-CD14 complex and lead to up-regulation of maturation markers and

elicit release of proinflammatory cytokines in cells from celiac and nonceliac patients and in celiac patients' biopsies.

Mice deficient in TLR4 or TLR4 signaling are protected from intestinal and systemic immune responses upon oral challenge with ATIs. These findings define cereal ATIs as novel contributors to celiac disease. Moreover, ATIs may fuel inflammation and immune reactions in other intestinal and nonintestinal immune disorders.
Source:
J Exp Med. 2012 Dec 3
. Wheat amylase trypsin inhibitors drive intestinal inflammation via activation of toll-like receptor 4.
How Gluten Causes Damage:
Gluten has been shown to damage people in different ways:
Some of the more commonly known mechanisms are listed below and many more are listed in the diagram…
Adaptive immune reaction – People make antibodies to gluten that subsequently cause inflammation and tissue damage ultimately leading to autoimmune disease.
Intestinal permeability – gluten disrupts the gut barrier causes a leaky gut (see diagram)
Digestive distress – gluten digestion is resistant. This leads to changes in bacteria, gut dysbiosis, as well as increased risk for infections.
Maldigestion and Malabsorption – This process can cause numerous problems including – vitamin and mineral deficiencies, anemia, weight loss, failure to heal, hormone imbalance, and many more.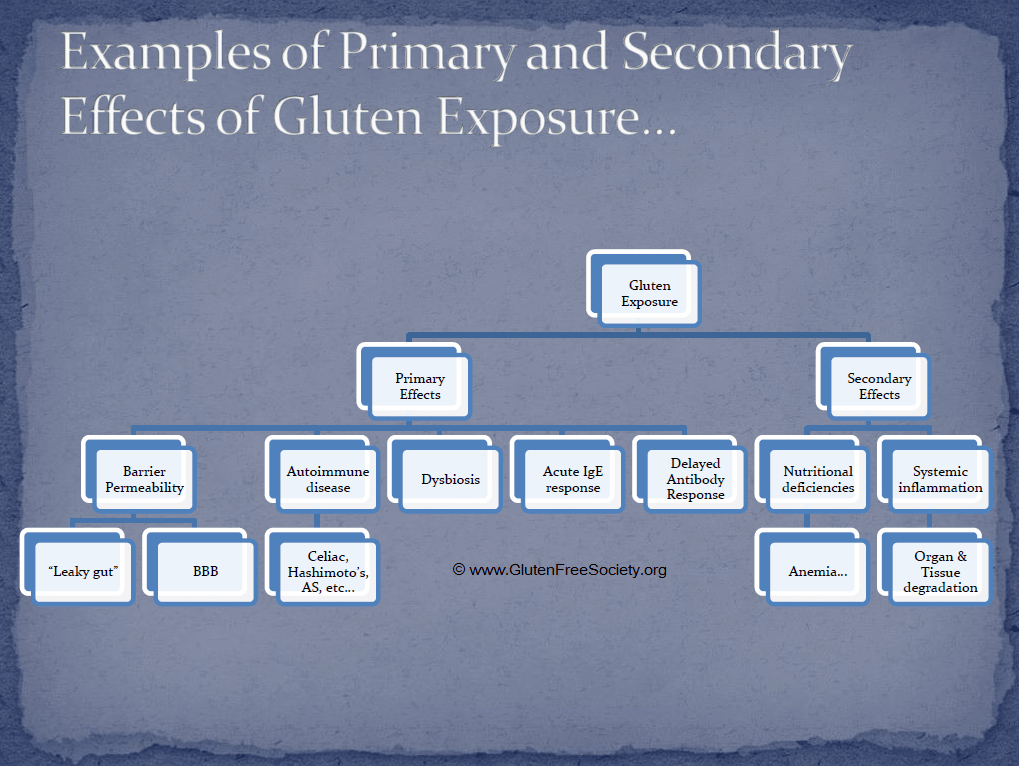 Sometimes Gluten is Not the Issue – Components in Grain Are…
You can read more about
Grainflammation in detail right here <<<
All the best, Dr. O