Biotic Defense – Gluten Free Probiotic
Finally, A Probiotic Designed for the Gluten Sensitive…
Biotic Defense is a special formulation of healthy bacteria designed to support healthy intestinal function. It was designed to support and restore the friendly gut bacteria that gluten is known to hinder and destroy. It is free of gluten (including corn) and safe for use by those with gluten sensitivity and celiac disease.

Intestinal Healing Support
Biotic Defense – The most scientifically advanced gluten free probiotic formulation available. Made by world renowned gluten free expert, Dr. Peter Osborne, for patients with gluten sensitivity. A high potency, gluten free probiotic with 42 billion CFU's per pill.
This formulation has been used and clinically refined over the last 1o years to maximize healing outcomes of patients with gluten intolerance issues. This product was only recently made available to the general public.

About Biotic Defense
Because probiotics are live cultures, product freshness is a top priority. Biotic Defense is carefully handled and manufactured throughout the year, ensuring optimal product freshness for maximized potency at ingestion.
Probiotic Strains
The Lactobacillus and Bifidobacterium strains found in Biotic Defense are specifically formulated to help restore healthy gut bacteria damaged as a result of long term gluten ingestion.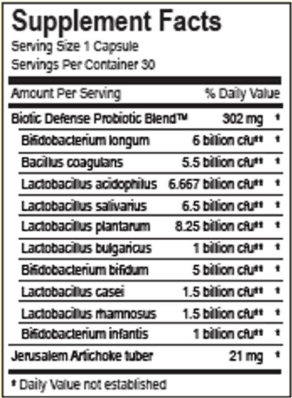 No Refrigeration Needed.
Take it with you throughout the day! Biotic Defense has been scientifically formulated for room temperature storage, ensuring viable dose strength without the need for refrigeration.
Each high potency bottle contains 30 caps. The recommended dose is one capsule per day.