Gluten Found to be a Cause of Autoimmune Hair Loss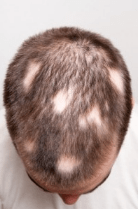 To date, there have been 100's of symptoms, syndromes, and diseases linked to gluten exposure for those with gluten sensitivity. One of these little known diseases is alopecia areata (autoimmune hair loss). This condition can affect men and women and typically manifests as circular balding patches over the head. Other forms of autoimmune hair loss can cause total baldness and in even more severe cases, can lead to universal body hair loss. The study below illustrates the connection between celiac disease and autoimmune alopecia.
Gluten and Hair Loss
Is gluten and alopecia areata related? A patient with coeliac disease presenting alopecia areas as the only symptom is described. Alopecia disappeared completely after a few months of strict gluten free diet and reappeared after an unintentional prolonged introduction of gluten. After a severe gluten free diet, a new and persistent hair growth in the alopecia areas was observed. The possibility was a direct relationship in some cases, between coeliac disease and alopecia areata is confirmed.
Source: Minerva Gastroenterol Dietol. 1999 Dec;45(4):283-5.
Gluten Can Cause Nutritional Hair Loss as Well…
Aside from causing autoimmune hair loss, gluten can cause malnutrition leading to nutritional forms of alopecia. One of the primary side effects of gluten is damage to the intestinal lining. This damage can lead to malabsorption of vitamins and minerals
The loss of nutrients long term can contribute to many problems, one of which is hair loss. For example, gluten intolerance and sensitivity can create nutritional deficiencies in protein, iron, vitamin C, calcium, selenium, B-vitamins, and many others necessary to maintain proper and healthy hair growth.
Watch the video for more on gluten and nutritional deficiencies…
5 Nutrients Critical for Healthy Hair
There are several vitamins and minerals that are vital to healthy hair, nail, and skin growth. These nutrients can help play a role in hair thinning reversal. Let's start with some of the most important:
You can also purchase gluten-free shampoo for thinning hair if you are struggling with this problem. Going completely gluten-free can help reverse some of the hair thinning along with getting the proper amount of nutrients. Let us know if you have any questions about gluten and hair loss.
Learning about and sharing things like this is the reason the Gluten-Free Society came into being.
Always looking out for you,
Dr. O – AKA the Gluten Free Warrior