Is Dairy Safe on a Gluten Free Diet?
Many people cut gluten out of their diet, yet decide to keep consuming dairy products. Is this good, bad or indifferent? Is dairy safe on a gluten free diet? This is one of the biggest questions we get! I wanted to talk about how cutting out gluten can be effective, but cutting out gluten and dairy can be even more effective. What are some of the reasons why people react to dairy?
Read the video transcript here
A1 Casein
One of the big culprits for people who react to dairy is casein, it's one of the primary proteins found in cows milk. Casein will often times
mimic gluten
. However, what many people aren't aware of, is that it depends upon the type of casein, and the type of cow it comes from. There is a European descendant breed of cows known as a Holstein. This cow was brought to the United States predominantly for producing milk. Holstein cows pump out a lot of milk. Therefore, you get more milk from the cow than you can from other cows, or other breeds of cows. However, the problem with Holstein's is that their genetics produce a type of casein called A1 casein. A1 casein looks a lot like gluten, and
can produce a similar immune response
to gluten in the body.
**A brief word on A2 Milk:
A1, again, it's a type of milk that comes from cattle originating in Northern Europe (typically Holstein cow that can look like gluten. So when people drink that milk, that casein can potentially mimic gluten. Whereas, A-2 milk generally comes from older breeds of cow, typically Jersey.. A-2 milk does not contain the same type of casein. It is also free of the protein BCM-7 (beta casomorphin-7). Some people can tolerate raw A2 milk just fine, and it can actually be a nourishing, probiotic rich food!
Gluteomorphin/Casomorphin
Another potentially harmful protein found in milk is sub-protein found in casein known as
casomorphin
. Casomorphin looks and acts a lot like morphine, and can create a 'feel good' response to cow's milk, even if the milk is causing inflammation. In essence, people can become addicted to dairy through the action of casomorphin, which acts like morphine. There is yet another protein found in grain called gluteomorphin that also has a similar opiate-like response, This creates the stage for a very, very addictive quality to the dairy. Are you are one of those people who feels really good about life and really happy when you have dairy? This is probably these proteins affecting your neurotransmission. There's some newer research that shows, just like morphine is a pain reducer, that casomorphin, for those people with gluten sensitivity, actually hinders the pain. In essence, they're eating the food that causes the inflammation that leads to the pain, but the morphine quality of the food actually suppresses the pain. Many people will say "You know what? I really don't fee bad or have any pain when I eat dairy." This is because of the morphine based proteins inhibiting the pain from the inflammation they are actually creating in the body. Therefore, you may be asymptomatic when you consume dairy, but it's still creating inflammation.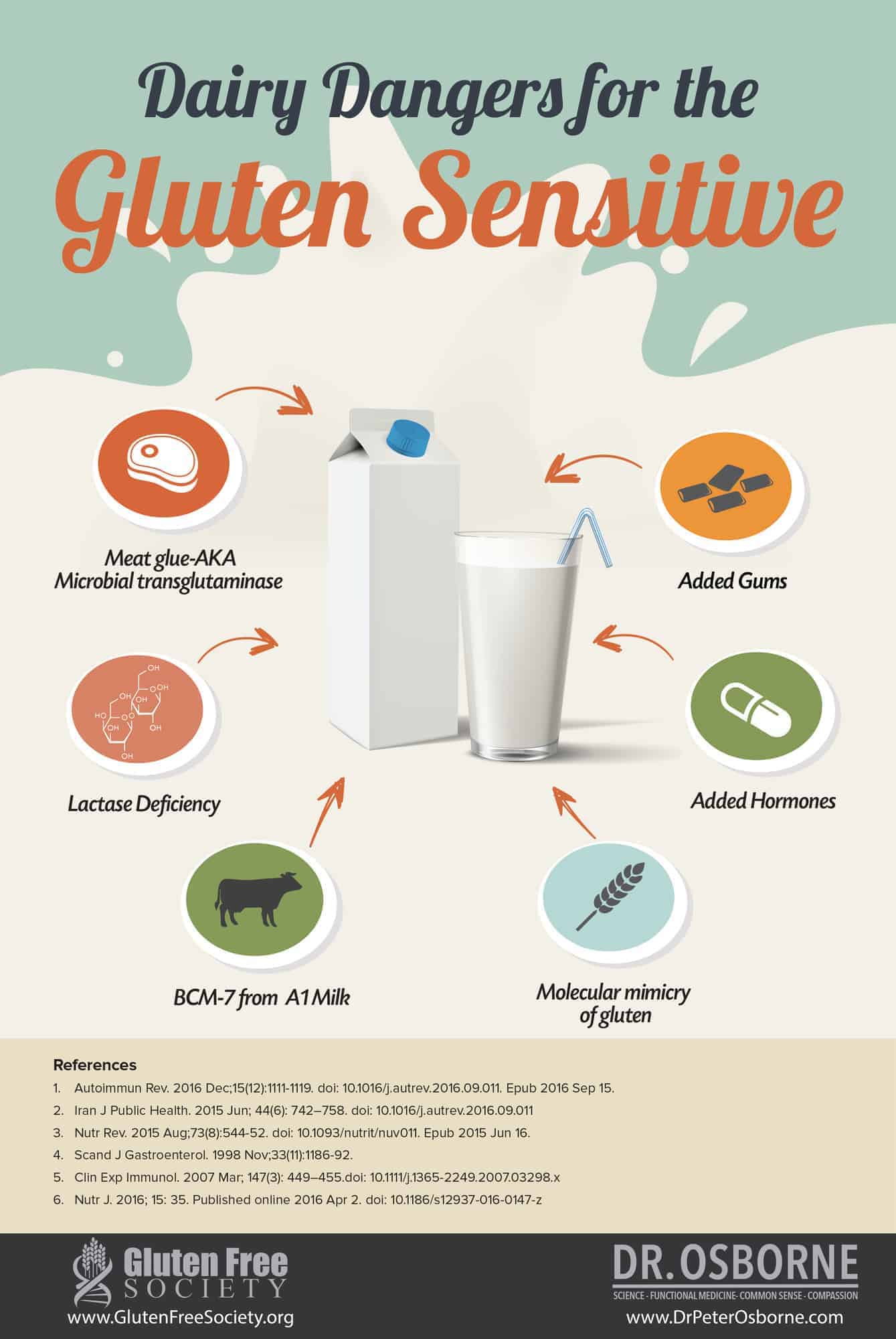 Microbial Transglutaminase, AKA 'Meat Glue'
What is another reason that we might see dairy potentially being a problem? One of them is known as 'meat glue'. Meat glue is a simpler name for
microbial transglutaminase
. MTG for short. MTG is a food additive that is used to process dairy. It is used as a thickening agent, to add texture to dairy such as cheeses and butter, and a shelf life extender. MTG is an enzyme made from bacteria that food manufacturers treat with with. number of studies have shown that foods treated with MTG cause an inflammatory reaction in people with gluten sensitivity. Therefore, people with gluten issues tend to react to the dairy products that are treated with MTG. Even if the dairy is organic. If you are sensitive to gluten, you will potentially react because of the way this enzyme interacts, mimicking gluten. If you are a big dairy fan and you're on a gluten free diet, but you're still struggling? You may want to consider removing dairy from your diet, so that you can make a full recovery.
Gluten in the Diet of the Cow
Why else may dairy be an issue? Another consideration to make, is
gluten in the diet of the cow
. Although there have not been studies done yet on cows, the studies done on human milk show that gluten proteins do pass from the mother's diet into her
breastmilk.
Therefore, it is theoretically plausible that gluten may also pass through the milk of a cow.
Lactose Intolerance
I'm sure you've heard of lactose intolerance before. Lactose intolerance is the inability to break down the sugar in milk known as lactose. Humans make an enzyme called lactase, and that enzyme breaks down lactose so that we can digest it. However, as we age we make less and less of this enzyme. Therefore, lactose intolerance can develop as we get older. If we're looking at somebody specifically with a gluten sensitivity issue, those people often have gut damage where the cells in the GI tract are damaged, and some of those cells have a brush border where enzymes are produced, and enzymes are created. Some of these enzymes like lactase that help you break down dairy. Years of gluten induced damage to the intestine can leave a person enzyme deficient, creating a lactose intolerance. If you eat dairy, and you get gassy, and you get bloated, and you have foul flatulence, and you struggle with constant constipation and diarrhea, irritable bowel, this is probably along the lines of what's happening to you. Dairy is an equal opportunity destroyer for many people. In essence, you can be:
intolerant to the lactose
allergic to the dairy
reacting to the casein in the dairy because it looks like gluten
reacting to the BCM-7
reacting to the microbial transglutaminase being used to treat the dairy, because it makes the dairy look like gluten.
All of these different factors can play a role in why dairy is not necessarily this ideal food choice for you if you're embarking on a healing diet. So when asking the question – is dairy safe on a gluten free diet? – remember that the answer for many is no.
References:
1.
Autoimmun Rev. 2016 Dec;15(12):1111-1119
. doi: 10.1016/j.autrev.2016.09.011. Epub 2016 Sep 15.
2. Iran J Public Health. 2015 Jun; 44(6): 742–758. doi: 10.1016/j.autrev.2016.09.011
3.
Nutr Rev. 2015 Aug;73(8):544-52.
doi: 10.1093/nutrit/nuv011. Epub 2015 Jun 16.
4.
Scand J Gastroenterol. 1998 Nov;33(11):1186-92
. 5.
Clin Exp Immunol. 2007 Mar; 147(3): 449–455
.doi: 10.1111/j.1365-2249.2007.03298.x 6.
Nutr J. 2016; 15: 35.
Published online 2016 Apr 2. doi: 10.1186/s12937-016-0147-z