Another research study investigated the connection between autoimmune liver disease and gluten. This study investigated whether children with combined autoimmune hepatitis and celiac disease had higher remission rates of hepatitis while on a gluten free diet. The conclusion of the study is below…
CONCLUSIONS:: Patients with AIH co-existing with CD achieve treatment-free sustained remission in a significantly higher proportion, when compared to patients with autoimmune liver disease without celiac disease, suggesting a possible long-term adjuvant effect of gluten free diet.
Source:
J Pediatr Gastroenterol Nutr. 2013 Feb 10
.
Gluten Can Cause Liver Damage
There are hundreds of published medical studies on
gluten and liver damage
. The study above is just one more piece of medical evidence. Unfortunately, doctors don't study nutrition and therefore often overlook this connection. If you want to look at additional studies,
click here
. I commonly see clients in my office who suffer with different forms of liver and gall bladder diseases. Sometimes the only symptoms are abdominal and right shoulder pain. Often times they have been diagnosed with non alcoholic fatty liver disease or gall stones. Many or these individuals are considering having surgery to remove their gall bladder. I would recommend anyone suffering with liver or gall bladder problems of unknown origin be
genetically tested for gluten sensitivity
. Celiac testing is too inaccurate and not definitive for those who have non-celiac gluten sensitivity. If you cannot afford testing or if you doctor won't order it for you, go on a
TRUE gluten free diet
. You can also take this
simple quiz
to determine the likelihood for gluten sensitivity. Contrary to popular belief, a gluten free diet is safe even if you don't have gluten issues. There is no requirement in the human diet for grains. This is simply a manufactured marketing effort by cereal companies.
No Gallbladder = Vitamin Deficiency
Remember, if you opt to have your gall bladder removed, you will lose some of your ability to absorb and
digest fat properly
. Vitamins A,
D
, E, and K as well as the
omega 3 fatty acids
all need a healthy gall bladder for proper absorption. The side effects of these nutritional deficiencies can be devastating. Vitamin D alone has been linked to more than 20 terminal cancers. Now consider that liver disease can cause high cholesterol…
Cholesterol medications can cause liver disease
…Liver disease contributes to blood sugar abnormalities…contributes to fatigue…contributes to weight gain…contributes to fatty liver…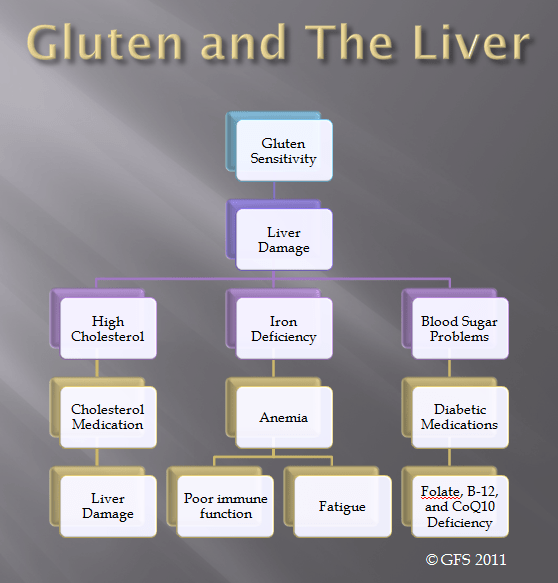 Liver Damage = Skin Disease
In addition to gallbladder problems, liver damage can lead to skin damage. When the liver is over stressed, it can lose its ability to detoxify efficiently. Pollutants, drugs, potentially damaging chemical byproducts are all typically processed by the liver. When this vital organ can't do its job, the skin is recruited to aid in the process. Common skin disorders connected to this are eczema and dermatitis. We can go on and on and on. The point is, gluten intolerance can cause liver and gall bladder problems. Most patients diagnosed with liver disease in the U.S. are told that their disease has no known cause. It makes sense to
investigate gluten
as a causative factor. Always looking out for you, Dr. Osborne – The Gluten Free Warrior If you found the article helpful, please forward it to someone you love #save100millionlives