Is Gluten a Brain and Nerve Toxin?
Heard of Leaky Brain? We know that gluten can contribute to a wide range of complications within the body. Yes, digestion is the most common, but celiac disease and gluten can affect everything from oral health to gut health. But can its effects extend all the way to the brain? Incredibly, yes. Our body's systems don't work in isolation. They are all interconnected and one root problem can cascade into a range of reactions throughout the body. Such is the case with gluten. Lets dive in to how gluten affects the brain.
When it comes to the brain, there are two mechanisms by which gluten can impact brain function. First, it can compromise the blood brain barrier – a critical layer that protects the brain from harmful substances. This condition is called Leaky Brain. Second, gluten-induced nutritional deficiencies can contribute to neurological problems and also impair their repair and healing. This article focuses on these two ways in which gluten can influence brain and nerve health, and the many downstream effects that compromised brain and nerve function can impact the body.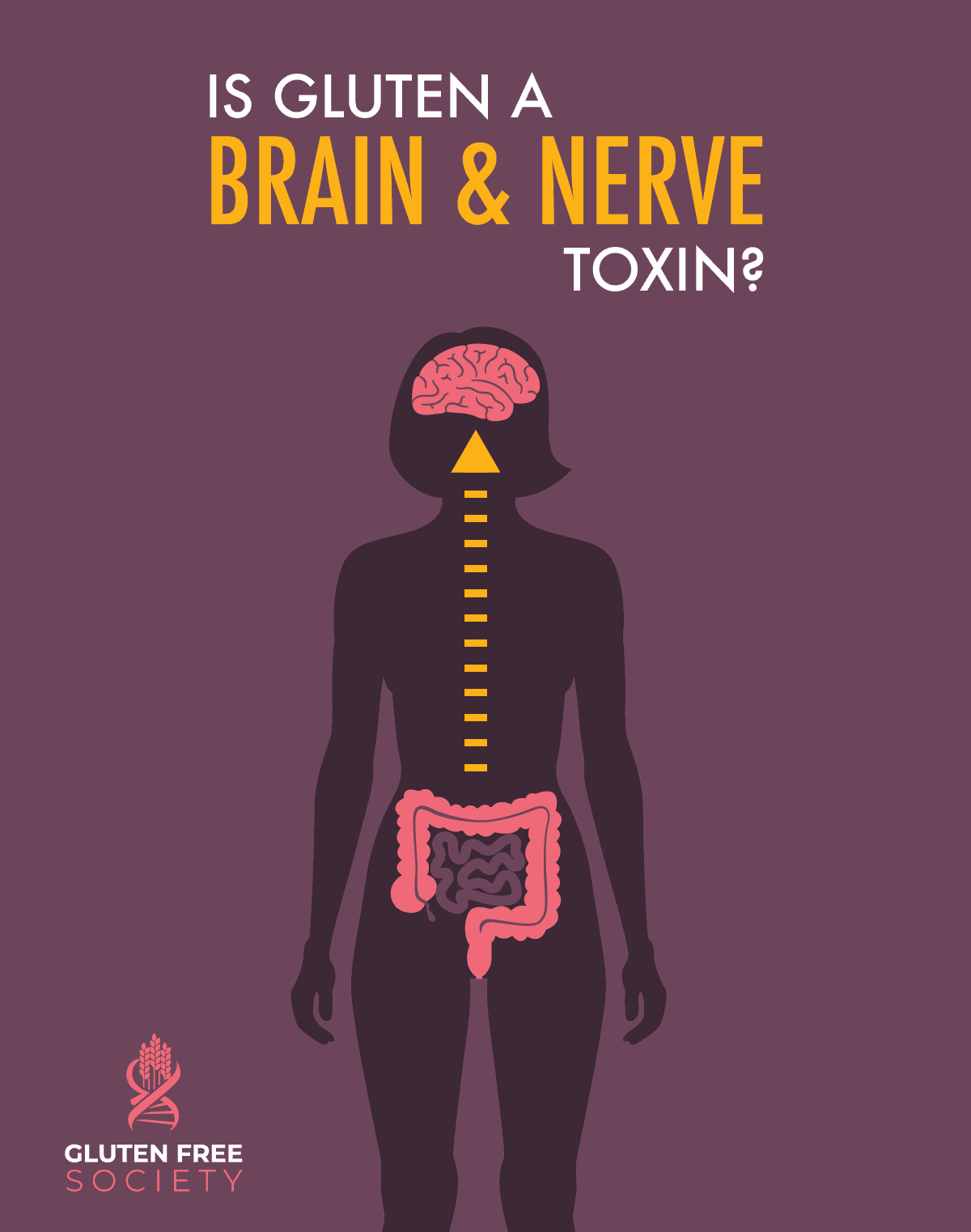 What is Leaky Brain?
First, let's discuss a bit more what Leaky Brain even means. We'll then get into how Leaky Brain can cause complications within the brain and nervous system to contribute to a wide range of related health issues.
Just like gluten can contribute to intestinal inflammation and permeability, or leaky gut, it can also contribute to Leaky Brain.
Research has shown evidence that patients with gluten and dairy reactions have antibodies showing up in their cerebrospinal fluid. Antibodies are proteins made in response to infections, and so the presence of antibodies means that the body has made efforts to fight off a specific infection. In the case of leaky brain, antibodies are an indicator that a disruption in the blood brain barrier is present.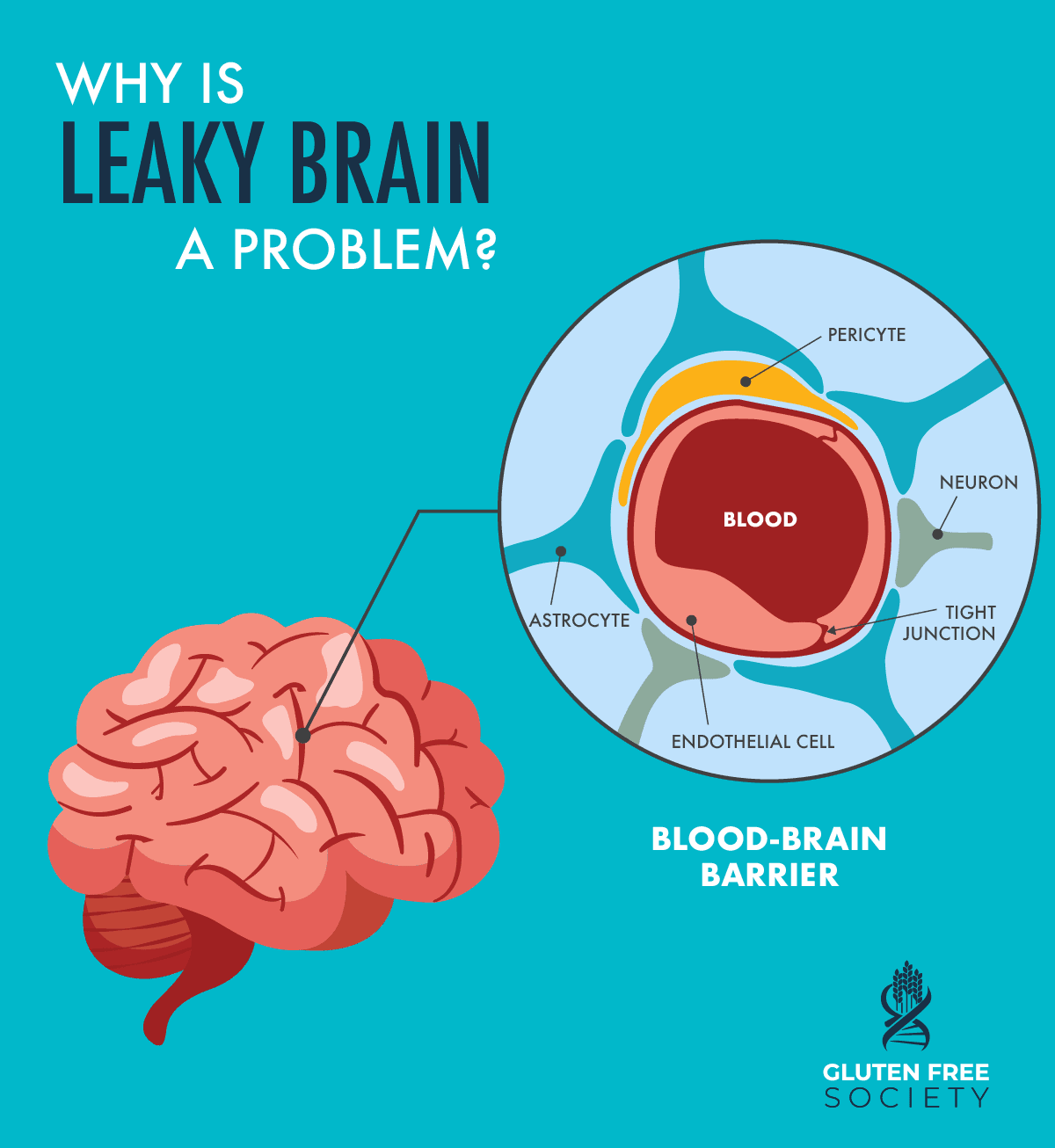 Why is Leaky Brain a Problem?
Why is leaky brain a problem? Well, really the same reason a leak in anything is a problem. The "leak" in Leaky Brain refers to a compromise in the blood brain barrier. Similar to how the barrier in the gut prevents toxins from passing through, the barrier in the brain (the blood brain barrier) prevents elements in the circulating blood from crossing into the fluid of the central nervous system where important neurons exist.
You can think of it like this: the skull helps protect the brain against physical damage and the blood-brain barrier protects against disease-causing pathogens and toxins that may be present in our blood. If this barrier becomes leaky, it opens up the potential for a number of health problems, from inflammation to infection.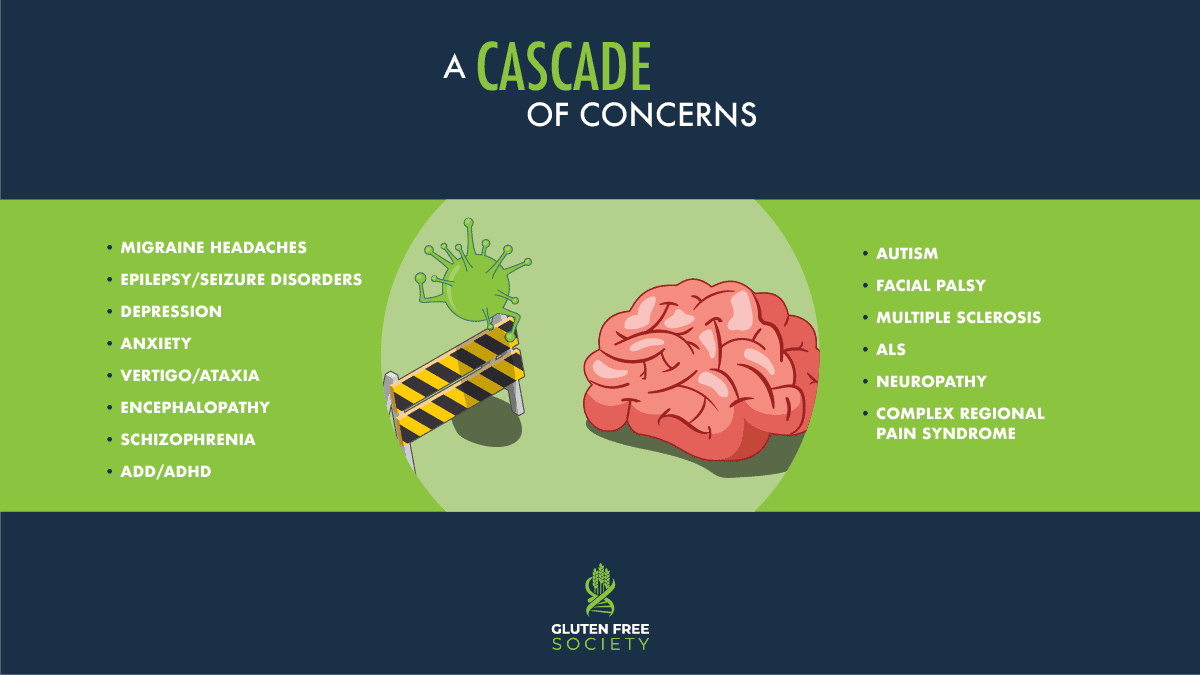 Gluten Causes Damage to the Brain & Nerves in a Variety of Ways
These problems can then lead to further complications that impact the central nervous system – diseases stemming from brain and neurological inflammation, to autoimmunity, and a barrage of nervous system disorders. In fact, some research estimates that gluten intolerance can be associated with central or peripheral nervous system and psychiatric disorders in a significant proportion (10–15%) of cases. Further research has suggested that a strict gluten-free diet is an effective first-line treatment of the neurological manifestations of gluten-related disorders. Below are several potential complications of leaky brain: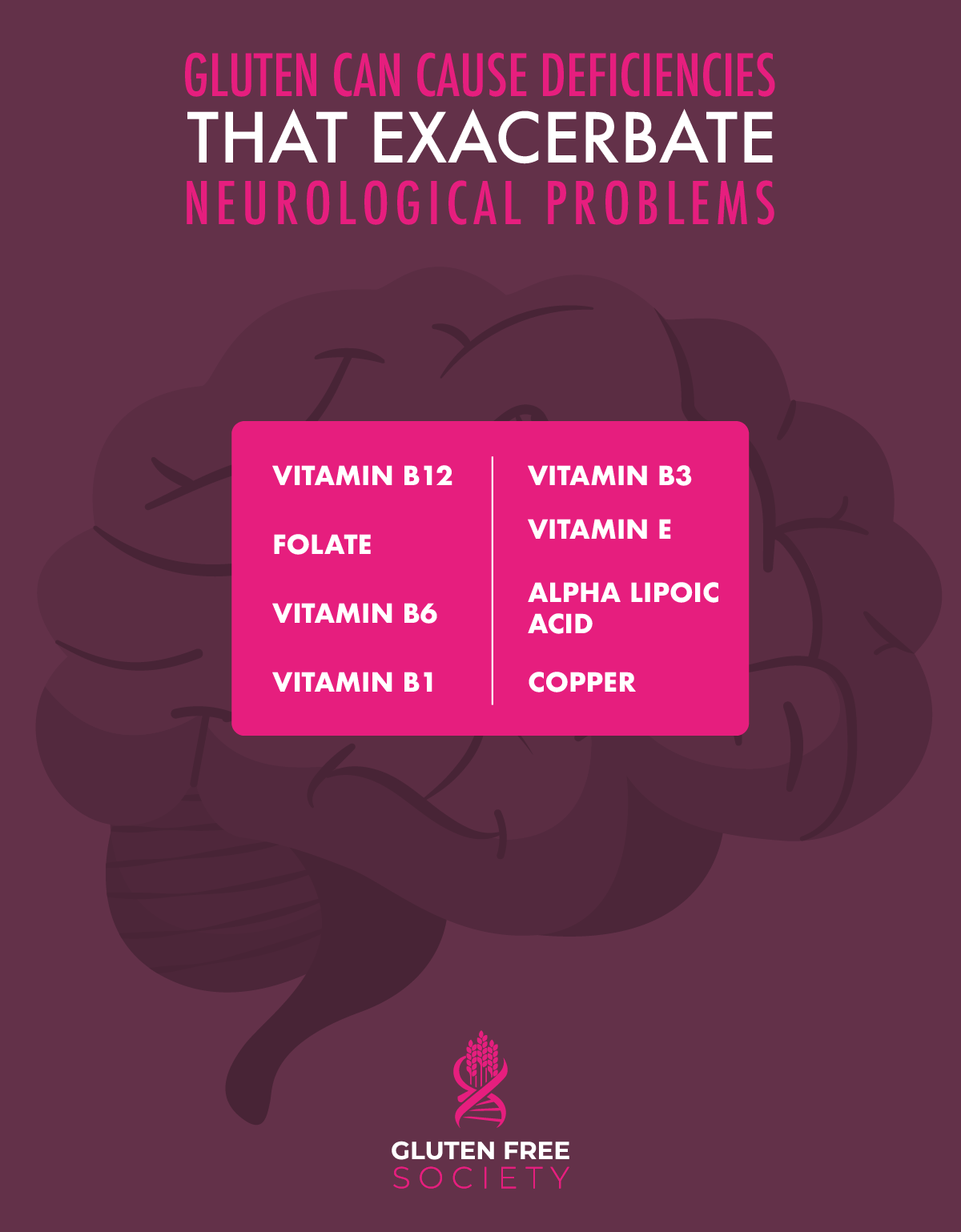 Gluten Induced Nutritional Deficiencies Exacerbate Neurological Problems
But gluten doesn't just influence brain and neurological health through leaky brain and autoimmune inflammation, it can also contribute to nutritional deficiencies which then cause or exacerbate neurological problems. Nutritional deficiencies caused by gluten consumption and its damage to the intestines can also impair the repair and healing of neurological problems.
Identifying the root cause of gluten consumption and/or celiac disease can help the body heal from nutritional deficiencies as well as many of the potential diseases that can result. A first step in healing is to identify and correct any existing nutritional deficiencies. This can be done through testing with a qualified practitioner who is well-versed in the implications of nutrient deficiencies and celiac disease.
Conclusion
Even though the gut and brain may seem quite independent, the reality is, nothing in the body works in isolation. If brain and neurological symptoms are a concern, it is worth investigating and ruling in or out whether celiac disease or gluten consumption could be at the root of your problems.