Medications Commonly Contain Hidden Gluten
One of the most common forms of unintentional gluten exposure comes from both over the counter and prescription medications. Often times doctors are not aware that their prescribed medications contain the toxic protein ingredient, and their patients get a daily dose of hidden gluten.
Gluten Free Diet Challenges
The medication issue is often times a big problem in patients going gluten free and trying to restore good health. I have seen patients stay sick because a prescription drug contained various forms of gluten. The irony here is that the drug is supposed to have a benefit, but serves the opposite function in these types of cases. There are so many ways we can get exposed to hidden gluten, the medicines should not be one of them.
If you are taking a prescription drug, make sure you check with the doctor, the pharmacist, and the drug manufacturer to get clarification on whether or not it contains grains. For a list of hidden terms used on labels go here <<< Corn glutens are the most commonly found ingredient in medications. You can find a list of hidden names for corn here <<<
Medications Can Also Deplete Vitamins & Minerals
Unfortunately, many doctors prescribe drugs without giving thought to the long term effects on nutrition. As I have discussed in previous articles, nutritional deficiencies are one of the biggest problems that gluten sensitive patients face. A lack of key nutrients delays, slows and in many cases stops the healing process in its tracks. As a matter of fact, one of the main reasons a gluten free diet will fail has to do with a patients vitamin and mineral status. The following diagram lists some common medications and the nutrients they inhibit or block: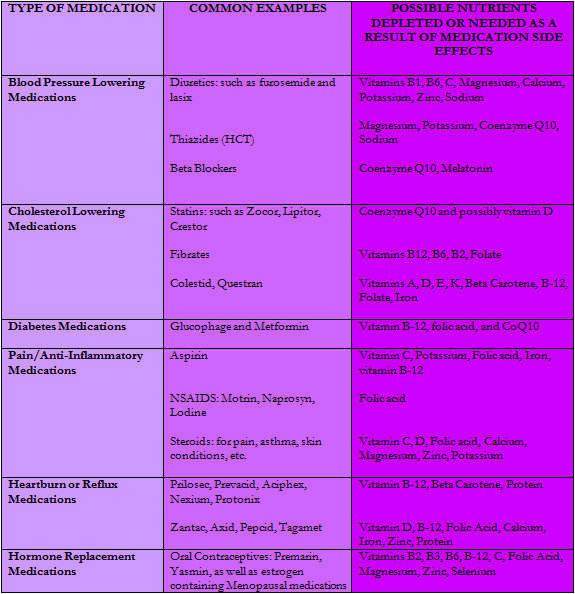 If you have been prescribed medications, the first thing you need to do is talk with your doctor. Have him/her run lab tests to check your nutritional status. If any deficiencies are identified, supplement appropriately. If your doctor won't help you with this, consider finding a functional medicine doctor who will. The future of medicine does not lie in a doctoral dictatorship that orders you to follow blindly without question, but in a mutual relationship of concern between you and your doctor.
All the best,
Dr. O
P.S.
If you want to learn more about hidden sources of gluten, watch this video <<==