Gluten Free Diet Mistakes
In this video, in honor of celiac awareness month, Dr. Peter Osborne breaks down some of the top celiac disease diet mistakes that cause persistent inflammation in the GI tract and perpetual health issues. So if you are following a gluten free diet and it is not working to improve your health, pay close attention.
Top 5 Mistakes Made When Going Gluten Free
Mistake #1 – Eating Corn – the gluten found in corn can cause inflammation, and research proves it. Corn byproducts have also been shown to contain mercury.
Mistake #2 – Eating Rice – This grain can cause inflammation of the colon (enterocolitis). It also contains high levels of the toxic metals cadmium, arsenic, and lead. Processed rice contributes to blood sugar issues leading to weight gain and problems like diabetes.
Mistake #3 – Eating Oats – Despite popular belief, oats (even those not cross contaminated with wheat) can cause inflammation in gluten sensitive individuals. Many popular oat containing products have also been shown to contain the poison glyphosate (see #4).
Mistake #4 – Eating GMO products or non organic products containing glyphosate – Glyphosate is poison. Learn more about it here.
Mistake #5 – Eating processed gluten free foods containing meat glue. Major new research has identified this substance as a celiac trigger.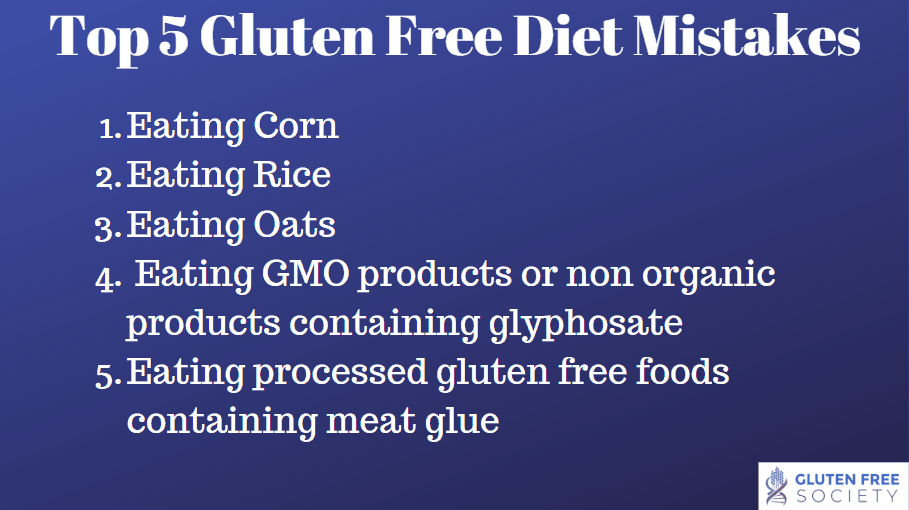 What mistakes did you make when you first started a gluten free diet? Make sure you share below. You might just help someone else trying to navigate a gluten free diet. Always looking out for you, Dr. Osborne – The Gluten Free Warrior