Intermittent Fasting For Healing
Click here for video transcript.
Intermittent Fasting for Healing?
Intermittent fasting is a dietary strategy that addresses the timing of food consumption in a pattern that typically trends toward longer breaks between meal times allowing the gut a prolonged period to rest and recover. There are several different types of fasting strategies. The video above discusses four fasting four different types of fasting that have been shown to have tremendous benefits on health and healing.
What are the benefits of Intermittent Fasting?
One of the cheapest and easiest health tools you can access is fasting. Fasting has been shown to be beneficial for a variety of different diseases and health problems. These include rheumatic diseases (rheumatoid arthritis), chronic pain syndromes, hypertension, and metabolic syndrome, obesity, cancer, digestive disorders, and more. Most recently, nutritional – intermittent fasting is making a come back. Many doctors and patients are gravitating toward the use of fasting as a tool to aid in recovery and as a lifestyle change to promote improved health. Some of the benefits of intermittent fasting include:
Regulates Insulin
Activates beneficial genes (SIRT genes) that aid in metabolic repair, reduce the risks of cancer, and turn on antioxidant systems
Activates Growth Hormone
Accelerates Weight Loss
Improves Energy
Aids Micro-biome
Helps Repair Leaky Gut
Gives the GI tract more downtime to recover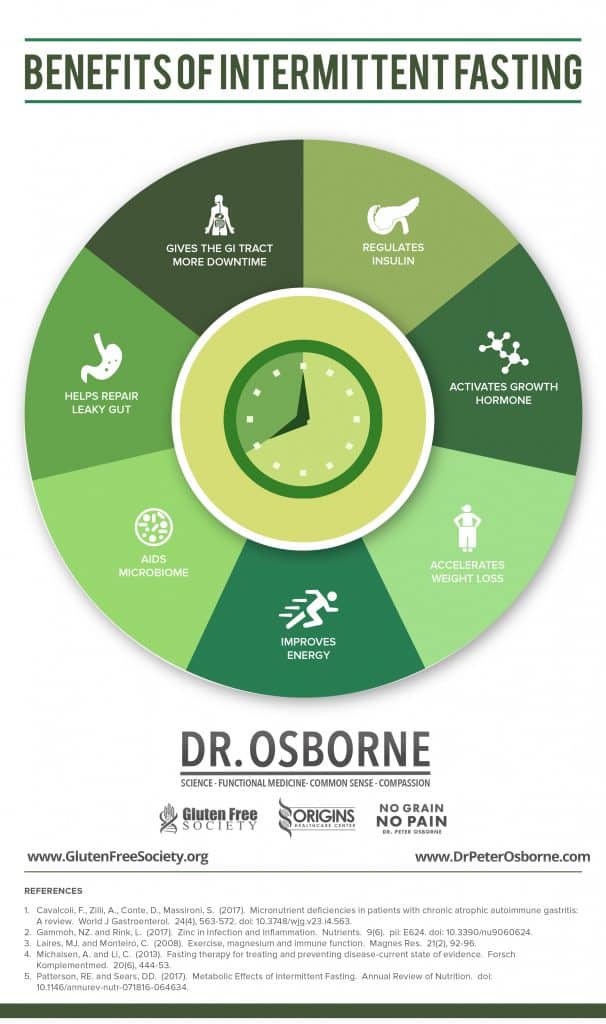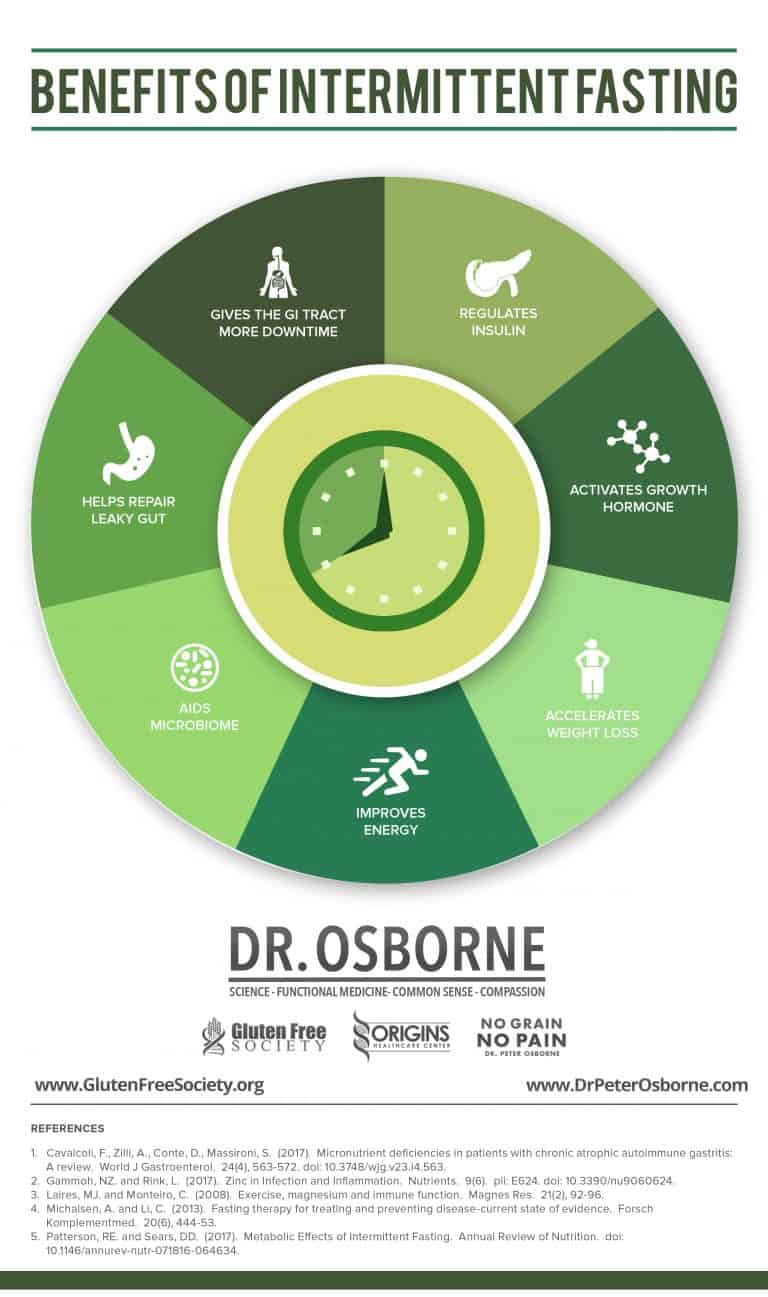 Types of Fasting Strategies
16:8 – This strategy consists of a 16 hour window of resting the gut, and an 8 hour window in which we can eat. This is typically done by eating an early dinner followed by a late breakfast. This ensures a 16 hour period where the gut is at rest. During the 8 hour window of eating, a person will consume their daily caloric need. This is not a restricted calorie diet.
20:4 – This fasting strategy consists of a 20 hour window of resting the gut followed by a 4 hour window in which food is eaten. Like the 16:8 fast, the 20:4 fast is not a restriction of calories.
24 Hour Fast – This diet is somewhat self explanatory. It consists of a complete food restriction over a 24 hour period of time. This strategy is best done in intermittent bouts – i.e. choosing 1-2 days per week to implement the fast. It is best to work with a doctor to help you monitor your health if you struggle with advanced diabetes.
Liquid Fast – This dietary strategy consists of consuming only liquids – broth, soups, juicing, water, etc. The intent of a liquid fast is to reduce the digestive stress on the gut while still maintaining consistent nutritional intake. A liquid fasts works well for people who struggle with indigestion, or those who experience severe gastrointestinal stress no matter what they eat.
Who Can Benefit From Intermittent Fasting?
In truth, anyone can benefit from IF. The metabolic benefits have been studied and applied to numerous health conditions. Maybe the better question to ask is –
"Who should be careful or even potentially avoid intermittent fasting?" There are some health conditions or circumstances to consider:
Pregnancy or breastfeeding. Fasting for these women may not be the best idea as growing babies require solid and consistent nutrition. Although there can be circumstances where intermittent fasting can be helpful, seek professional guidance or supervision if you are pregnant of nursing.
Diabetics – particularly type I or insulin dependent diabetics.
Those who struggle with blood sugar regulation problems – hypo/hyperglycemics
If you are not sure, or you have had trouble with intermittent fasting, don't go it alone. Find a health professional with experience in this area to help guide you.
References
Cavalcoli, F., Zilli, A., Conte, D., Massironi, S. (2017). Micronutrient deficiencies in patients with chronic atrophic autoimmune gastritis: A review. World J Gastroenterol. 24(4), 563-572. doi: 10.3748/wjg.v23.i4.563.
Gammoh, NZ. and Rink, L. (2017). Zinc in Infection and Inflammation. Nutrients. 9(6). pii: E624. doi: 10.3390/nu9060624.
Laires, MJ. and Monteiro, C. (2008). Exercise, magnesium and immune function. Magnes Res. 21(2), 92-96.
Michalsen, A. and Li, C. (2013). Fasting therapy for treating and preventing disease-current state of evidence. Forsch Komplementmed. 20(6), 444-53.
Patterson, RE. and Sears, DD. (2017). Metabolic Effects of Intermittent Fasting. Annual Review of Nutrition. doi: 10.1146/annurev-nutr-071816-064634.
Save
Save
Save