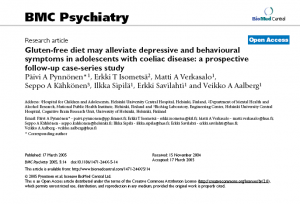 Research continues to link gluten sensitivity to behavioral disorders…
Coeliac disease in adolescents has been associated with an increased prevalence of depressive and disruptive behavioural disorders, particularly in the phase before diet treatment.
In this study, gluten sensitivity in adolescents was discovered to be associated with elevated prolactin and diminished serotonin levels. A gluten free diet reversed these abnormalities and alleviated psychiatric symptoms.
Source:
BMC Psychiatry
2005, 5:14
Gluten Free Society's Stance:
This study sheds light on a couple of key gluten induced abnormalities.
Gluten can elevate prolactin levels leading to a suppression of dopamine causing menstrual cycle dysfunction in women and erectile dysfunction in men. Prolactin also plays a role in the immune modulation of the gut.
Gluten increases the inflammatory chemical interferon gamma. This chemical causes irregularities in tryptophan and serotonin metabolism thus altering gut and brain function.
Anxiety and depression have long been linked to those with celiac disease. This study demonstrated that a gluten free diet alleviates these mental aberrations.
Share your experience in comments below…
Sign up for free weekly updates here.