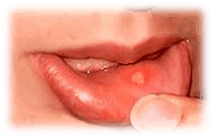 A canker sore is a small painful ulcer in the lining of the mouth. It can also occur in the GI tract. Canker sores are pretty common and when they are found repeatedly only in the mouth, the condition is called Recurrent Aphthous Stomatitis (RAS).
These canker sores can be associated with conditions that affect the GI tract, immune defects and syndromes that are inflammatory. They are not infectious or contagious in any way. However; up to 20% of patients with RAS are deficient in iron, vitamin B and folic acid. Another 3% have malabsorption or GI disorders. The detergent sodium lauryl sulphate found in toothpastes may aggravate them. And NSAIDs and other drugs can cause them.
Researchers wanted to find out how many RAS patients had gluten sensitive enteropathy and assess whether or not a gluten free diet could improve the canker sores.
They found 247 patients with RAS and screened them with the IgA anti-endomysial antibody (EMA) test along with serum IgA and IgA anti tissue transglutaminase. Seven patients with at least one positive test then had duodenal biopsies and all were found to have gluten sensitive enteropathy. This explained why these 7 patients were not successfully treated with the usual anti-canker sore medications (topical corticosteroids, tetracycline, colchicines). Over the next six months, 4 of the patients that went on a strict gluten free diet improved greatly.
Researchers concluded that in patients with RAS, it's appropriate to test for celiac disease, especially in those who don't improve from a traditional prescriptions for RAS.
Source:
BMC Gastroenterol 2009; 9: 44.
Gluten sensitivity enteropathy in patients with recurrent aphthous stomatitis.
Gluten Free Society's Stance
It's a little surprising that the researchers found that all 7 patients had a positive biopsy for gluten sensitivity enteropathy. Often this does not happen. A biopsy only selects a small amount of tissue, almost at random, and that tissue sample may not be reflective of what's occurring in the intestinal tract. Everyone with gluten sensitivity won't have a positive biopsy, and that could explain why the condition may not be identified.
The researchers made a great correlation in this study, but there are still too many people that are suffering from undiagnosed gluten sensitivity enteropathy. The problem is finding them!
Dr. Kenneth Fine's research has found that the
most common symptom of gluten sensitivity
is the canker sore. So the question becomes – Do you have chronic recurring canker sores and don't know why? You may be gluten sensitive.
Genetic testing might be a good idea.