The Most Common Symptoms of Celiac Disease
Celiac disease is an autoimmune disease that leads to an inflammatory destruction of the small intestines. The inflammation and intestinal damage is caused by exposure to gluten proteins found in grains and grain based foods like bread, pasta, pizza, bagels, baked goods, and more. It is estimated that 1-3% of the US population has this condition. Though the terms are also used interchangeably,t is important to note that celiac disease and gluten sensitivity are not the same thing. In essence, everyone with celiac disease is gluten sensitive, however; those with gluten sensitivity don't always develop celiac disease, but instead develop
other health issues
and autoimmune conditions.
This video
breaks down the topic in detail. The symptoms of celiac disease can be very different than the symptoms of gluten sensitivity (AKA – Non Celiac Gluten Sensitivity or NCGA). Below is a breakdown of the symptoms commonly linked to celiac disease:
Celiac Symptoms That Your Doctor Will Look for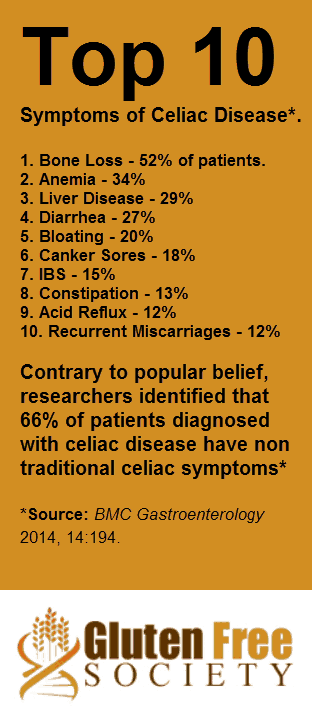 Typically, if a patient presents with chronic diarrhea, weight loss, intestinal pain, and/or iron deficiency anemia, doctors will run tests to try and rule out the presence of celiac disease. These tests typically include:
A small intestine scope with biopsy
Blood Tests for – anti tissue transglutaminase, anti-gliadin, and anti-endomysial antibodies
And on rare occasion – Genetic Testing of the HLA-DQ genes to look for celiac markers
A 2014 research study found additional symptoms linked to celiac disease. The results were quite surprising, because they varied greatly from the traditional symptoms listed above. Two thirds of the patients in this study did not have classical symptoms of celiac disease. Some of the most common intestinal symptoms were:
Bloating
IBS (irritable bowel syndrome)
Constipation
Even more common, were extraintestinal symptoms (symptoms not related to the GI tract). These included:
This is not the only research study on the varying presentations of celiac disease and non celiac gluten sensitivity, it is just one of many that have confirmed that their is a huge variability in the way patients are affected by gluten.
Source:
Umberto Volta, Giacomo Caio, Vincenzo, Stanghellini, and Roberto De Giorgio. The changing clinical profile of celiac disease: a 15-year experience (1998-2012) in an Italian referral center.
BMC Gastroenterology 2014, 14:194
Why Are These Studies So Important?
The average person with celiac disease will go undiagnosed for up to 20 years. Partly because doctors are trained to look only for the traditional symptoms, and partly because the lab tests typically used for diagnosis are known to give frequent
false negative results
. This lack of early diagnosis leads to years of inflammatory damage, severe malnutrition, increased risk for life threatening intestinal cancer, and a host of other health problems. Because the symptoms vary so greatly, many of these patients get misdiagnosed and placed on inappropriate medications for years before getting an accurate diagnosis. Much of this could be prevented with earlier detection. The key to earlier detection is education of both patients and doctors. The following graphic was designed to share with your doctor. If you have the symptoms on the list, and suspect that you may be gluten sensitive (celiac or non celiac), print the info graphic image out and take it to your physician. The research studies are also referenced on this graphic so that your doctor might take you more seriously and run the appropriate tests to help you identify gluten sensitivity (genetic testing).