If you have celiac disease or gluten sensitivity and you avoid eating gluten to maintain your health, you know how awful it feels when you get "glutened" – when you accidentally eat gluten. Let's talk about overcoming gluten exposure. In this article, I will be covering the following:
Before we dive in, let's first define what gluten actually is. For food labeling purposes, the FDA currently defines gluten as the protein that naturally occurs in wheat, barley, rye. Unfortunately, this definition is not entirely accurate.
Here's why. Gluten is not a single protein found in a few grains; rather, it refers to a huge family of proteins found in all grains to include corn, rice, sorghum, oats, etc. Gluten is technically defined as the family of grain based proteins that are soluble in alcohol. These proteins are also sometimes referred to as prolamins. I know what you are thinking – way too technical!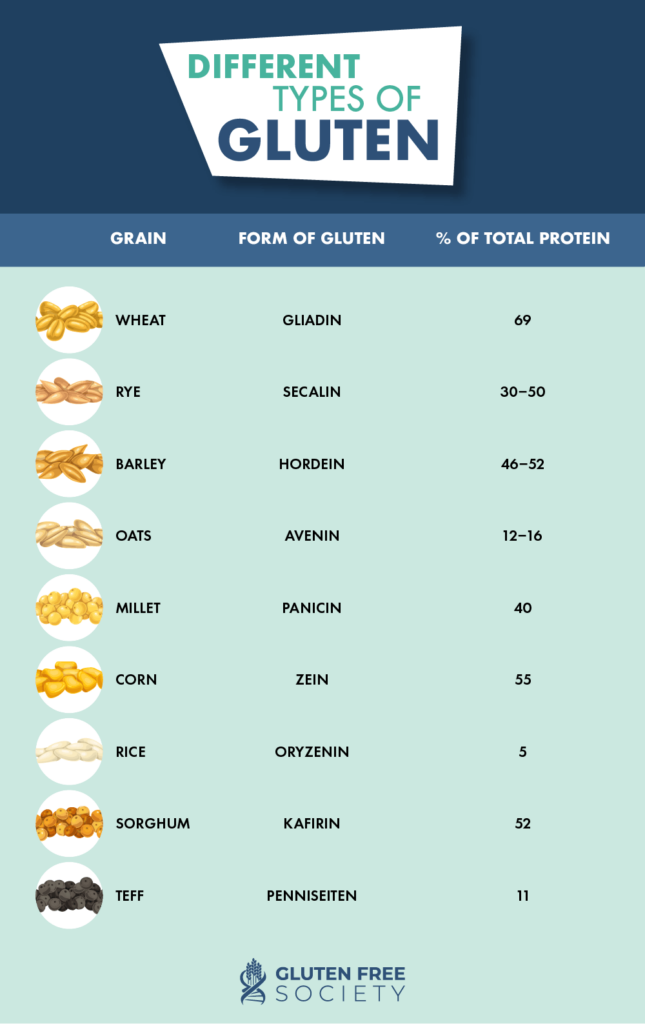 Why is this an important distinction to make? Many people with a celiac or non celiac gluten sensitivity diagnosis, fail to recover when they follow the gluten free diet as defined by the FDA. A TRUE gluten free diet eliminates all grains, because all grains contain gluten prolamins in different forms (see diagram). And more and more research is showing that grains like oats, corn, and rice do actually cause inflammatory damage to those with celiac and gluten sensitivity.
For an expanded scientific breakdown on this topic, you can watch the video below:
Why are Grains and Gluten So Popular?
Grain is the primary staple food in the US. Wheat alone accounts for 50% of the total calories consumed by US citizens. Add to this the fact that the government subsidizes the grains, animals are predominantly fed grains, fuel is derived from grain (corn). Grain is big business. From the perspective of food, gluten proteins make things chewy and more palatable. Many foods have extra gluten added to them for this reason. When gluten is heated the proteins become elastic and are then able to trap gas which allows for optimal rising. This characteristic creates an appealing texture in a variety of foods. This is why it is so popular for baking.
What foods contain gluten?
While you might think that gluten is found only in breads and baked goods, gluten is found in a wide variety of foods. Gluten is often added to processed foods to influence texture or moisture, or to add bulk or increase shelf life. A comprehensive list can be found here, but in general, foods to look out for include the following:
Bread
Pasta
Crackers
Condiments
Canned Soup
Bottled Dressing
Sauces
Spice or Seasoning Mixes
Due to cross contamination, even foods marketed as gluten free can contain gluten. It is important to do your research on a company before eating something to make sure it doesn't contain gluten.
What is gluten sensitivity?
Gluten sensitivity is an immune response to gluten that leads to inflammatory damage to the intestines and other tissues of the body. Gluten exposure is linked to multiple forms of autoimmune disease such as celiac disease, Hashimotos's thyroiditis, and rheumatoid arthritis. Those with gluten sensitivity need to avoid gluten in order to maintain good health. Sometimes people are exposed to gluten accidentally through cross contamination or ignorance of its presence in foods. When this happens, the body experiences both short term discomfort and longer term damage to the intestines and other body tissues. For this reason, it is important to understand how long it takes gluten to pass through your system, and how long it takes for gluten induced damage to repair.
How Long Does Gluten Stay In Your System?
Gluten exposure causes both short term discomfort and longer term intestinal inflammation and damage, and it is important to know how long it takes to recover and repair from both.
1. Short term discomfort
The initial short term discomfort is generally resolved once the ingested gluten has moved through your digestive tract. The time it takes from mouth to bowel movement is referred to as transit time. Transit time can vary from person to person for a variety of different reasons including, the health and function of the gut, liver, and pancreas. In addition, different types of food take different amounts of time to pass through the digestive tract. For example, simple carbohydrates take less time to digest compared to protein or fiber-rich foods. Transit time is also influenced by a number of other factors, including psychological stress, gender, exercise, sleep, hydration, etc. There have been a number of studies performed around gastrointestinal transit time, and the table below lists resulting estimates for transit times in healthy humans after eating a meal.
50% of stomach contents emptied.
All stomach contents emptied.
50% of small intestine emptied.
Transit through the colon
Total Transit Time: 39–52 Hours
(1.5–2 Days)
2. Longer term intestinal inflammation and damage
While you may feel better after a couple days following gluten exposure, there is a lot more happening behind the scenes that you may not be aware of. Ingesting gluten can trigger IgA and IgG antibodies which will then cause leaky gut or intestinal hyperpermeability. The breach of the gut barrier allows toxins to flood into your bloodstream causing systemic tissue damage and inflammation. A number of factors will determine how your body recovers from the "unseen" damage caused by gluten exposure. Research has suggested that the half life of IgA gluten antibodies is about two months and the half life of IgG antibodies is 30-60 days. Translation: it can take 4 months to clear out the antibodies. This means that antibody induced damage can go on for a minimum of two months. However, damage may last far longer, depending on other factors, like the overall state of your gut health, other pre-existing health conditions, your nutritional status, and how many gluten exposures you subject yourself to. In addition to the challenges associated with antibodies that present from ingestion of gluten, research has also shown that the mucosal lining of the intestine does not recover well, even when a gluten free diet is implemented. Specifically, the study notes that mucosal recovery was absent in a substantial portion of adults with celiac disease after treatment with a gluten free diet. This underscores even more how important it is to check food labels, confirm how food was prepared if not by you, and do your research on the testing and practices of any company who makes your food.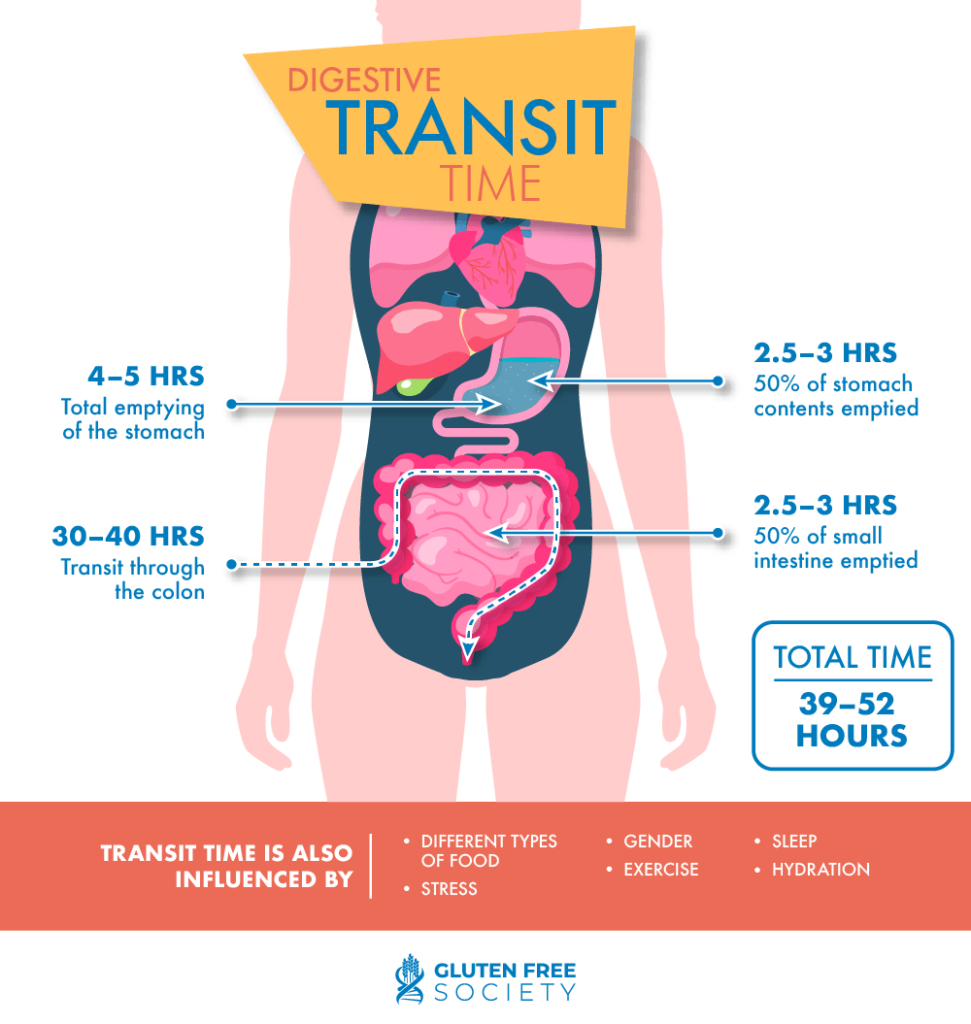 Strategies for overcoming gluten exposure
When you consume gluten, there is an element of just having to "ride out" the symptoms as your body clears out the gluten and repairs damage. However, there are a few steps you can take to help support and expedite these natural processes:
Flush out the bowel: This can be very important if you have a slow transit time or suffer with constipation. The longer the gluten stays in you, the longer you will struggle. A gentle but effective way to flush out the bowel is with a high quality and potent vitamin C product like Detox C powder. While most vitamin C products are derived from GMO corn, Detox C is entirely grain free. It is also buffered with minerals to prevent the acidity and upset stomach that comes with many vitamin C products.
Consider a Fast:

Your gut cells regenerate every 2-7 days. This regeneration can be compromised by gluten exposure. Allowing your GI tract a break from food can expedite recovery, as fasting has been shown to stimulate healing and repair.

Support gluten digestion and breakdown: Comprehensive digestive enzymes can help the body break down the complex carbohydrates in gluten and other foods. Gluten Shield is an enzyme blend designed to help maintain optimum digestion of all foods with a special focus on encouraging more complete digestion of complex carbohydrates in grains, seeds, legumes, vegetables, and other plant materials. This formula also includes herbs to help reduce common digestive symptoms like bloating and gas.
Support the microbiome

: Gluten disrupts the microbiome, so supporting it with a high quality targeted probiotic can help rebalance its composition.

Get Adequate Sleep

: When you sleep, you heal. Don't underestimate the power of a few good nights of high quality sleep.

Educate yourself.

"You don't know what you don't know." Most people approach a gluten free diet armed with too little knowledge. The mistakes can set you back years on your road to recovery. If you aren't sure, I highly recommend that you attend my free

Glutenology™ Masterclass.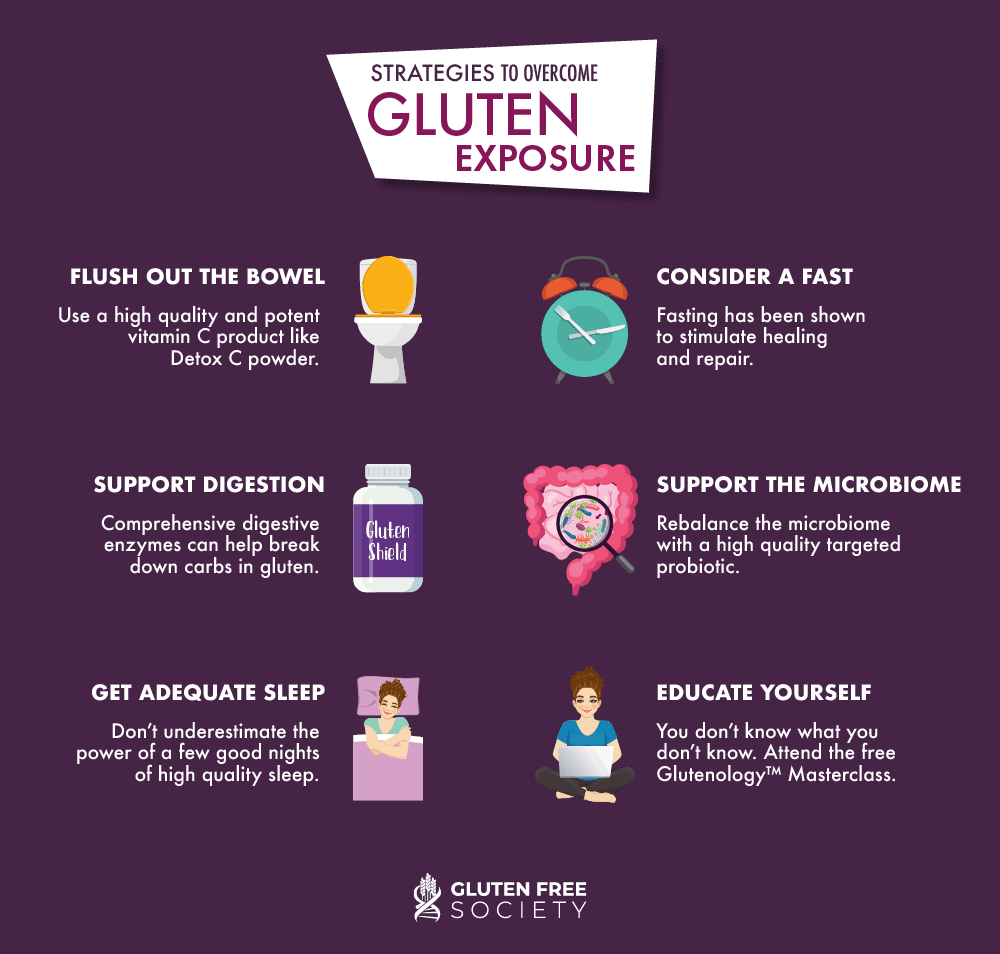 While you can't always avoid gluten, as some foods may unknowingly contain it, it is important to do as much research as you can around the ingredients, preparation, and testing of the foods you eat.
It is also important to not "cheat" and eat something that contains gluten just to give into a craving. This is because even if you can get past the initial discomfort of ingesting gluten (like bloating, cramping, and diarrhea), you are damaging your body's intestines by exposing it to a substance that it cannot tolerate.
However, if you do accidentally ingest gluten, there are certain supplements you can take to help mitigate symptoms and support the repair of damage.