Olmesartan is a prescription medication used to treat high blood pressure. A new study finds that the side effects of this drug can induce symptoms that mimic celiac disease…
A research study published in
Mayo Clinic Proceedings
this week disclosed a very alarming discovery. Researchers have found an association between the prescription drug olmesartan and severe gastrointestinal (GI) issues such as nausea, vomiting, diarrhoea, weight loss, and electrolyte abnormalities.
From 2008 to 2011, physicians from the Mayo Clinic, Rochester, Minnesota, treated 22 patients with symptoms similar to celiac disease, including intestinal inflammation and abnormalities. Patients came from 17 states, and some had been diagnosed with celiac disease. They had chronic diarrhoea and weight loss (median weight loss was 17.70 kg [39 lbs] and 1 patient lost 56.71 kg [125 lbs]). Fourteen of the 22 patients were hospitalised because of the severity of their symptoms. When given a blood test, however, these patients didn't come back with results typical of celiac disease. They also didn't respond to treatments such as gluten-free diets. After examining their medications, Joseph Murray, MD, Mayo Clinic, pulled several of the patients off olmesartan. Surprisingly, their symptoms dramatically improved. Eventually, all 22 were taken off the drug, and all showed improvement. Eighteen of the 22 patients had intestinal biopsies after stopping the medication and showed improvement. "We thought these cases were celiac disease initially because their biopsies showed features very like celiac disease, such as inflammation," said Dr. Murray. "What made them different was they didn't have the antibodies in their blood that are typical for celiac disease." "It's really an awareness issue," he said. "We want doctors to be aware of this issue, so if they see a patient who is having this type of syndrome, they can think about medications as a possible association. "What needs to be known next is the science to understand why there is such an association."
SOURCE:
Mayo Clinic
Why is Drug Induced Celiac Disease Alarming?
Gluten sensitivity diagnosis is on the rise. Studies show that as many as
92% of those going gluten free fail
to have normalization of the villi and reduction of intestinal inflammation during doctor follow up visits. Now we are learning that one of the top prescribed drugs in the United States has side effects that can create symptoms of clinical celiac disease. This is a profound finding and begs many more questions to be asked:
Are there other drugs that can contribute to the development of or mimic celiac disease? The average American over the age of 35 is on 5 + medications. Many of the most commonly prescribed medications contain gluten based fillers. Unfortunately it is not uncommon for doctors to prescribe these drugs to patients who have gluten sensitivity. Currently their are no labeling laws for prescription medications regarding gluten.
Is the intestinal inflammation being caused by the action of the drug or an unintended side effect of the fillers found in the medication?
Do many patients with gluten intolerance and celiac disease fail to respond to diet change because of prescription medications they are taking?
Prescription Drugs Can Create Gastrointestinal Problems
There are a number of medications commonly prescribed that have detrimental side effects. Many of these effects cause gastric and intestinal problems. These symptoms can contribute to a host of different problems. The diagram below illustrates some of the more common negative impacts that are often times ignored or go unrecognized.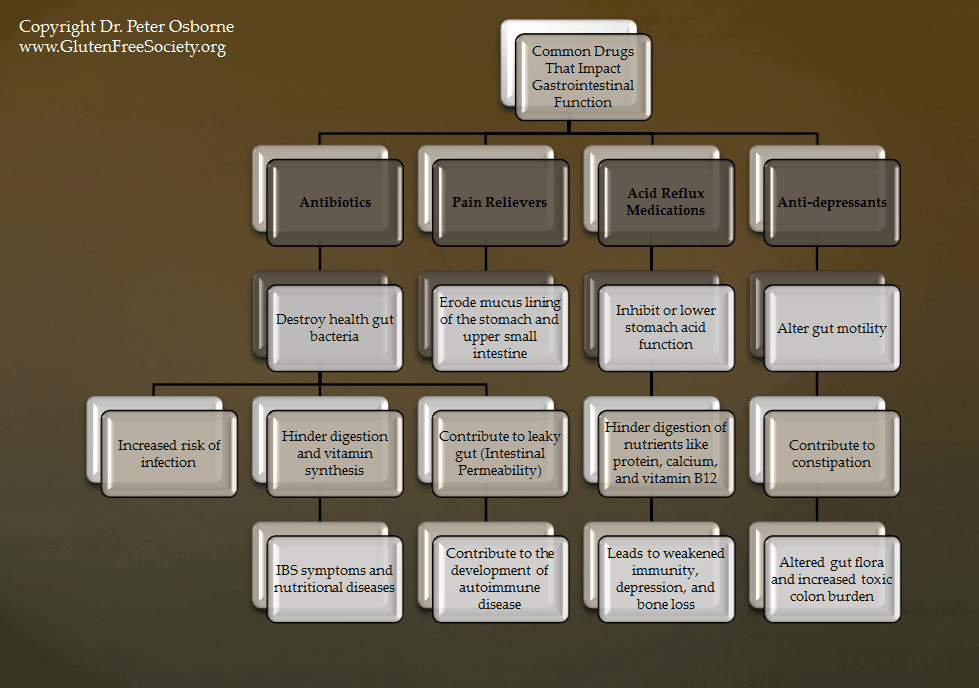 The Solution For Disease (Especially Intestinal) is Not Found in Medication
All too often doctors fail to investigate the origin of disease and instead prescribe a medication that only serves to mask the outward symptoms. This approach can never fully solve the problem that the patient is presenting with, and typically only creates new problems to go along with the original one. Remember that when it comes to the gastrointestinal tract, we must look at food first and foremost. We bathe our intestines three times a day or more in food. The wrong foods can have the wrong effects and lead to many diseases. Celiac disease is a case in point. Bottom line – don't let your doctor tell you differently. If he/she does, then you know that it is time to move on.