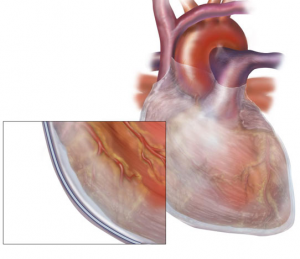 Heart disease kills almost a million people every year in the U.S. Whole grains are often recommended as a means to help lower cholesterol. Unfortunately, for many, this advice is horrible. 3 million people in the U.S. (that we know of) have
gluten sensitivity
. For these people, gluten in grain is a big part of the problem… Acute pericarditis (inflammation of the sack surrounding the heart) can be caused by virus or bacterial infection, but 85% of the cases have an unknown etiology (cause). The common presence of pro-inflammatory cytokines in the fluid around the heart and antinuclear antibodies (ANA – a blood marker commonly used to help diagnose lupus) in the serum as well as new autoimmune disease diagnosis lead the authors of this paper to
suspect that pericarditis itself is caused by an autoimmune process.
Source:
Autoimmun Rev. 2008 Oct;8(1):44-7.
Gluten Free Society's Stance:
If acute pericarditis in the absence of infection is indeed an autoimmune process, then we should look to gluten as a potential progenitor as it is the only well known
cause for autoimmune disease
. There have been several associations between celiac disease and pericarditis in the medical literature to date. Some patients have had resolution of recurrent pericarditis on a gluten free diet. Not all patients with gluten sensitivity will develop celiac disease. Many studies to date have shown that celiac disease is simply one of many autoimmune diseases caused by gluten exposure in those with HLA-DQ genetic susceptibility. Is acute pericarditis in the absence of celiac disease one of these gluten induced manifestations? Possibly yes. If you suffer from recurring pericarditis and don't know why, have your doctor perform
HLA-DQ testing
to rule out gluten sensitivity. Make sure you
share this information using the facebook share option
. Together we can educate the world.
All the best,
Dr. Osborne – The Gluten Free Warrior
P.S. Watch how gluten affected April's heart…