Dangerous Drugs – Risks Outweigh the Benefits
Prescription pain medications pose a major health risk. According to the Center for Disease Control (CDC), approximately 40 Americans are killed daily from overdosing on prescription painkillers. An estimated 1.9 million people either abuse or are addicted to prescription opiates like Vicodin and OxyContin.
Recently, the CDC posted new guidelines warning doctors to limit the use of these medications in the management of chronic pain conditions.
CDC director Thomas Frieden states – "We know of no other medication routinely used for a nonfatal condition that kills patients so frequently… We hope to see fewer deaths from opiates. That's the bottom line. These are really dangerous medications that carry the risk of addiction and death."
What Does Pain Medication Have to Do With Gluten?
As a primary driver of inflammation, gluten has been studied and linked to a number of painful chronic autoimmune conditions. Consider the following: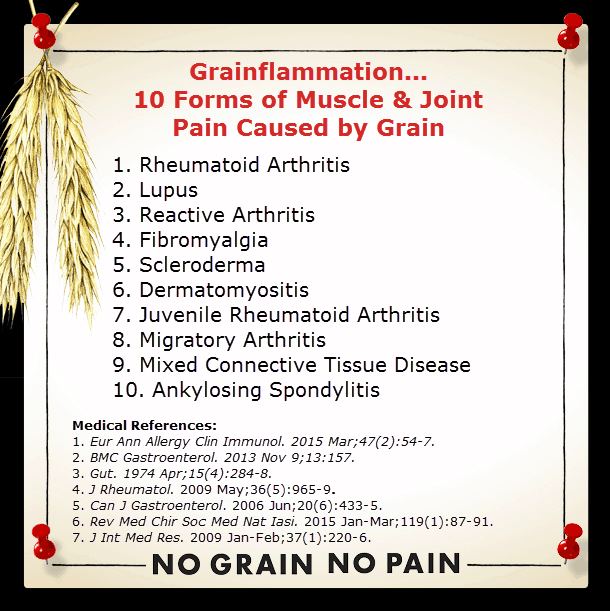 That's not all. In addition to the above diseases, you can add migraine headaches to the list as well. And let's also not forget that for many people, gluten causes malabsorption of iron, calcium, magnesium, and vitamin B12. All of which are known to contribute to or trigger muscle and soft tissue pain when deficient.
Now if you are thinking that you will grab a bottle of aspirin or ibuprofen instead, consider this:
Common over the counter pain medications are no safer. Remember the statistic above – opiates kill 14,600 people a year. Well NSAIDS kill even more – an estimated 16,500 people die annually from their use. These drugs can also cause stomach and intestinal bleeding even in low doses. These medicines are one of the greatest inhibitors of healing for those with leaky gut (intestinal hyperpermeability).

What's The Solution For Chronic Pain?
Well…I did recently write a book on this topic 😉 I will dive more into this next week. In the mean time check out this in depth look at how prescription pain medication can actually create a vicious cycle of pain. This post also includes foods that trigger pain and foods that fight inflammation.
Always looking out for you,
Dr. Osborne – The Gluten Free Warrior