Best Gluten Free Cookie
This recipe is one of my absolute favorites. These cookies remind me of the Keebler fudge stripe variety I had as a kid – only they're better! My friend Diana Keuilian just published her Cookbook,
The Recipe Hacker.
These delicious gluten, grain, dairy, soy, free cookies are awesome. The recipe is below:
Chocolate Coconut Cookies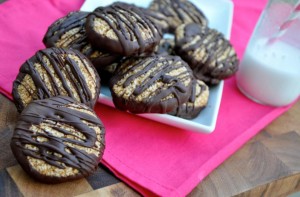 For the Cookies:
2 cups unsweetened shredded coconut
1 cup blanched almond flour
¼ teaspoon sea salt
½ cup coconut oil, melted
½ cup coconut palm sugar
1 teaspoon vanilla extract
¼ teaspoon almond extract
2 eggs, beaten
For the Dark Chocolate Drizzle:
¾ cup dark chocolate 73% cocoa or higher
2 tablespoons coconut oil
Preheat the oven to 300 degrees F. Line a baking sheet with parchment paper.
In a medium bowl combine the shredded coconut, almond flour and sea salt. In another medium bowl combine ½ cup melted coconut oil, coconut sugar, vanilla extract, almond extract and beaten eggs. Add the dry ingredients to the wet ones and mix.
Form round, golf-ball sized, balls with the cookie dough. Place 2 inches apart on the prepared baking sheet. Bake for 30 minutes, or until golden. Allow to cool for 20 minutes then place in the fridge for 20 minutes.
Meanwhile, melt the chocolate and coconut oil in a double boiler. Simply place the chocolate and coconut oil in a small saucepan and place that into a larger saucepan that has a couple of inches of water over medium heat. Mix constantly until smooth.
Dip the chilled cookies in the melted, dark chocolate, then place on a parchment lined plate. Drizzle dark chocolate across the tops of the cookies. Place back in the fridge until the chocolate hardens — about 15 minutes. Enjoy!
You're really going to enjoy these amazing cookies – best of all, they're healthy, delicious, and fat burning just like all of the tasty meals and desserts you'll find in
The Recipe Hacker cookbook
. Grab more recipes like this on the next page…


Get Your Free Copy Of The Recipe Hacker Cookbook Here <==
Always looking out for you,
Dr. O – The Gluten Free Warrior
PS. Chef Diana is only giving away a limited number of The Recipe Hacker & for a very limited time so be sure to
order your free copy now
while you still can!