Dr. Osborne here,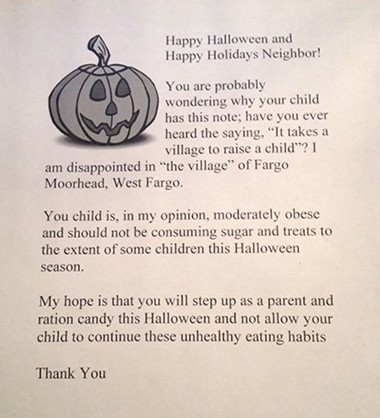 I came across a news story from North Dakota this morning. A woman there is taking a stand against childhood obesity. Instead of handing out candy, she is handing out this letter to the right
I am all for taking a stand on obesity, and I know that the battle has to start somewhere. I can't decide whether this was a good or a bad idea. Probably both.
Giving children a letter will most likely not do any good. Telling other parents that their kid is fat will probably only make them mad.
Question is – at what point do we call out the proverbial 10,000 pound elephant in the room?
If we continue to ignore the growing problem of food induced obesity, it won't go away. Kudos to the woman for having the gumption to take this on in a public light. Though I disagree with her tact, I don't disagree with the message.
What do you think?
Always looking out for you,
Dr. O – The Gluten Free Warrior
P.S.
I am fighting obesity through education. Tap into my Health Matrix and give your family the tools to get educated about nutrition <<<==