Cholesterol Lowering Medications and Gluten – What you should know
Gluten can cause an elevation in cholesterol levels leading to the prescription of a class of drugs known as statins. Common examples include Zocor, Lipitor, and Crestor. Unfortunately, these medications can contribute to a variety of health problems. The following video discusses what you should know…
Why Using Cholesterol Drugs Will Never Reduce Your Risk of Heart Disease…
The medications used to lower cholesterol cause nutritional problems that increase the risk of heart disease and diabetes. In essence, medicating cholesterol is an exercise in futility. Consider the diagram below: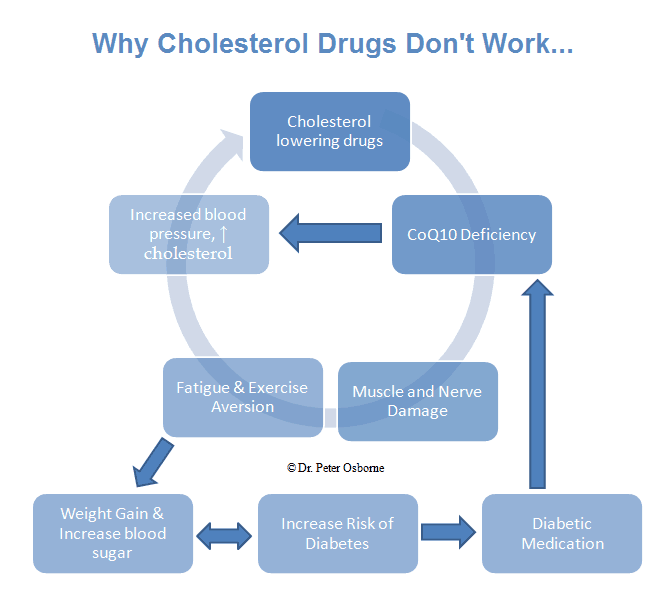 Natural Options to Reduce Heart Disease Risk
Take 2-3 grams per day of omega 3 fatty acids. You can also get these essential fats from grass fed beef, cold water fish, and chia, and flax seeds. These fats help to regulate the thickness of your blood and they also help your body regulate excessive inflammation. Additionally, they have been shown to elevate HDL (good cholesterol) and reduce triglycerides (fat in your bloodstream).
EXERCISE – research shows that as little as 10 minutes of exercise per day can increase muscle tone, help with weight loss, and reduce the risk of heart disease, cancer, diabetes, and many other chronic degenerative disease. For an easy to follow 10 minute home workout plan, go here <<<
Consider the use of Niacin (otherwise known as vitamin B3). This B vitamin is more effective than any drug at reducing heart disease risk. It works so well, pharmaceutical companies created a prescription version of it. The down fall to using high doses of vitamin B3 is the "Flush" effect. This at higher levels this vitamin will flush the skin and creating a warming sensation over the body. Many people find it uncomfortable.
Stop Eating all grains. The TRUE gluten free diet is the best plan to get this done. If you aren't familiar with it, I encourage you to check out the Glutenology Health Matrix to get started.
Gluten is a common cause of high cholesterol
In my clinic, I commonly see patients with high cholesterol.
Going gluten free
for many of them leads to dramatic reductions. I have seen 100 point drops in some patients. The irony in this is that many doctors and nutritionists will recommend whole grain as a treatment recommendation. You see the same recommendations coming from the TV. Honey Nut Cheerios, Shredded Wheat, etc – all being pushed to help drop cholesterol levels. It is estimated that anywhere between 3-30% of the U.S. population has a problem with gluten sensitivity. It would be appropriate for health care providers to take note and demand a change in the generic recommendations being given. It would also be prudent for the government to take note and make drastic changes in the food guide pyramid, as it is the tool being used to teach our children about proper nutrition.
Learn about the high cholesterol myth here <<<