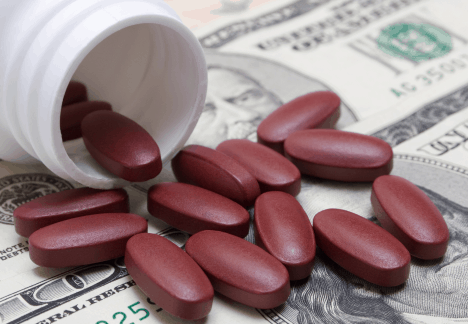 Gluten Free Profits
With the rise in popularity of gluten free diets and gluten sensitivity, the market has adjusted and is diligently working hard to create products and service for those who cannot eat gluten. Currently, the gluten free food market is slated to reach 5 billion plus in annual revenue. Additionally, we have multiple drug companies racing to find
solutions
. One research group is working on a
vaccination for celiac disease
.
Here Comes ALV003
Alvine Pharmaceuticals
has recently finished a phase 2a trial of ALV003 (a new drug being designed to treat celiac patients). The drug is a modified enzyme with the goal of breaking down gluten based proteins. The mechanism of the new drug is in the break down of gluten proteins to make them less reactive to the immune system. It works much in the same way as a digestive enzyme. The drug will be recommended along with a gluten free diet to reduce the risk of cross contamination and hidden gluten in the diet. The following information was obtained from Market Watch:
Phase 2a Trial Design and Results In the double-blind, placebo-controlled Phase 2a clinical trial, 41 well-controlled, well-characterized adult celiac disease patients were randomized to receive ALV003 or placebo daily for six weeks at the time of ingestion of 2g of gluten (bread crumbs). Study participants underwent small bowel biopsy at the beginning of the trial and after being given the daily gluten challenge for six weeks. The primary endpoint was intestinal villus morphometry (villus height:Crypt depth)(or vh:Cd) measured at baseline and at six weeks. Secondary endpoints included intraepithelial lymphocyte (IEL) density, gastrointestinal symptoms as measured by Gastrointestinal Symptom Rating Scale (GSRS) scores, celiac serologies, safety and tolerability. Biopsy results from 34 evaluable patients with celiac disease showed that there was significantly less small intestinal mucosal injury in patients treated with ALV003 than in placebo-treated patients at six weeks (p=0.013). In addition, the data showed statistically significant differences in changes in IEL and both alpha/beta and gamma/delta T-lymphocyte subsets. GSRS scores were directionally consistent with the morphologic changes in the intestinal mucosa (i.e., with less intestinal mucosal injury there was a directionally consistent lower GSRS score). No significant changes were observed in the celiac serology tests. Adverse events consistently occurred more frequently in the placebo-treated patients. Adverse events that occurred in 10 percent or more patients included abdominal distension, flatulence, eructation, abdominal pain and diarrhea. "Based on the results of this rigorously conducted trial, we believe that clinical proof-of-principle has been achieved. We are currently preparing for a Phase 2b trial of ALV003 in celiac disease patients targeted to begin in 2012," said Daniel Adelman, chief medical officer at Alvine Pharmaceuticals.
Source:
Market Watch
The Gluten Free Warrior's Comment –
Enzymatic break down of gluten is a good idea. This mechanism is much like what I recommend to many of my patients (
MAX Digest
). Alvine's trials have been somewhat successful so far. My fear with the development of a drug like this is that people will use it as an excuse to eat gluten, much in the same way that many people use
anti-acid medications
to eat foods that damage the stomach and cause heartburn. Provided the remaining trials of this new enzymatic drug go well, I would simply offer a word of caution. The drug if approved should be used only as an adjunct to a strict gluten free diet. No enzyme (prescribed or over the counter) is strong enough to fully counteract the adverse affects of immune inducing peptides. Remember that gluten can cause damage at 20 parts per million. An amount easily achievable even by accident.
What do you think? Would you take it? Please share with us of Facebook below…