Casey's Kitchen
This fabulous dish is great for holidays or any day for that matter. If you like sweet potatoes, you will love this…
Roasted Sweet Potatoes with Almonds – (Gluten Free for the Holidays)
What you need:
4 medium sweet potatoes, peeled and cut into cubes
3 Tablespoons olive oil
2 Tablespoons minced garlic
⅓ cup fresh thyme leaves
½ teaspoon sea salt
½ cup sliced almonds
Preparation Instructions: Preheat oven to 450 degrees. Combine all ingredients in a gallon zip lock bag. Mix well. Pour onto parchment-lined baking sheet. Place on top rack of oven and roast until tender and browned, about 40 minutes. More recipes ideas below 🙂 Let us know what you think below…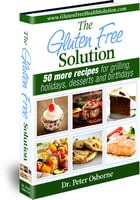 If you need more recipe ideas – try ordering the Gluten Free Health Solution. It has over 150 TRUE gluten free recipes!
Always looking out for you, Dr. O – AKA the Gluten Free Warrior