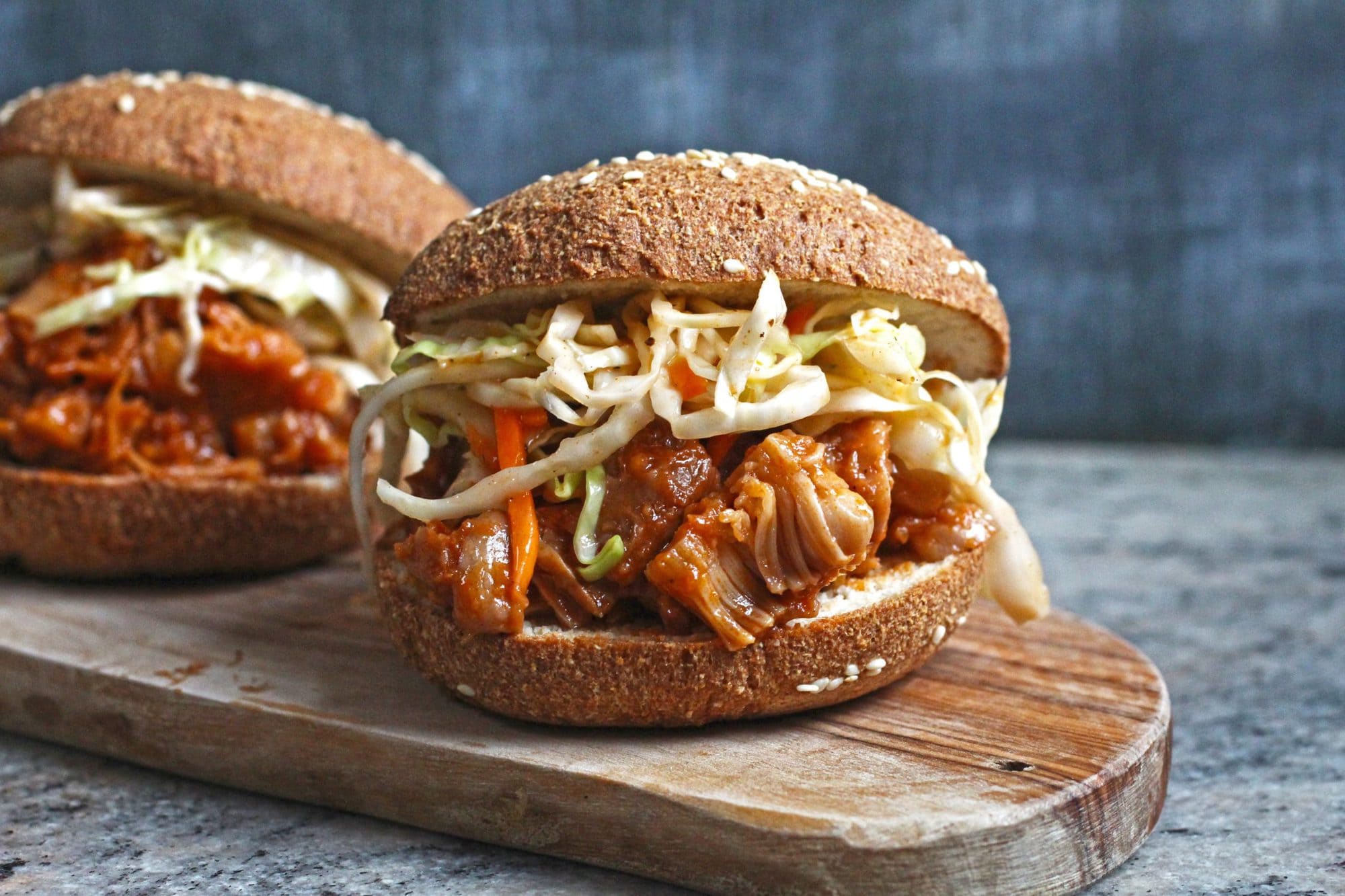 Ingredients
BREAD

1

package

Warrior Bread Mix

1

cup

Egg Whites

1

cup

Water

2

tbsp

Apple Cider Vinegar

PORK

3

pounds

pounds boneless skinless pork shoulder, cut into cubes

1/2

cup

red wine vinegar

1

small

onion

3

cloves

garlic

1

tbsp

cumin

1

teaspoon

smoked paprika

1/2

cup

cilantro, chopped

SAUCE:

14

ounces

diced tomatoes

2

tbsp

red wine vinegar

1/4

cup

honey

1

teaspoon

cumin

1

clove

garlic

1

tbsp

mustard

SLAW

2

cups

shredded cabbage

1

cup

shredded carrots

Juice of 1 lime

1

tbsp

unsweetened coconut yogurt

1/2

teaspoon

celery salt

salt and pepper
Instructions
Preheat oven to 400 F

Add the warrior bread mix to a large bowl.

In another bowl, whisk together the water, egg whites, and vinegar.

Pour the liquids into the bread mix and stir well to combine. Knead for about a minute, then allow to rest for a few minutes.

Line a baking sheet with parchment paper.

Split the dough into 6 equal parts. Form a 4 inch disk with each piece of dough and place them evenly on the baking sheet. Top each one with some sesame seeds and press them into the dough to help them stick.

Bake for about 40 minutes until cooked through.

Remove from oven, allow to cool, and slice in half.

Turn oven to 300 F

Mix the vinegar, onion, garlic, cumin, paprika, and cilantro in a food processor and process until smooth. add 1/2 cup water and pulse a few more times.

Put the pork in a baking dish and season it with salt and pepper. Pour the food processor mixture over the pork. Cover and bake for about 4 hours, stirring a few times as it cooks, until it becomes shredded.

Put the bbq sauce ingredients into the food processor (no need to rinse it out in between) and pulse until smooth.

Simmer the sauce ingredients for about 20 minutes to thicken.

Simmer the sauce ingredients for about 20 minutes to thicken.

Strain the liquid from the cooked pork and stir in the sauce. Add a little of the cooking liquid back in until it is juicy but not too wet.

Mix the slaw ingredients and set aside in the fridge until ready to use.

Build the sandwiches starting with the bread and then some pork, and top them with the slaw before serving.