Why You Should Avoid Gluten Free Food Companies
Gluten Free food companies should be focused on creating foods that help those with major health issues caused by gluten exposure. In order to do this successfully, one would expect that the food substitute options should at least be healthy. After all, people needing to go on a gluten free diet are typically extremely sick and the first priority should be the establishment of improved health. Fundamentally, one cannot achieve good health eating unhealthy foods.
Instead, the vast majority of these companies focus on creating poor quality options high in sugar, GMO grains, pesticides, and other unhealthy fillers. Many of these same companies align with hospitals and celiac treatment centers. These alignments serve to falsely spread the message that processed foods should be incorporated into the diet of very sick people as a means of restoring health. This, in my humble opinion is a terrible message to demonstrate. Processed grains have been linked to:
Diabetes
Obesity
Heart Disease
High Blood Pressure
Chronic Inflammation…
and much, much more. The study below shows the link between processed grain and metabolic syndrome.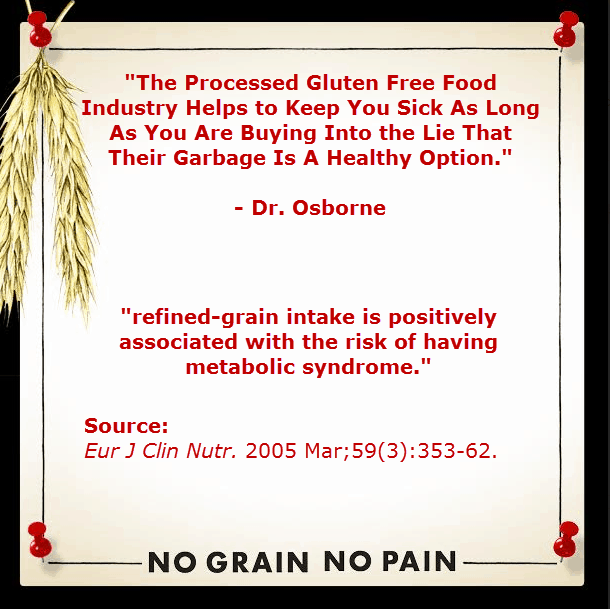 Processed "Gluten Free" Food Is Unhealthy
Processed "gluten free" food options containing cheap grain fillers like corn, rice, and sorghum are terrible for you. Most of the companies hawking these products as healthy alternatives are simply taking advantage of mass nutritional ignorance on the topic, and helping to dilute the important fundamental fact that you cannot overcome poor health by eating junk food. Because the term "gluten free" has been associated with "healthier", many people gravitate to these horrible substitutes only to continue to have persistent health issues. Subsequently, when they don't feel better after making the switch their thought process goes something like this –
"I tried the gluten free diet and it didn't work for me. Guess I can eat gluten after all."
The gluten free food industry is profiting to the tune of 3.4 billion annually and an expected growth to reach 24 billion by 2020. These profits are largely derived by using cheap ingredients with exaggerated mark ups. A loaf of bread made with inexpensive rice flour can cost as much as $8.00.
What do you think about the gluten free food industry? Chime in below…