Description
Ultra B5 – Grain Free Vitamin B5 as Pantothenic Acid
Vitamin B5 has several names including pantothenic, pantothenic acid and pantethine. The prefix of these names, "pantos" literally means everywhere, and that is for good reason. Vitamin B5 is not only found in a number of food items, but you can also find it being added to hair and skin products.
Because it is such a common nutrient, doctors often miss it as a deficiency, which can lead to detrimental effects on the body. Among many functions, It is a precursor to Coenzyme A which is crucial for metabolism and cannot be made without pantothenic acid.
Another important function of pantothenic acid is the production of cholesterol and cortisol. While many consider cholesterol a negative, it's actually quite important for the body. It helps produce CoQ10 and Vitamin D, as well as testosterone in men and estrogen and progesterone in women.
Like several of the other B-vitamins, B5 is also necessary for obtaining energy from protein, fats, and carbs. As mentioned, pantothenic acid is required to produce Coenzyme A which helps the body convert proteins, fats, and carbohydrates into energy, also known as ATP or adenosine triphosphate. 
Again, because this is such a prevalent nutrient, many doctors miss it when diagnosing a deficiency. In fact deficiency of B5 is much more common than it's given credit for.
Signs of deficiency include:
Premature graying of the hair – while going on a supplement will not change the color back, it will significantly slow the graying process.

Inability to cope with stress – as the body is faced with stressors, inflammation can occur activating the need for cortisol, depleting the body's stores of pantothenic acid. While inflammation is not bad in itself, when the body can no longer handle it, it can become a greater issue.

Fatigue, lack of focus and/or brain fog

Burning neuropathy – an actual burning sensation in the feet.
Ultra B5 is a gluten free formula which may be a useful dietary adjunct for individuals who wish to supplement their diet with generous amounts of pantothenic acid.  
How to best take it?
Each capsule provides 500 mg of pantothenic acid. 
For Daily Maintenance – Take 2 capsule per day
Ultra B5 is free from all gluten and contains no GMO ingredients.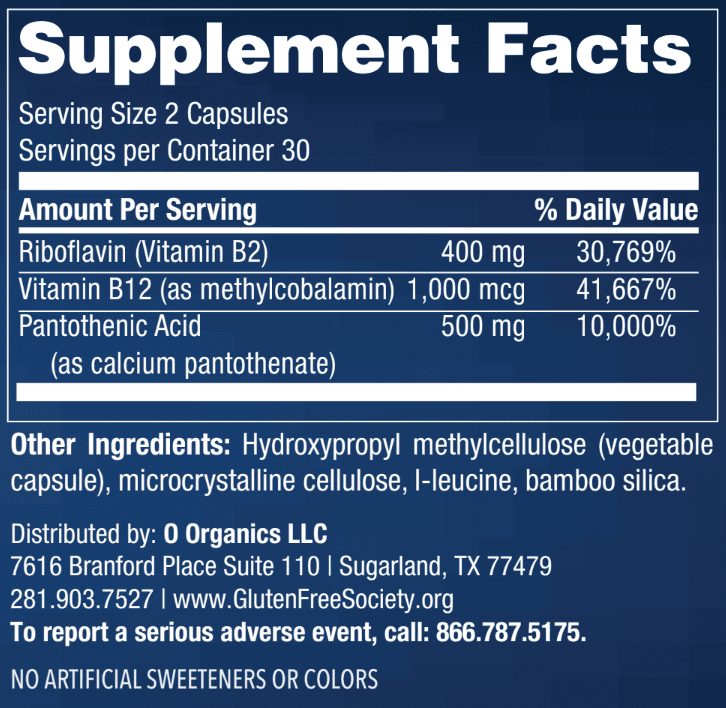 *These statements have not been evaluated by the Food and Drug Administration. This product is not intended to diagnose, treat, cure or prevent any disease