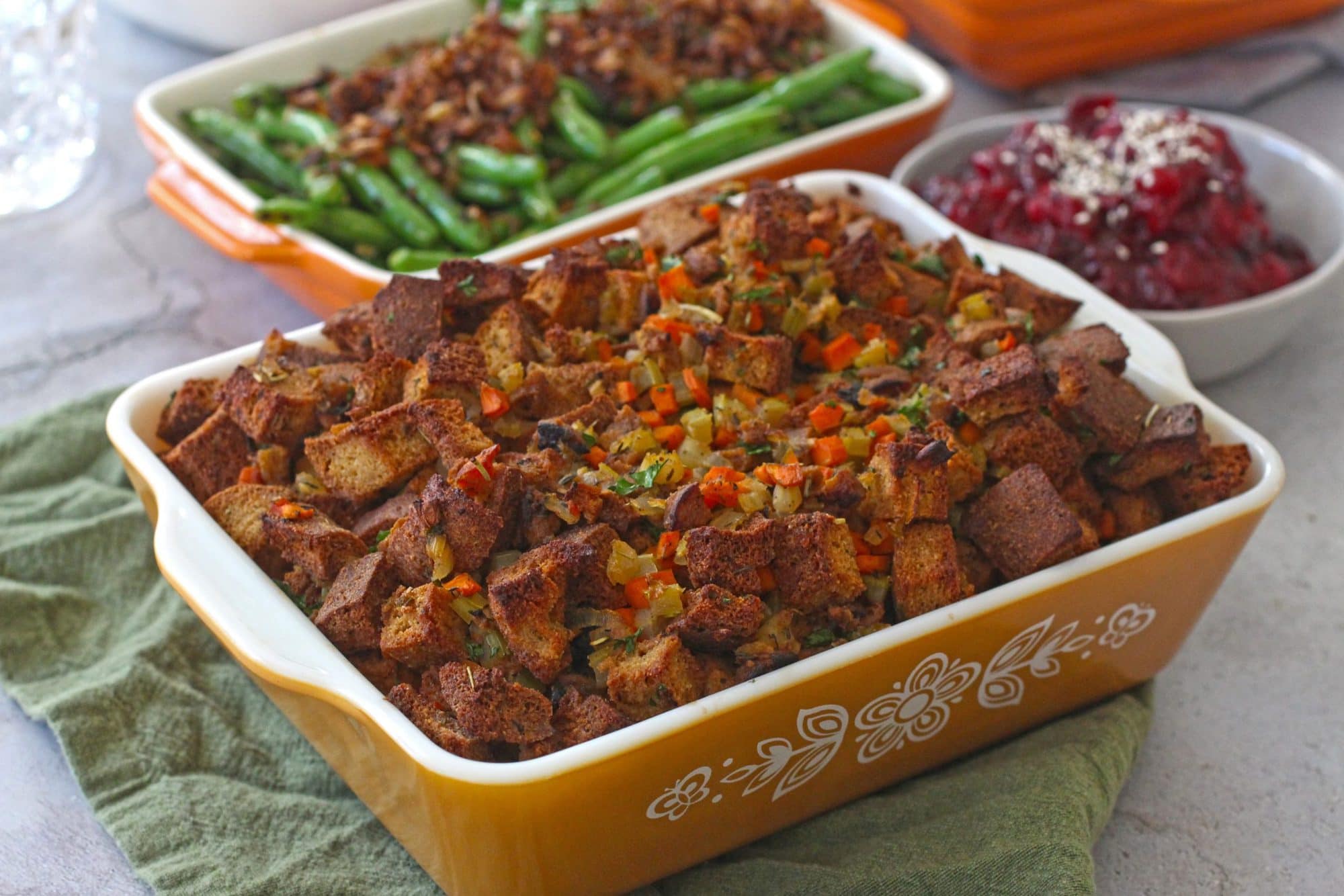 Ingredients
1

Package

Warrior Bread Mix

1

Cup

Egg Whites

1

Cup

Water

2

Tablespoons

Cider Vinegar

2

Tablespoons

olive oil

1/4

Pound

Mild Sausage of Choice

(Casing Removed)

1

Cup

Diced Onions

1/2

Cup

diced celery

1/2

Cup

Diced Carrot

1

Clove

garlic

(minced)

1

Teaspoon

dried rosemary

1

Teaspoon

Dried Thyme

1

Teaspoon

Dried Sage

2-3

Cups

Stock

2

Whole

Eggs
Instructions
Preheat oven to 400

Add the warrior bread mix to a large bowl.

In another bowl, whisk together the water, egg whites, and vinegar.

Pour the liquids into the bread mix and stir well to combine. Knead for about a minute, then allow to rest for a few minutes.

Line a baking sheet with parchment paper.

Form the dough into a large log and put it on the parchment paper

Bake for about 50 minutes until cooked through.

Remove from oven and allow to cool.

Preheat oven to 300.

Cut the bread into small cubes and spread it out on a baking sheet. Bake at 300 until dried out and lightly toasted, about a half hour.

Meanwhile, add the oil to a frying pan over medium heat. Add in the sausage and cook, breaking it up as it cooks, for about 3 minutes.

Add in the onion, carrot, and celery and cook for 10 minutes, until the sausage is fully cooked, and the veggies are softened and reduced in size.

Add in the garlic and herbs and cook for 3 minutes. Remove from heat.

Preheat oven to 350.

In a large bowl, add in all the bread. Next add in the contents of the frying pan and toss to combine.

Add in the stock, adding a little more if needed, depending on how dry it looks. It Should be soggy with visible liquid covering at least 3/4 of the bread.

Whisk in the eggs and toss to combine.

Add the mixture to a baking dish and bake at 350 for about 45 minutes until the liquid is absorbed and the top is crispy.