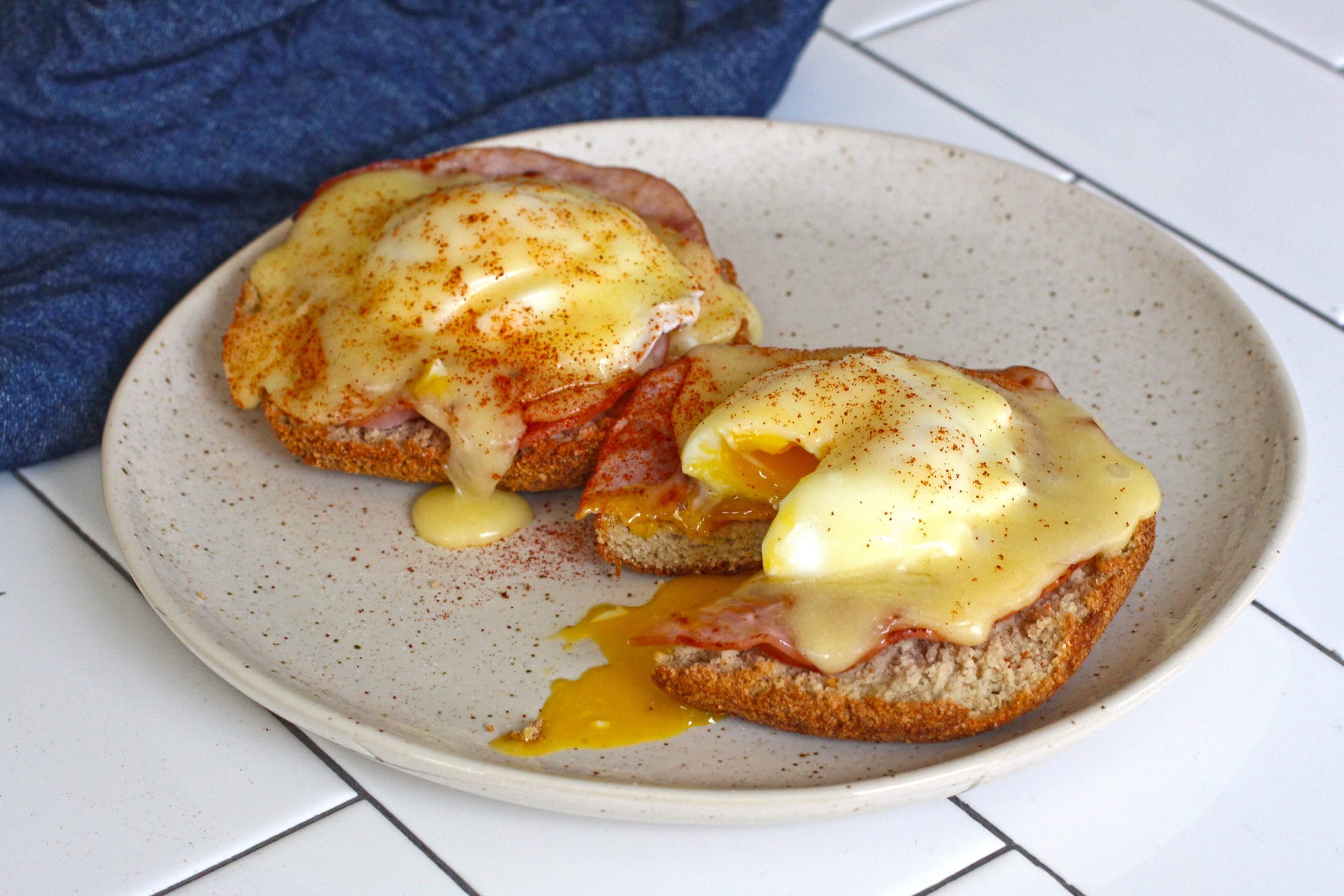 Ingredients
1

package

Warrior Bread Mix

1

cup

almond milk

1

cup

egg whites plus 1 yolk

1

tablespoon

Apple Cider Vinegar

2

tablespoon

honey

8

whole

Eggs

3

egg

yolks

1

teaspoon

mustard (we recommend apple cider vinegar based mustard)

juice of

1 lemon

1/2

cup

hot coconut oil (alternatively, you could use vegan butter)

16

slices

ham
Instructions
Preheat oven to 375 F.

Add the warrior bread mix to a large bowl. In another bowl, whisk together the water, egg whites plus 1 yolk, vinegar, and honey. Pour the liquids into the bread mix and stir well to combine. Knead for about a minute, then allow to rest for a few minutes.

Line a baking sheet with parchment paper. Coat the bottom of a frying pan with some coconut or olive oil and bring to medium heat.

In batches of 3 or 4, depending on your pan size, add 1/8th of the dough to the pan and form it into a circular shape. Cook about 5 minutes, then flip to brown the other side. Place on the parchment lined baking sheet when done.

When they are all done, bake for about 45 minutes until cooked through. Allow to cool before splitting in half with the tines of a fork to get the classic "nook and cranny" texture of an English muffin.

Bring a pot of salted water to a boil. One by one, crack the eggs into a mesh strainer. Some egg white will fall off the egg, but most will remain. Dip the strainer into the water and allow the egg to cook until the white is solid and the yolk is still runny. Remove from the pot and repeat until you cook all 8 eggs.

Put the 3 yolks into a bowl and add the mustard and lemon. Whisk vigorously and slowly start to drizzle in the hot coconut oil as you continue to whisk. The sauce with thicken. This needs to be used immediately or held at the warm temp.

Build the benedicts - put 2 English muffin halves on each plate. Top each with a slice of ham, then a poached egg. Drizzle on hollandaise sauce and then sprinkle on some paprika. Serve.
Video