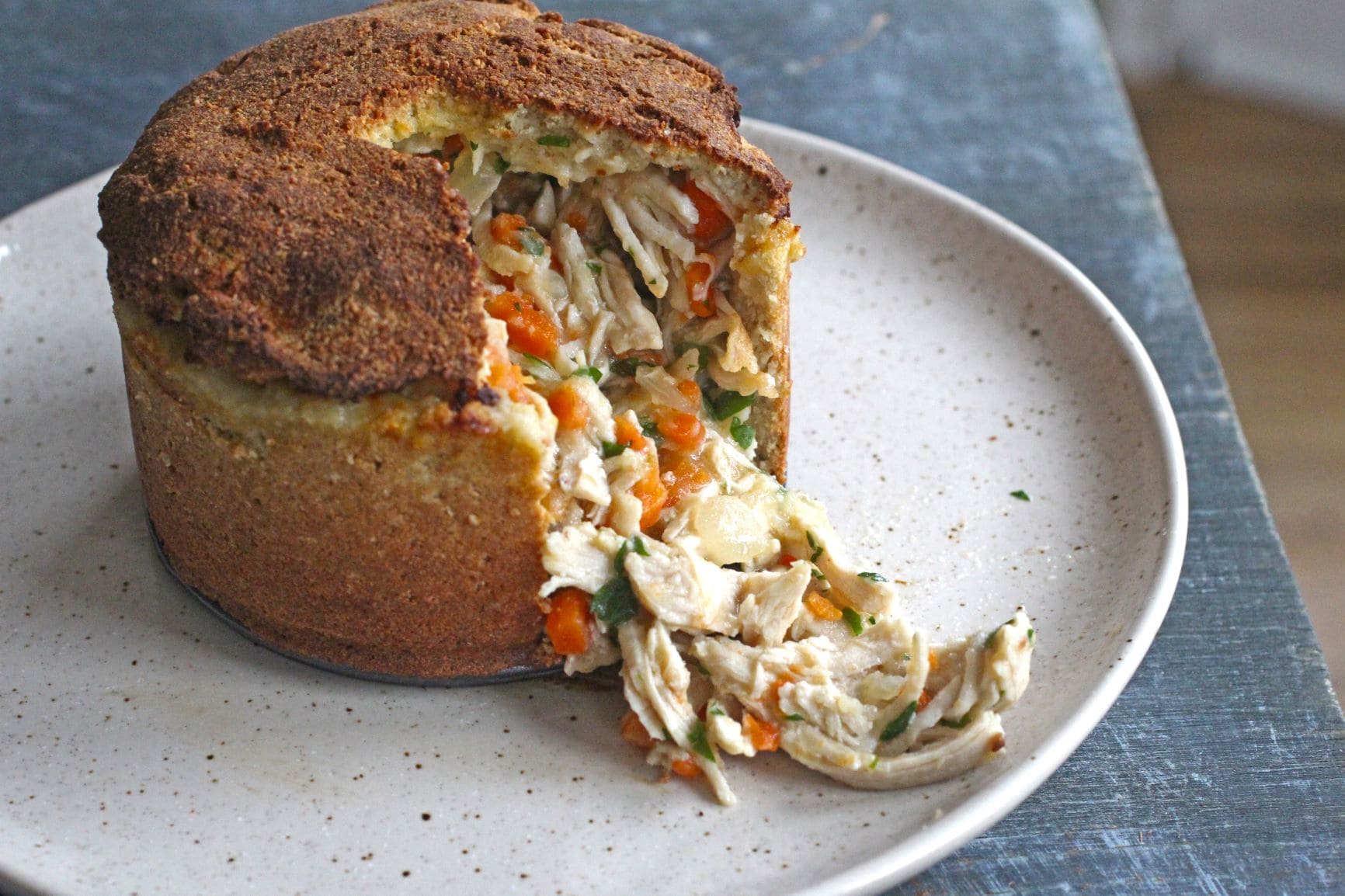 Ingredients
2

Whole

boneless skinless chicken breast

1/2

Cup

Chopped Onion

1/2

Cup

Chopped Carrot

1/2

Cup

Chopped Celery

2

Cloves

garlic

Grated

2

Cups

chicken stock

1

Cup

Coconut or Almond Milk

(from a carton)

2

Tbsp

chopped parsley

1/2

Cup

dehydrated potato flakes

1/2

Cup

Frozen Peas

Optional

1

Packet

Warrior Bread Mix

1

Cup

coconut milk

(from a can, including solids)

1

Cup

Eggs

(about 4-5 eggs)

2

Tbsp

honey
Instructions
Heat a small frying pan over medium high heat and add a little olive oil. Add in the chicken, then add the veggies around the chicken. Season with salt and pepper. Cook about 3 minutes to brown the chicken, stirring the veggies as the chicken cooks.

Flip the chicken and cook another 3 minutes to brown the other side. Add in the garlic and cook 2 minutes, stirring the garlic into the veggies.

Add in the chicken stock and stir to combine. Bring to a simmer, reduce the heat to low, and cover. Cook until the chicken is cooked through, about 15 minutes.

Remove the chicken from the pan and chop/shred it up.

Add the milk to the pan, along with the parsley, potato flakes, and frozen peas. Stir to combine. Add in the chicken and bring to a simmer. Cook about 2 minutes, it should be fairly thick, but if not, you can add a little more of the potato flakes. Allow to cool.

Preheat the oven to 400.

Pour the bread mix into a large bowl.

Mix the eggs, coconut milk, and honey in a measuring cup and stir to combine. pour this mixture over the bread mix and stir to combine. Knead with your hands for 1 minute.

Using 4 small springform pans, or one large pie pan, spread the dough mixture onto the bottom and sides of the pan first. Add the filling next, then top the pies with a top layer of dough. Cut a hole in the top so the steam can get out.

Put the pie or pies on a large baking sheet and bake for 30 minutes for the smaller pies, or 40 for the single large pie.

Allow to cook for 10 minutes, then serve.
Video