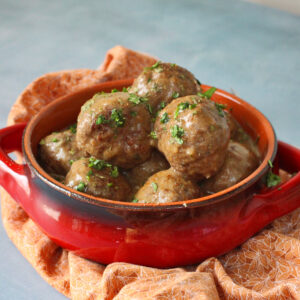 Ingredients
MEATBALLS

1

pound

ground beef (20% fat)

1

pound

ground pork

2/3

cup

Warrior breadcrumbs

https://www.glutenfreesociety.org/recipe/warrior-breadcrumbs/

2

cloves

garlic, grated

1

small onion, grated

1/4

cup

fresh parsley, chopped (sub 1 tbsp dried parsley)

1/2

tsp

allspice

1/2

tsp

nutmeg

1

tsp

salt

1

tsp

fresh cracked black pepper

1

egg

SAUCE

4

tbsp

vegan butter

3

cloves

garlic, grated

1 1/2

cup

almond milk

2

cups

beef broth

1

tbsp

coconut aminos

1/4

tsp

allspice

1/4

tsp

nutmeg

1

tsp

mustard

1

tbsp

arrowroot starch
Instructions
In a large bowl, mix all the meatball ingredients. Stir to combine and mix well with your hands to fully incorporate all the ingredients.

Roll the meatballs to your desired size. Preheat a large frying pan with a little oil and add the meatballs to the pan in batches to cook and brown on all sides. 2 batches should be enough. Remove from the pan.

In the same pan with the meatball juices, add in the vegan butter and garlic. Cook 2 minutes. Add in 1 cup of the milk. Put the other 1/2 cup of milk in a small bowl.

Add the broth, aminos, allspice, and nutmeg to the pan. Add in the cooked meatballs and any juices that have accumulated in the bowl. Bring to a simmer.

Add the mustard and arrowroot to the small bowl with the 1/2 cup of milk and whisk to combine. Continue to mix until all the arrowroot is dissolved.

Cook the sauce and meatballs for about 20 minutes, then add the milk and mustard mixture to the meatballs. Bring to a simmer and the sauce will thicken. Remove from heat and serve.