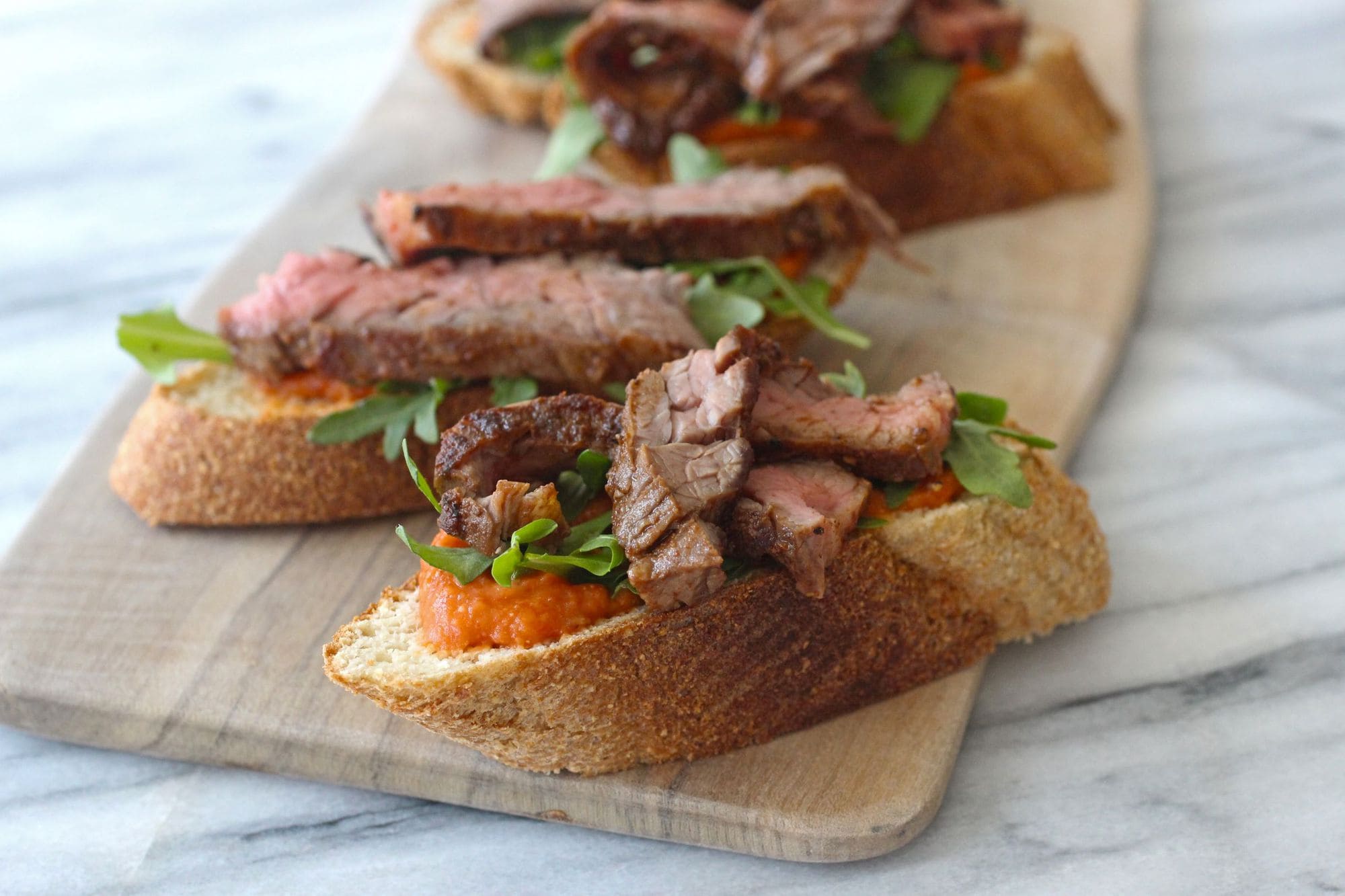 Ingredients
1

Package

Warrior Bread Mix

1

Cup

Egg Whites

1

Cup

Water

2

Tablespoons

Cider Vinegar

1

Pound

skirt steak

1

Teaspoon

cumin

1/2

Teaspoon

coriander

1/2

Teaspoon

smoked paprika

1/2

Teaspoon

Salt

1/2

Teaspoon

Freshly Cracked Black Pepper

1

Cup

Canned Chickpeas

(rinsed and drained)

6

Ounces

Roasted Red Peppers

(half a jar)

1

Clove

garlic

1

Tablespoon

Balsamic Vinegar

1

Pinch

salt and pepper

(to taste)

1

Clove

garlic

Baby Arugula
Instructions
Preheat oven to 425

Pour the warrior bread mixture into a large bowl. In another bowl, whisk together the egg whites, water, and vinegar.

Pour the liquids into the bread mixture and stir for about 1 minute until it thickens and comes together. Set aside for one minute.

Line a baking sheet with parchment paper. Split the dough in half and roll each half into a 15 inch log.

Bake the bread for about 40 minutes until browned and fully cooked. Remove from heat and allow to cool fully

Season the steak with the cumin, coriander, paprika, salt, and pepper.

Preheat a frying pan, grill pan, or grill to medium high heat and cook the steak for about 5 minutes per side to a medium doneness. Allow to rest on a cutting board for at least 10 minutes. Slice very thin against the grain.

In a blender or food processor, mix the chickpeas, roasted red peppers, garlic, balsamic, and salt and pepper until smooth.

Preheat broiler

Slice the bread into 1 inch thick slices and arrange them on a baking sheet.

Broil for about 3 minutes to lightly brown. Remove from heat and rub the last clove of garlic on the lightly browned edge of each piece of bread.

Spread each bread with some of the chickpea mixture, then add a few leaves of arugula.

Top with two slices of steak and serve.