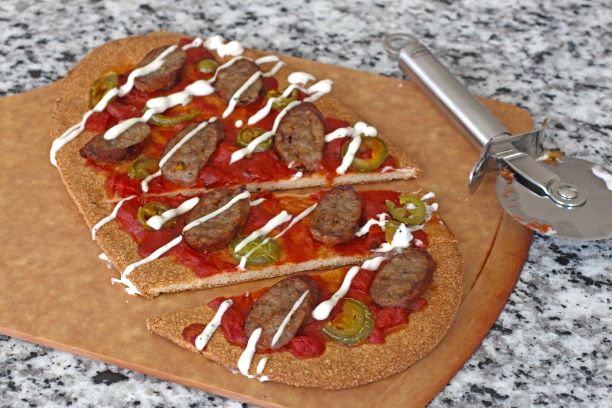 Ingredients
1

Cup

Warrior Bread Mix

Fully Packed

1/2

Cup

Egg Whites

1/2

Cup

Water

1

Tablespoon

red wine vinegar

2

Links

italian sausage

Cooked and Sliced

1/2

Cup

Pickled Jalapenos

1

Cup

crushed tomatoes

1/4

Cup

Dairy Free Ranch Dressing
Instructions
Preheat Oven to 425 degrees

Put the bread mix into a large bowl

In a separate bowl, beat the egg whites and mix in the water and vinegar until nicely blended

Pour the liquids into the bowl with the bread mix and stir well to combine. Knead with your hands until it comes together as wet dough.

Place the dough onto a piece of parchment paper and top with another paper of equal size. Make sure it is enough to cover the dough and with enough room to spread. Using a roller, roll the dough very thin between the paper. You want it to be about 1/4th of an inch thin and it should be about 12" x 12" in width.

Remove the top piece of paper and put the dough (along with the bottom parchment) onto a half-sheet pan. Use a fork to poke small holes throughout the dough, this will prevent the middle of the dough from puffing up.

Bake for 15 minutes. Remove from oven immediately after.

Top with the tomatoes, followed by the sausage slices, and then the jalapenos. Return to the oven and bake for an additional 20 minutes.

Top with a drizzle of ranch and serve. Enjoy!