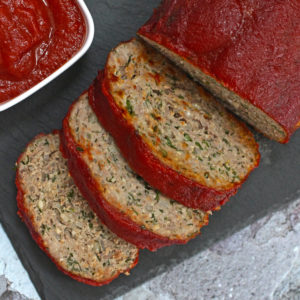 Ingredients
1

pound

ground beef

1

pound

ground pork (or turkey for a more lean version)

3

cloves

garlic, minced or pressed

1/2

a yellow

onion

1/2

cup

chopped parsley

1

Egg

1/2

cup

Warrior Breadcrumbs - see notes for recipe

1/4

cup

almond milk

1

teaspoon

Salt

2

tablespoons

olive oil

1

clove

garlic (minced)

3

oz

tomato paste

14

oz

tomato puree

1/4

cup

honey
Instructions
Preheat oven to 400

Mix together the beef and pork in a large bowl. Add in the garlic, onion, parsley, and egg and stir to combine.

In another bowl, stir together the breadcrumbs and almond milk. Add it to the meat mixture and stir to combine.

Form the meat mixture into a loaf and place on a baking sheet. Put into the oven to begin cooking.

Meanwhile, in a small frying pan, heat the oil over medium heat and add in the garlic. Cook 1 minute.

Add the tomato paste and cook another 3 minutes, combining the paste with the oil and garlic.

Stir in the tomato puree and honey and mix well to combine. Bring to a simmer.

When the meatloaf reaches an internal temperature of 145, about 30 minutes, turn the oven to broil and brown the top of the loaf.

Remove from oven and brush on some of the tomato sauce. Return to the oven to brown the top slightly. Repeat 3 or 4 times to form the thick glaze on top of the loaf.

Serve with extra sauce on the side.