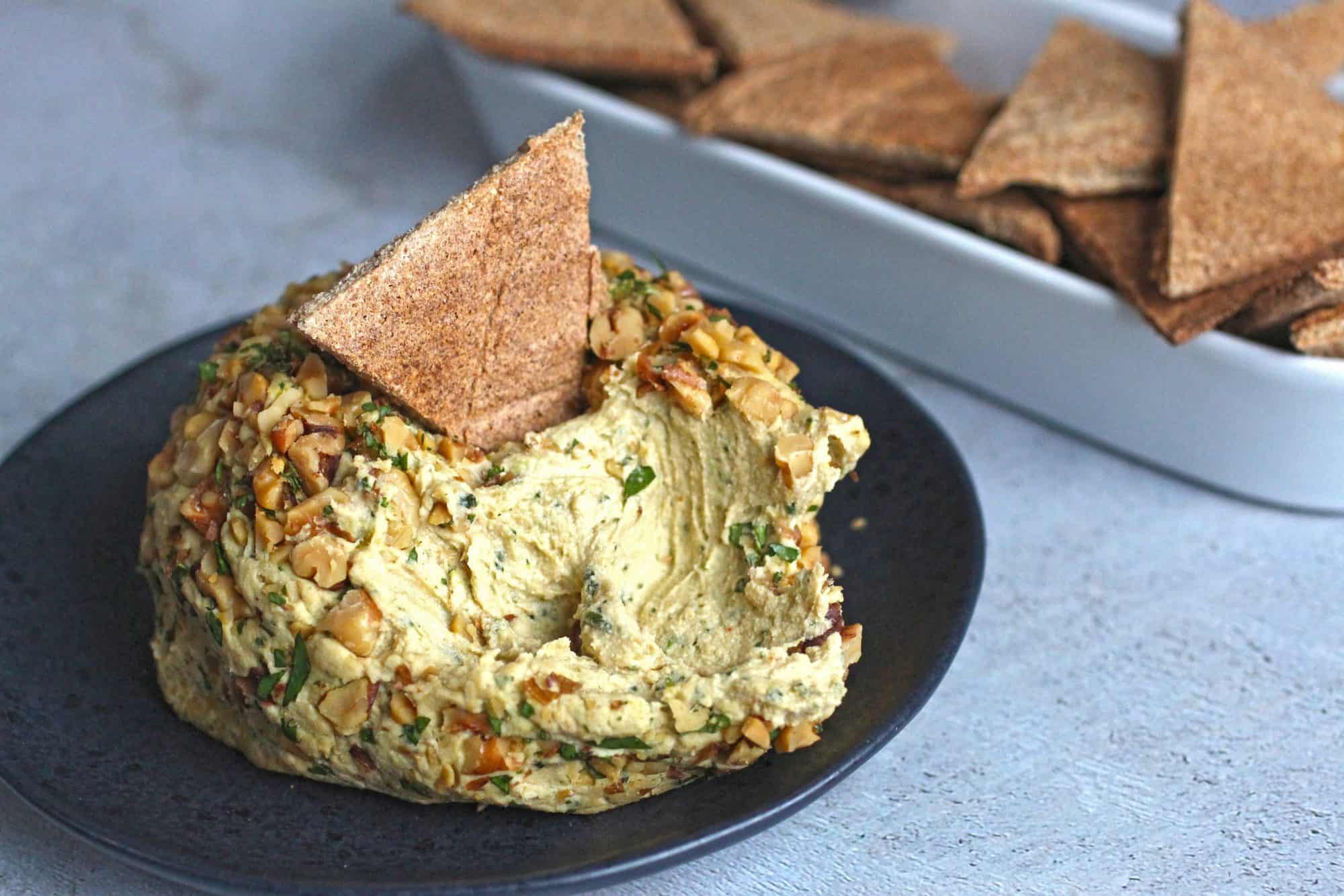 Cilantro Jalapeno "Cheese Ball" with Warrior Bread Crackers
serves 12 as an appetizer
Print
Pin
Rate
Ingredients
2

tablespoons

Coconut Oil

1/4

cup

diced onion

1

clove

garlic (minced)

1/2

cup

roasted lightly salted cashews

1

cup

chickpeas

1/4

cup

non dairy milk (coconut, almond, or preferred alternative)

2

tablespoons

juice from pickled jalapeno jar

1/2

cup

cashew based yogurt

1

teaspoon

nutritional yeast

1

teaspoon

smoked paprika

10

pickled

jalapeno slices

1/4

cup

roughly chopped cilantro

1

package

Warrior Bread Mix

2

cups

Water

2

Eggs

1/2

cup

chopped walnuts

1/4

cup

diced cilantro
Instructions
Melt the oil in a large frying pan over medium heat. Add in the onion and cook about 5 minutes to soften. Add in the garlic and cook 1 minute.

Add in the cashews, chickpeas, milk, and jalapeno juice and bring to a simmer. Turn heat to low and cook about 15 minutes.

Pour the chickpea mixture into a blender and turn on high. Blend about 20 seconds, then add in the yogurt, nutritional yeast, and paprika. Blend another 1 minutes until mixture looks somewhat smooth. Add in the jalapeno and cilantro and blend for another 30 seconds until everything is combined. Taste and add salt if needed.

Line a small bowl with a paper towel. Pour the blender mixture into the bowl and fold the edges of the paper towels over the mixture. Place into the fridge for at least 4 hours or up to a few days.

Preheat oven to 350 F. Pour the bread mix into a large bowl. In another bowl, whisk together the water and eggs. Pour the liquid over the bread mix and stir to combine.

Split the mixture onto 2 large pieces of parchment paper. Use another piece of parchment to press and roll the mixture into a large flat rectangle about 1/4 inch thick. Remove the top layer of paper. Put the parchment on to baking sheets and use a knife to cut the dough into triangular cracker shapes whichever size and shape you desire. Sprinkle with salt. Bake for about an hour until the crackers have hardened.

Remove from the oven and break the crackers along the cuts you made. Mix the walnuts and cilantro in a large bowl. Remove the cheese ball from the fridge and gently peel the paper off. Roll the round side in the walnut mixture, carefully to not dent up the ball too much. Flip it over to put the flat side down onto a plate. Serve with the crackers.