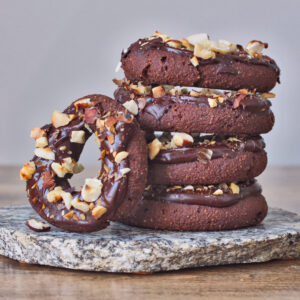 Ingredients
DOUGH

1/2

package

Warrior Bread

1/2

cup

almond flour

1/2

cup

unsweetened cocoa powder

1/3

cup

granulated monkfruit sweetener (plus maybe more for ganache)

3

large

eggs

3/4

cup

milk (organic A2 milk or almond milk)

1

tbsp

apple cider vinegar

2

tbsp

honey

small pinch of salt

GANACHE

1

cup

sugar free, dairy free, chocolate chips

1/2

cup

milk (organic A2 milk or almond milk)

small pinch of salt

chopped hazelnuts for garnish
Instructions
In a large bowl mix the warrior mix, almond flour, cocoa powder, and monkfruit sweetener to combine. Add in the eggs, milk, vinegar, honey, and salt and whisk to combine.

Pour the batter into a piping bag fitted with a large round tip, 1 inch wide

Line a large baking sheet with parchment paper

Pipe the donuts onto the parchment into circles, pressing the seam to smooth out the edges.

Bake at 375 for about 20-25 minutes until cooked through

Meanwhile, put the chocolate chips into a bowl. Put your almond milk into the microwave and cook until steaming, about 1 minute.

Pour the hot milk over the chocolate and stir until it is all melted and creamy. Add a pinch of salt and taste. Add a little monkfruit sweetener if needed, depending on the sweetness of your chocolate chips and how sweet you want the donuts to be.

After the donuts cool, spread the ganache over the top of the donut.

In a dry frying pan, toast the chopped hazelnuts to lightly brown. Sprinkle the cooled hazelnuts over the donuts.

Allow the ganache to cool and harden before serving.

NOTE: you can make these without a piping bag, just form round circle donuts instead of ones with a hole in the middle.