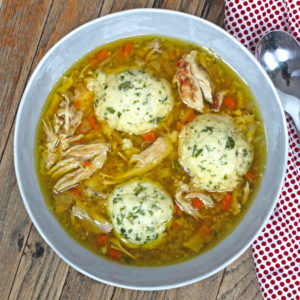 Ingredients
1

Tbsp

olive oil

1

Pound

Boneless Skinless Chicken Thighs

1/2

Cup

Chopped Onion

1/2

Cup

Chopped Carrot

1/2

Cup

Chopped Celery

3

Cloves

garlic

Minced

1

Quart

chicken stock

1/2

Packet

Warrior Bread Mix

Roughly 1 Packed Cup

3

Whole

Eggs

1/2

Cup

Coconut or Almond Milk

1

Tbsp

Cider Vinegar

1/4

Cup

Tapioca Flour

1

Tbsp

chopped parsley
Instructions
Preheat a large soup pot over medium high heat and add the olive oil. Add in the chicken, onion, carrot, and celery and cook until the chicken starts browning, stirring occasionally, for about 5 minutes.

Add in the garlic and stir to combine. Cook another 2 minutes, stirring often.

Add in the stock. Cover and turn heat to low. Cook for 40 minutes until the chicken is falling apart.

Meanwhile, mix the warrior bread mix with the eggs, coconut milk, cider vinegar, tapioca flour, and parsley in a bowl. Stir well to combine.

Form about 10 balls with the bread mixture.

Break up the chicken in the pot with a wooden spoon. At a low simmer, gently add in the dumpling balls. They should sit with about half of the balls still over the broth. Cover and allow to cook for 10 or 15 minutes.

Remove the cover, the balls should have expanded. Some of the balls that are below the broth line will disintegrate into the soup, but most will still be intact.

Gently scoop the soup and dumplings into serving bowls and serve.