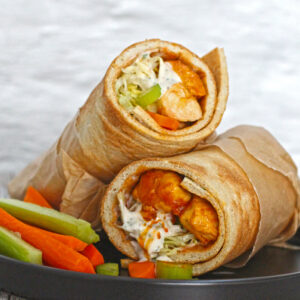 Ingredients
1

package

Warrior Bread

1

cup

egg whites

1

cup

water

2

Tbsp

apple cider vinegar

1

Tbsp

olive oil

1

large

chicken breast, cut into small cubes

2

Tbsp

dairy free butter (such as Miyoko's)

2

Tbsp

cayenne based hot sauce

1

Tbsp

honey

1

teaspoon

smoked paprika

1

heart of romaine lettuce, sliced thin

2

carrots, diced

2

ribs

of celery, diced

dairy free ranch dressing
Instructions
In a large bowl, combine the Warrior Bread mix with the egg whites, water, and cider vinegar. Stir to combine fully. Knead with your hands for 1 minute.

Split the dough in half. Lay out a piece of parchment paper on the counter and place half the dough on it. put another piece of parchment on top and roll the rough out with your hands to a thin wide circle. Make it as thin as you can without creating holes in the dough. Flip the dough onto a new parchment lined baking sheet and repeat with the remaining half of the dough.

Bake the wraps at 400 for about 25 minutes until cooked through.

Cook the chicken in a frying pan with the oil. Season with salt and pepper.

Once the chicken is cooked through, add in the butter, hot sauce, honey, and paprika. Stir to combine. Allow to simmer for 5 minutes.

Place the wrap on a cutting board and add half the chicken to the bread. Top with lettuce, carrot, celery, and a drizzle of the ranch. Roll the wrap tightly, using foil or parchment to secure the wrap shape. Serve.