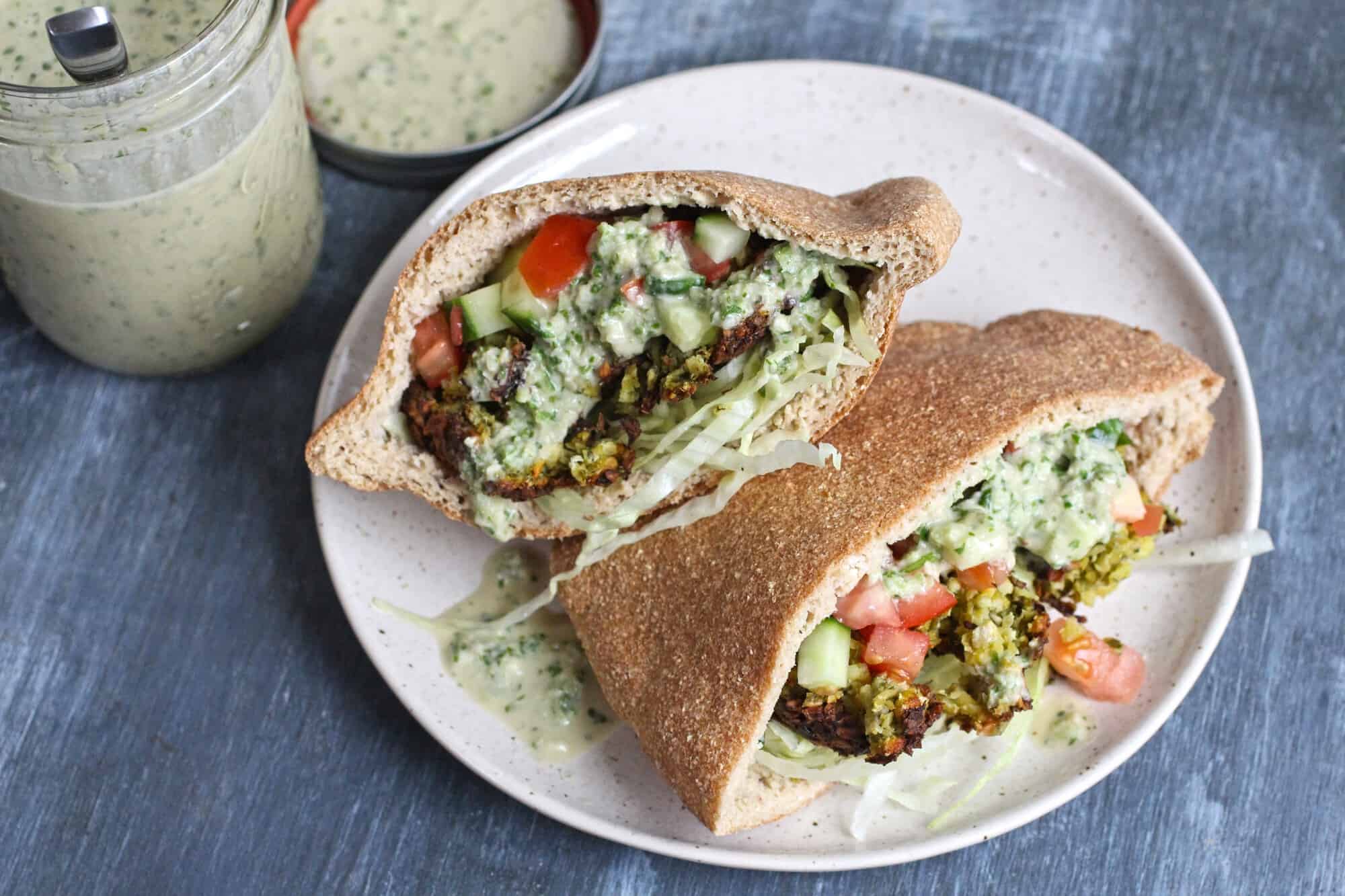 Baked Falafel Pita with Tahini
Makes 4 pita sandwiches. Active time, 45 minutes, passive cook time, 35 minutes, overnight soak.
Print
Pin
Rate
Ingredients
PITA INGREDIENTS:

1

packed cup

Warrior Bread

1

egg white

1

cup

Water

1

tbsp

Apple Cider Vinegar

FALAFEL INGREDIENTS:

1

cup

dried chickpeas

2

cups

spinach

1/4

cup

parsley

2

cloves

garlic (sliced)

1/2

small onion, chopped

1

teaspoon

cumin

1

teaspoon

coriander

1

tbsp

red vinegar

1

pinch

salt and pepper

TAHINI:

1/2

cup

tahini paste

1/4

cup

diced cucumber

1

clove

garlic (sliced)

2

jalapenos (optional)

juice of 1 lemon

1/4

cup

parsley

1

pinch

salt and pepper

TOPPINGS:

shredded lettuce

diced cucumber

diced tomato
Instructions
Soak the chickpeas in water overnight.

Preheat oven to 375 F.

Beat the egg with the water and vinegar, and pour it into a bowl with the warrior bread mix. Stir well to combine.

Split the dough in half and place the two halves onto a piece of parchment paper.

Top with another parchment and roll the dough out into 2 8 inch rounds, about 1/4 inch thick.

Remove the top parchment and bake for 35 minutes. Remove from oven.

Put the tahini ingredients into a food processor and process until fully combined and no large chunks remain. Store in the fridge until ready.

Scrape out the food processor but no need to wash it.

Drain and rinse the chickpeas. Add the falafel ingredients and pulse to combine. Continue to pulse about 30-50 times until the chickpeas are mostly broken up and the mixture is coarse but can be formed into balls when squeezed in your hand.

Preheat oven to 350. Brush a muffin tin with some olive oil.

Put about 2 tablespoons of chickpea mixture into each muffin spot and lightly press down. Bake for 20 minutes until browned.

Remove the falafel from the pan.

Cut the pita in half, and then run a knife through the center to open it up.

Fill each pita half with lettuce, tomato, cucumber, and falafel, and top with the tahini sauce.