March 30, 2011
Chef Purposefully Serves Gluten to Patrons with Gluten Intolerance!
Chef Damian Cardone in Glenwood Springs, Colorado has been serving his patrons extra gluten despite their order requests.   Self admittedly he thinks that gluten sensitivity is BS and has decided that he is going to feed his paying patrons gluten.  The following quote was taken from his facebook page earlier this month…
"Gluten free is B***S***!!  Flour and bread have been a staple of life for thousands, THOUSANDS of years. People who claim to be gluten intolorent dont realize that its all in there disturbed liitle heads. People ask me for gluten free pasta in my restaurant all the time, I tell em sure, Then I serve serve em our pasta, Which I make from scratch with high gluten flour. And you know what? nothing, NOTHING! ever happens! People leave talking about how good they feel gluten free and guess what, They just had a full dose! Idiots!"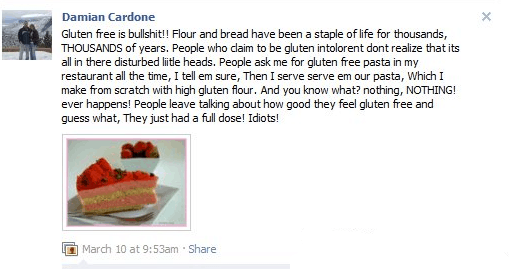 Channel 8 news recently did a story on the topic.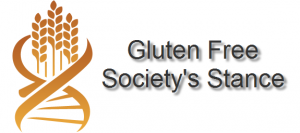 This guy is a real piece of work.  He should be brought up on criminal charges, his restaurant should be closed down, and he should be stripped of his chef status.
If the guy doesn't want to acknowledge gluten sensitivity fine, but to serve it to people against their will is an outrage.  This is a perfect example of why I don't recommend eating out at random.  Damian was dumb enough to post his criminal activity on facebook, but how many others are out there with the same malicious mindset toward the gluten free community?
Let's work to get this guy out of the food industry all together.  You can file a complaint with the Colorado Dept of Law Attorney Generals Office Here.
Contact your local celiac support organizations and get them on board.  Share this article on facebook and twitter using the links below and with anyone else you know.  If we can make an example of Damian's criminal acts, we can discourage others from doing the same.
Be wary where you eat.  The more control you have over your food supply the better off you will be.
Special Thanks to John Libonati for spear heading this effort!
Gluten Free Warrior Commentary
comments
Email This Post
30 Responses to "Chef Purposefully Serves Gluten to Patrons with Gluten Intolerance!"