Think you might be gluten sensitive? Take the quiz:
https://www.glutenfreesociety.org/gluten-sensitivity-intolerance-self-test/
00:00 – I need advice post mastectomy/need my hormone levels tested/have a lump, etc.
03:00 – metronidazol while doing a gut cleanse?
03:20 – Can a nuclear medicine scan of the heart cause breast cancer due to the radioactive material injected?
03:50 – can severe psoriasis cause breast cancer?
04:38 – for women still menstruating at 53 does that increase your risk for breast cancer?
05:04 – what "they" want vs. what you want
05:20 – Iodine and breast cancer numbers
06:10 – Why Black men have a higher rate of breast cancer contractibility
06:47 – Gynecomastia in men who smoke (and does it increase the chances of breast cancer)?
08:00 – connection between breast cancer and osteoporosis?
08:45 – Taking iodine if you have Hashimoto's?
10:10 – connection with celiac and fungal disorders of the gut?
10:54 – do you have to increase iodine gradually?
14:20 – will taking sea salt and magnesium help?
15:00 – what alternatives are there if one cannot absorb vitamin C?
15:35 – is the keto diet a cure for caner?
16:15 – How to detox the BPA from water bottles?
18:55 – I'm scared to knock over glass bottles.
19:30 – can you name some supplements that help with leaky gut inflammation?
20:30 – can you recommend celery juice?
21:50 – what do you wash your water bottles out with?
22:25 – Nausea and stomach bloating. What do you recommend?
24:35 – regular vs plant based chemo?
25:00 – best supplement to heal with?
26:10 – how do you detox the radiation from the body?
27:40 – supplements to support women with breast cancer?
30:00 – What's the worst for us? Gluten, sugar or dairy?
30:25 – I have issues with cruciferous vegetables
31:20 – Reasons why I have dense breast tissue?
32:26 – If I am gluten sensitive but not celiac can I have some deficiencies due to gluten sensitivity?
32:40 – can a normal gluten gene mutate from poor diet?
33:21 – is high homocysteine correlated with cancer?
To connect with Dr. Osborne visit:
Facebook: https://www.facebook.com/DoctorPeterOsborne/
*These statements have not been evaluated by the Food and Drug Administration. This video is not intended to diagnose, treat, cure or prevent any disease. It is strictly intended for educational purposes only. Additionally, this information is not intended to replace the advice of your physician. Dr. Peter Osborne is one of the most sought after alternative and nutritional experts in the world. A Diplomate with the American Clinical Board of Nutrition, a graduate of Texas Chiropractic College, and a doctor of pastoral science, Dr. Osborne is one of the world's leading authorities on gluten, nutrition, and natural health. He is the founder GlutenFreeSociety.org, one of the world's largest informational sites on gluten sensitivity. In addition, he is the author of the best selling book, No Grain No Pain, published by Touchstone (Simon & Schuster). His work has been featured by PBS, Netflix, Amazon, Fox, and many other nationally recognized outlets. For more information, visit us at https://www.glutenfreesociety.org/ or call 281-903-7527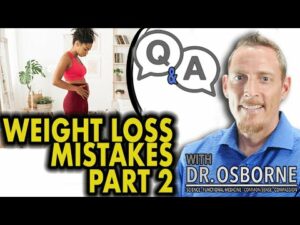 Think you might be gluten sensitive? Take the...