Click here to take my gluten quiz – https://www.glutenfreesociety.org/gluten-sensitivity-intolerance-self-test/
To some, a diet free of gluten or grains is a frightening prospect. However, the effects of their continued consumption can be downright terrifying.
Join us for this special Halloween episode of Pick Dr. Osborne's Brain(s)…that is, of course, if you're brave enough.
00:55 Horrible Breath? Tonsil Stones? Horrific smells…
01:50 Foul Gas – Could mean hyperinflammation in your gut
02:20 The Neurological Impacts of Gluten (i.e. sudden loss of balance)
04:40 How gluten can maim and disfigure joints!
06:30 Lymphoma… this can literally kill you.
07:20 Cancer & Gluten need to knows
08:40 Beware of contaminated medicine and supplements
11:45 Gluten consumption CAN increase your mortality rate
14:00 Answering your scariest gluten questions, live!
Looking for some of the mentioned supplements? Check out these grain free formulas below:
Hist Assist (allergy support) – glutenfreesociety.org/HistAssist
Vitamin C – glutenfreesociety.org/DetoxCPowder
Gluten Shield (digestive enzyme) – glutenfreesociety.org/GlutenShield
L-Glutamine – glutenfreesociety.org/L-Glutamine
Ultra Biotic Defense (probiotic) – glutenfreesociety.org/UltraBioticDefense
Melatonin – glutenfreesociety.org/Melatonin
To connect with Dr. Osborne visit:
Facebook: https://www.facebook.com/DoctorPeterOsborne/
*These statements have not been evaluated by the Food and Drug Administration. This video is not intended to diagnose, treat, cure or prevent any disease. It is strictly intended for educational purposes only. Additionally, this information is not intended to replace the advice of your physician. Dr. Osborne is not a medical doctor. He does not treat or diagnose disease. He offers nutritional support to people seeking an alternative from traditional medicine. Dr. Osborne is licensed with the Pastoral Medical Association.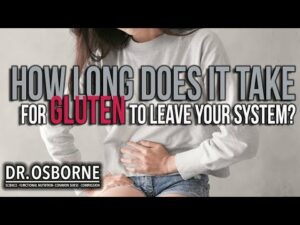 Gluten Shield - specially formulated for those seeking...