Ultra Electrolytes – https://www.glutenfreesociety.org/shop/supplements/general-health/ultra-electrolytes/
AquaTru – https://www.aquatruwater.com/?oid=2&affid=25&c=POsborne
Drink more water! We hear this advice from all types of health advocates. It's hard to argue that we should drink more water, but why? And what if your water is causing you health problems?
Water makes up 60-75% of human body weight. A loss of just 4% of total body water can lead to dehydration, and a loss of 15% can be fatal. It is pretty incredible that a person could survive a month without food but wouldn't survive 3 days without water. It is clear that water is vital for survival, but what is it exactly that makes it so essential?
Let's dive into the main ways that water supports the body. Because sometimes, the biggest motivator to change is understanding the "why" behind the claim. More importantly, understanding that clean water is essential to good health.
To connect with Dr. Osborne visit:
Facebook: https://www.facebook.com/DoctorPeterOsborne/
*These statements have not been evaluated by the Food and Drug Administration. This video is not intended to diagnose, treat, cure or prevent any disease. It is strictly intended for educational purposes only. Additionally, this information is not intended to replace the advice of your physician. Dr. Osborne is not a medical doctor. He does not treat or diagnose disease. He offers nutritional support to people seeking an alternative from traditional medicine. Dr. Osborne is licensed with the Pastoral Medical Association.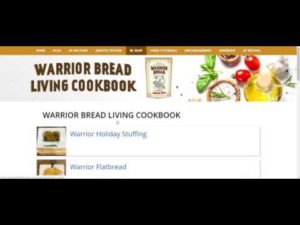 Grab Warrior Bread Here: https://www.glutenfreesociety.org/shop/supplements/warrior-bread-grain-free-bread-mix-presale/ Check out our...