Ultra Liver Detox: https://www.glutenfreesociety.org/shop/supplements/general-health/ultra-liver-detox/
Lipogest: https://www.glutenfreesociety.org/shop/supplements/general-health/lipogest/
Liver disease can be fatal. It has been well established that viral infection and alcohol can both damage the liver. However; there are many who suffer with liver disease unrelated to either. The cause for many of these conditions is unknown.
500,000 gall bladder surgeries are performed in the U.S. annually. Up to 40% of these surgeries have complications afterwards.
Non alcoholic fatty liver (NAFL) disease affects as many as 1/3 or U.S. adults.
The big question is why? What is causing damage to the liver and gallbladder in so many individuals? Is the answer surgery? If gluten intolerance can cause all of the above conditions, shouldn't we perform routine genetic screening for gluten sensitivity in those with liver disease of unknown origin before taking out their organs?
The point is, gluten intolerance can cause liver problems. Most liver disease in the U.S. has no known cause. It makes sense to investigate gluten as a causative factor. Know someone with liver disease? Please share this with them.
00:00 – Intro and overview
01:44 – Types of liver disease
05:01 – Drug induced liver damage
10:25 – One glass of wine a night? Alcohol and liver damage
14:58 – Glyphosate
18:00 – Gluten and liver damage
25:55 – Celiac disease and liver disease
28:23 – "Traditional" gluten free diets can increase the risk of NAFL
30:25 – Fructose and liver damage
33:10 – What's the best diet for someone with liver damage?
36:20 – Symptoms of liver damage
38:37 – Q&A
To connect with Dr. Osborne visit:
Facebook: https://www.facebook.com/DoctorPeterOsborne/
*These statements have not been evaluated by the Food and Drug Administration. This video is not intended to diagnose, treat, cure or prevent any disease. It is strictly intended for educational purposes only. Additionally, this information is not intended to replace the advice of your physician. Dr. Osborne is not a medical doctor. He does not treat or diagnose disease. He offers nutritional support to people seeking an alternative from traditional medicine. Dr. Osborne is licensed with the Pastoral Medical Association.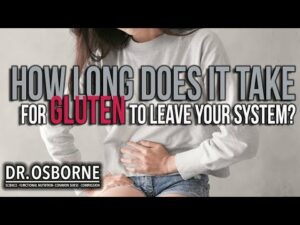 Gluten Shield - specially formulated for those seeking...