Copper is a trace mineral, which means it's only needed in small amounts. Yet, deficiencies do occur. And most symptoms of deficiency are closely related to the roles copper plays.
For example, since copper helps your body absorb iron, a copper deficiency could lead to anemia. As a result, you may feel tired and weak. Fatigue may also arise because copper is needed to make ATP (a.k.a. cellular energy).
Other possible symptoms include:
Brittle bones
Cognitive dysfunction
Frequent infections
Poor balance/unsteady gait
Pale skin
Easy bruising
Premature gray hair
Loss of muscle tone
Stunted growth
Abnormal cholesterol
High blood sugar
Poor blood clotting function (due to low blood platelets)
Chronic low white blood cell count (neutropenia)
To connect with Dr. Osborne visit:
Facebook: https://www.facebook.com/DoctorPeterOsborne/
*These statements have not been evaluated by the Food and Drug Administration. This video is not intended to diagnose, treat, cure or prevent any disease. It is strictly intended for educational purposes only. Additionally, this information is not intended to replace the advice of your physician. Dr. Osborne is not a medical doctor. He does not treat or diagnose disease. He offers nutritional support to people seeking an alternative from traditional medicine. Dr. Osborne is licensed with the Pastoral Medical Association.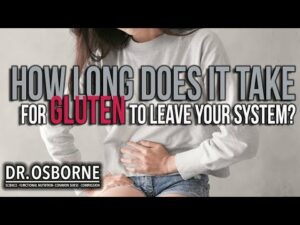 Gluten Shield - specially formulated for those seeking...