Can a gluten free diet help low thyroid? Take the quiz – https://www.glutenfreesociety.org/GlutenSensitivitySelfTest
Resource links from this video:
Best Filter For Your Air – https://bit.ly/315de22
Best Filter For Your Water – https://bit.ly/3h7riRI
Best Gluten Free Multi Vitamin To Support Your Thyroid – https://bit.ly/2jWTVbD
What are the triggers of Low Thyroid Function (Hypothyroid)? The Answers Might Surprise You
Aside from gluten, nutritional deficiencies, and food allergens, there are several chemical compounds that are known to disrupt your thyroid gland and function. BPA found in common plastics, perchlorates, found in fuel and fertilizers, the artificial sweetener, sucralose have all been found to disrupt the thyroid. In addition, gluten and coffee can be food triggers that cause hypothyroid issues.
To connect with Dr. Osborne visit:
Facebook: https://www.facebook.com/pg/DoctorPeterOsborne/
*These statements have not been evaluated by the Food and Drug Administration. This video is not intended to diagnose, treat, cure or prevent any disease. It is strictly intended for educational purposes only. Additionally, this information is not intended to replace the advice of your physician. Dr. Osborne is not a medical doctor. He does not treat or diagnose disease. He offers nutritional support to people seeking an alternative from traditional medicine. Dr. Osborne is licensed with the Pastoral Medical Association.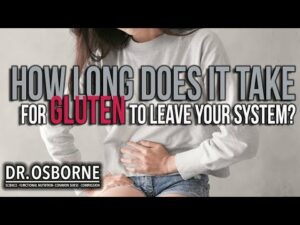 Gluten Shield - specially formulated for those seeking...